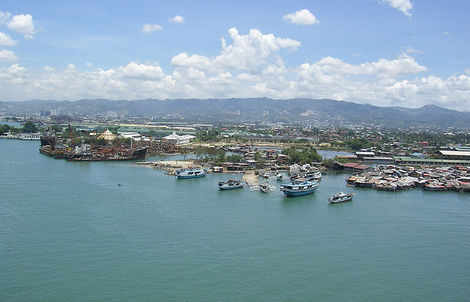 Cebu City in the Philippines is a popular tourist destination for budget travelers due to its historical Spanish colonial buildings, cheap shopping malls and markets, sporting events and Reggae and Roots music. Cebu City also has many budget hotels popular with budget travelers and backpackers, looking for comfortable accommodation at a cheap price. If you're planning a trip to Cebu City on the cheap, check out these three best budget hotels. They're excellent value for money.
Westpoint Inn – Popular with budget travelers due to its convenient location near shopping malls and markets, and many of Cebu City's trendy restaurants and cafes, Westpoint Inn's accommodation is a great deal for an inexpensive price.
The hotel's guest rooms are designed in a simple, modern style and are small, but beautifully taken care of. Every room has an en suite bath, air conditioning and cable TV. Beds are comfortable and the rooms are quiet.
Westpoint Inn also offers a restaurant serving local and international dishes, and a fun karaoke bar. There's a laundry service, room service and 24 hour security and, just a two minute walk away, you'll end up at historic Fuente Osmeña, with all the entertainment and eateries you could possible want.
Room rates begin at only $16. A steal for this budget hotel.
NS Royale Pensione – In a great location for restaurants, cafes and shopping, the NS Royale Pensione in Cebu City is a wonderful place to stay for any discriminating budget traveler.
Each of the hotel's guest rooms feature en suite bath, hot and cold water, air conditioning, TV with cable, complimentary Wi-Fi and coffee and tea making facilities. Rooms are very clean and beds are comfortable. it's also a quiet hotel to get a good night's sleep, even though it's close to many of Cebu City's night clubs and bars. Check out the view over Cebu City from the roof too.
The NS Royale Pensione's staff is friendly and helpful and don't miss the hotel's breakfast. You'll get a chance to try several traditional Filipino breakfast dishes and they're delicious. Room rates start at $29 a night.
Cebu R Hotel – A trendy and new urban hotel, the Cebu R Hotel gets great reviews from budget travelers as it's in an excellent location, close to nightlife, shopping and entertainment venues, and the daily rates are cheap.
Guest rooms are basic, but exceptionally clean and modern. Each room has an en suite bath, flat screen TV with cable, Wi-Fi internet, refrigerator and safety deposit box. Rooms are quiet, beds are comfortable and service at the hotel is excellent. Staff bend over backwards to make sure everything is to your satisfaction – rare for a budget hotel anywhere.
The hotel has a cute cafe serving everything from breakfast to lunch, dinner, snacks, lattes and coffee drinks and dessert. It's inexpensive and the food is good.
Room rates at the Cebu R Hotel really can't be beat. Only $23 a night for a single room – incredible for a brand new hotel in the middle of Cebu City