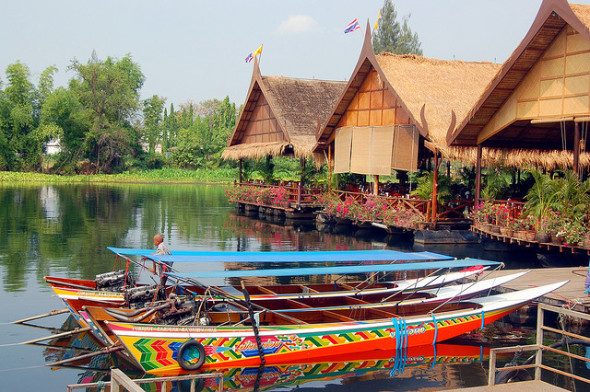 Kanchanaburi, only an hour's drive north of Bangkok, is one of Thailand's most visited tourist destinations. The Bridge Over the River Kwai, the Death Railway and all the cemeteries of soldiers who were killed in World War Two make Kanchanaburi fascinating for tourists.
Plus, with many top budget hotels, Kanchanaburi has great places to stay too. With so many choices of budget hotels in Kanchanaburi, it's often difficult to choose, but these four budget hotels may be cheap in price but not cheap in atmosphere or accommodation.
River Kwai Resotel – River Kwai Resort is one of the most tranquil nature resorts in Thailand. A budget hotel, it's set in beautiful natural grounds, surrounded by mountains and on the banks of the famous River Kwai. There are 93 deluxe chalets on the grounds of the River Kwai Resotel, with air conditioning, satellite TV, refrigerator, tea and coffee makers, and hard wood floors.
All rooms have a balcony where you can sit and enjoy the cool, clean jungle air. The River Kwai Resotel also has a swimming pool and jacuzzi and an excellent restaurant. The coolest thing about this budget hotel though is, once you arrive in Kanchanaburi, a long-tailed boat will pick you up and take you up the river to the hotel. For some fabulous photos of the River Kwai Resotel, don't miss checking out their website.
Room rates begin at 2,500 baht ($74) a night which, for this standard of budget hotel, is very cheap. 55 Moo 5 Tambol Wangkrajae, Amphur Saiyoke, Kanchanaburi
River Kwai Hotel – Not to be confused with the River Kwai Resotel, the River Kwai Hotel is in the middle of Kanchanaburi, and has everything a budget hotel can offer and more.
With 132 Superior Rooms, each room at the River Kwai Hotel has air conditioning, satellite and cable TV, mini bar, coffee making facilities, hairdryer and in room safe. The hotel itself has a gorgeous swimming pool and a good restaurant, a cowboy bar, an internet cafe and bakery and a spa.
With rates as low as 1,250 baht per night ($37), this budget hotel really is cheap. 284 15/16 Songchuto Road, Kanchanaburi
River Kwai Jungle Rafts – For a truly unique budget hotel experience, you have to try the River Kwai Jungle Rafts hotel
It is a floating lodge with all the hotel rooms on enormous floating rafts. 15 minutes by boat from Kanchanaburi, when you pull up to the River Kwai Jungle Rafts hotel in the boat, you'll think you've arrived in paradise.
Each room has a make up table, cold and hot water, an attached bathroom and mosquito nets (you are in the jungle after all). With no electricity, as the hotel is an eco-tourism gem, you will have kerosene lamps in your room and enjoy breakfast, lunch and dinner sitting on a wooden deck as the River Kwai flows majestically by.
There are two restaurant rafts, two bar rafts and 100 hotel rooms on two separate raft wings. With one night stay for two people being 2,500 baht ($74) this deal is incredible. It includes all your meals, boat transfers to and from Kanchanburi and a traditional Thai Mon performance. River Kwai Jungle Rafts. Baan Tahsao, Amphur Saiyoke, Kanchanaburi
Pung Waan Kwai Noi Resort Hotel – On the banks of a tributary of the River Kwai ('noi' in Thai means 'small'), the Pung Waan Kwai Noi Resort Hotel is beautiful. Set in lush, tropical surroundings with every room in natural setting but with all the mod-cons, this budget hotel is well worth the price. You can choose between a floating house, a cottage/chalet or a room in the main building, but all are lovely.
There is an excellent restaurant, a swimming pool, a children's pool, canoeing, bamboo rafting, bicycle track, table tennis, a volleyball court and a soccer field. If you love the outdoor life, you will love this budget hotel. Rates start at 1,300 baht ($39). 123/3 Moo 3 Tumbol Thasao, Amphur Saiyoke Kanchanaburi
The beauty of Kanchanaburi is in its clean air, jungle surroundings, nature and the beautiful River Kwai. Add onto that some of the nicest budget hotels in Thailand and you really cannot go wrong with a vacation to Kanchanaburi, Thailand.