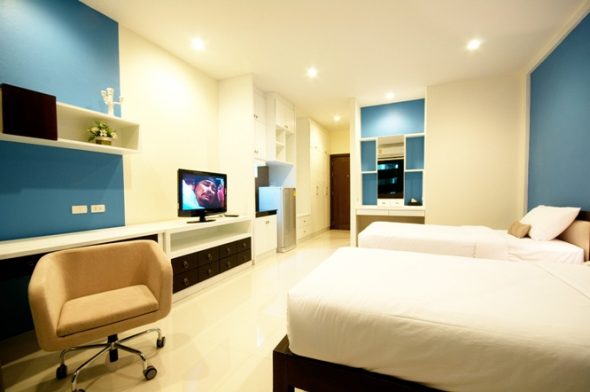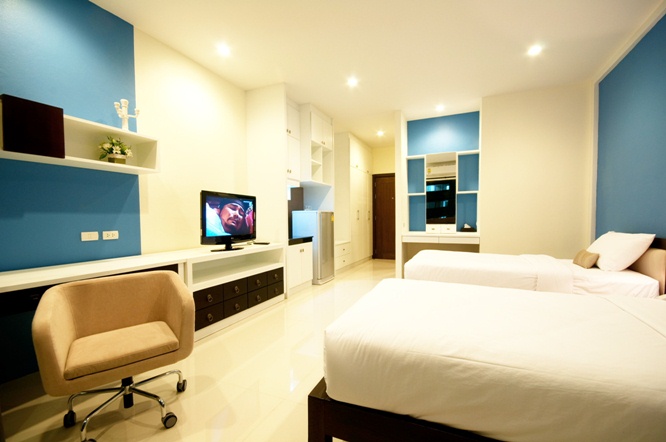 The city of Chiang Mai is Thailand's second most popular tourist destination. Located in northern Thailand, surrounded by beautiful countryside and chock full of fun things to do, Chiang Mai is also home to many budget hotels. In fact, there are so many cheap hotels in Chiang Mai, it's often difficult to choose.
If you are going to be staying in Chiang Mai and don't want to spend a lot of money, these budget hotels offer clean and comfortable accommodation for a cheap price.
Empire Residence/Hotel, Chiang Mai – My favorite budget hotel in Chiang Mai is the Empire Hotel. Opened in 2009, it is set up both as a budget hotel and serviced apartments. But, the wonderful thing about the Empire is the price may be budget but the quality definitely isn't.
The Empire Residence is a large hotel offering enormous rooms that are spotlessly clean and with all the amenities. I stayed with a friend in a Superior Room (which is their basic room designation)., and we couldn't get over the large size of the room, the huge LCD screen TV, the small kitchen area, sitting area and huge marble bathroom.
Everything at the Empire Residence/Hotel is beautifully taken care of, the staff is lovely and room rates even include breakfast in the cute restaurant downstairs (make sure you sit outside on the patio on pretty mornings).
The location too is stunning. Right on Nimmanhemin Road, Chiang Mai's trendy shopping and dining street, you're surrounded by cool cafes, restaurants, bars, boutiques and art galleries.
Basic rates for the Empire start at around $35 for one night's stay in a Superior Room including breakfast.
The Empire Residence/Hotel, 22/3 Nimmanhemin Road, Sutep, Muang, Chiang Mai
3SIS Hotel – This family-run budget hotel is in a perfect location in the old city area of Chiang Mai. Close to Chedi Luang Temple, 3SIS Hotel is an absolutely incredible hotel, located in two separate buildings – one a converted old house and the other a lodge.
Rooms are large and airy and decorated with gorgeous traditional Thai antiques and fabrics. Free Wi-Fi is available, every room is air conditioned and has an en suite bath , flat screen TV and breakfast is also included.
The hotel is lovely and quiet during the day and evening, except on Sunday nights when you are slip bang in the middle of Chiang Mai's enormous (and famous) walking street market. 3SIS Hotel is surrounded by independent coffee shops and restaurants, with art galleries and boutiques also close by.
Plus, it is only a 10 minute tuk-tuk or songtaew ride to the Night Bazaar. You won't be able to believe the 3SIS Hotel is a cheap hotel as you'll feel like you're staying in a luxury retreat.
Basic rates for a single room are unbelievably cheap beginning at just $30 a night, with double rooms around $38 a night.
3SIS Hotel, 1 Soi 8, Phrapokklao Road, Phasing, Muang, Chiang Mai
Lai Thai Guest House Hotel – This budget boutique hotel is located near the famous Thapae Gate in the old city and only a five minute walk to many of Chiang Mais markets and shops.
Open for more than 20 years, Lai Thai Guest House Hotel offers clean and comfortable accommodation with lots of amenities for a cheap price. Rooms have an en suite bathroom, mini bar, TV, and Wi-Fi. There's also a swimming pool and an on-site restaurant. All rooms have hardwood floors and bamboo walls and have a traditional Thai feel to them.
Lai Thai Guest House Hotel has a large open-air restaurant that's open for breakfast, lunch and dinner and serves more than 100 dishes of both Thai and western origin.
Single room rates begin as low as $22 with a continental breakfast available for an extra $2.50 per day per person.
Lai Thai Guest House Hotel, 111/4-5 Kotchasarn Road, Chiang Mai
More Info: