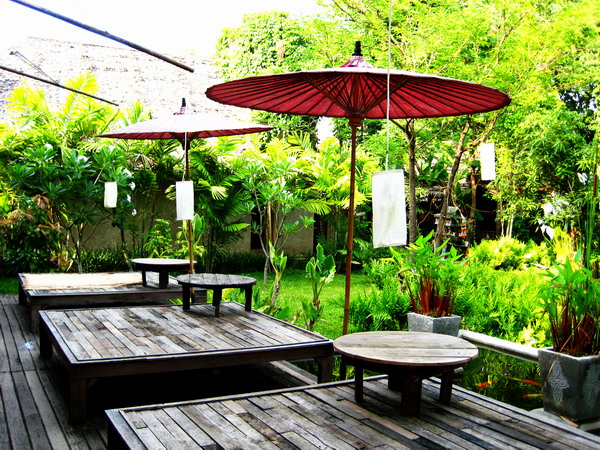 Mae Hong Son, in the north of Thailand is an area of Thailand known for its unspoiled beauty, as well as a place for an inexpensive vacation. A trip to Mae Hong Son, is particularly delightful as there are so many budget hotels that still offer gorgeous, comfortable and clean accommodation at a dirt cheap price. These are three of Mae Hong Son's best.
Muang Pai Resort – Located in Pai, in Mae Hong Son province, the Muang Pai Resort is a budget hotel surrounded by gorgeous gardens and pretty views.
At the Muang Pai Resort, guest rooms are located in traditional teak cottages and feature en suite bath, TV with cable, refrigerator, and hardwood floors. Room rates also include an American breakfast. For recreation, the resort has a swimming pool where you can swim or just relax on a lounger and get some sun. Or, if you want to go elephant trekking, hiking or bamboo rafting, staff at the Muang Pai are incredibly helpful in booking tours.
For dining, the hotel's outdoor but covered restaurant serves both Thai and Western food and even has an extensive wine list, and the atmosphere at night is lovely.
Rooms here are cheap with prices from only 1,100 baht ($35.50) for a single room, or a family room that sleeps 3-4 people for 2,500 baht ($80).
You'll find the Muang Pai Resort at 94 Ban Mo Pang, Maenatoeng, Pai, Mae Hong Son.
Good Morning Pai – One of the cutest cottage-style hotels in Mae Hong Son, Good Morning Pai's guest rooms are in individual straw-roofed cottages with private balconies and great views out over Pai.
Each of the rooms has a small bathroom, satellite TV and a fan, and Wi-Fi internet is available in the public areas of the hotel. They even have a small business center, where you can fax documents, check e-mail or get things photocopied. Complimentary tea and coffee is available in the lobby area.
Good Morning Pai does not have its own restaurant but as the busy Night Market area is just a three-minute drive away, that's never a problem. They can also lend you a free bicycle for your stay; a perfect way to tour parts of Mae Hong Son. Rooms here begin at just over $22 or 700 baht per night. You can't beat that good of a deal.
Good Morning Pai is located at 250 Moo 1, Pai District, Mae Hong Son.
Baan Pai Village Resort – Another cheap budget hotel in Pai, Baan Pai Village Resort has 26 traditional Thai-style private cabins, that still provide comfortable, clean and relaxing accommodation. The hotel is known for its lovely location and adored by people who want a peaceful holiday with no loud radios, TVs or noise.
While rustic, rooms are prettily designed and feature en suite bath with shower, cable TV, fan, and a private terrace with pillows and a Thai mat for relaxing.
Baan Pai Village has a small restaurant that serves Thai and some Western dishes, and a bar, Poppies Wine Bar, which is beautiful at night when you look out towards the fields and mountains beyond. Don't miss the fish pond when it's all lit up either.
Room rates at Baan Pai Village start at $32 for a superior double room.
Baan Pai Village Resort is at 88 Moo 3, Vieng Tai, Pai, Mae Hong Son, on the banks of the River Pai and within walking distance of everything Pai town has to offer.
Finally, make sure to check out these cheap restaurants while you're in Mae Hong Son. They serve delicious food and their prices are incredibly inexpensive.