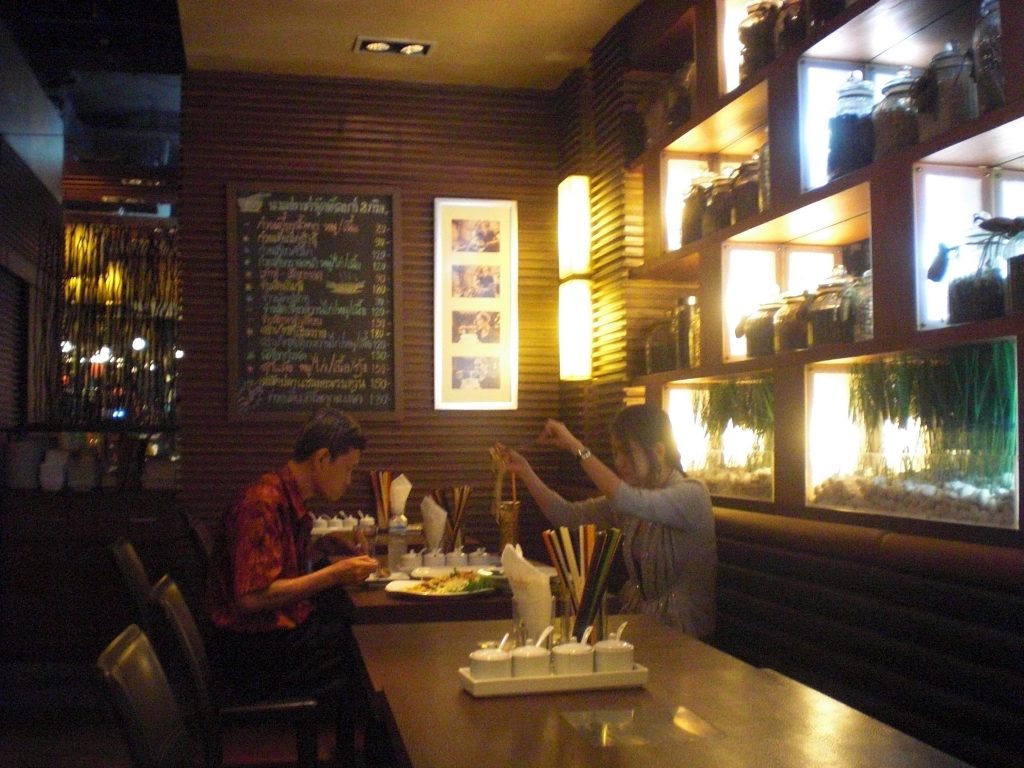 The Pahonyothin area of Bangkok, Thailand is home to literally thousands of restaurants, many of which serve some of the best food in the city. If you're looking for an inexpensive restaurant, Pahonyothin is definitely the place to come, as there are many to choose from. Whether you're in the mood for traditional Thai, more modern dining, here's where you'll find some of the best inexpensive restaurants in the Pahonyothin area.
Jud Leeo – One of the most overlooked restaurants in the Pahonyothin area, Jud Leeo is located down a small soi (lane) at the side of Rasa Tower, just a couple of blocks down from Central Laprao Mall. Known by all the office workers roundabout as one of the best, and most inexpensive restaurants in the area, Jud Leeo serves traditional Thai food in a relaxed atmosphere. At lunchtime, of course, it's packed but, at night, when surrounding offices are closed, it's easier to get a seat and to just sit, relax and enjoy your meal. Prices are inexpensive, with entrees averaging between 40-100 baht ($1.30-$30).
You'll find Jud Leeo at Pahonyothin, Soi 19, on the soi inbetween Rasa Tower and Index Living Mall.
Pathe – One of the authentic old-style Thai restaurants everybody loves, Pathe is popular with university students, young couples, and a small number of foreign expats who've figured out this place exists. Famous for its atmosphere, it's an antique shop and a restaurant and you sit among the antiques while you eat, it's decorated with pictures of Thai singers, and old-time movie stars, which lend themselves to the ultra-cool feel of the place. You're serenaded with music from an old record player while you eat and, as it's so relaxed, are at your leisure to just sit and enjoy it.
The menu at Pathe is extensive, with a great mix of traditional Thai dishes and western fare. They're known for their curries, but everything on the menu is good. Don't miss ordering a cold beer too. There's something about Pathe that makes you enjoy it just that little bit more. Prices run under 100 baht and portions are large.
Pathe is in a bit of an odd location, as it's right on the Vibhavadi-Ladprao-Pahonyothin intersection. Coming from Mo Chit, you'll see it across the street to your right. Coming from Ladprao or the Major Ratchayothin area, it will be on your left.
Nuan Prang Noodle Bar and Grill – Located in Suzuki Avenue, just behind Major Ratchayothin on Pahonyothin Road, Nuan Prang Noodle Bar and Grill serves tasty Thai-fusion food in one of the trendiest atmospheres in the neighborhood. The restaurant is designed in a truly modern Thai style, with dark wood, cool lighting, and floor to ceiling glass windows. It's only a small restaurant but, with several large wooden benches outside that overlook a small garden area, there's plenty of seating.
While the menu is quite small, specials change daily so there's always something new, and with dishes that include pork balls (in a lovely, spicy sauce, spaghetti, and noodles, you'll find something you'll love. Their traditional Thai iced teas and iced coffees are wonderful too. Two people can eat here affordably for less than 300 baht ($10).
Nuan Prang is in the Suzuki Avenue restaurant mall, across a small lane from Greyhound Cafe and close to Starbucks.