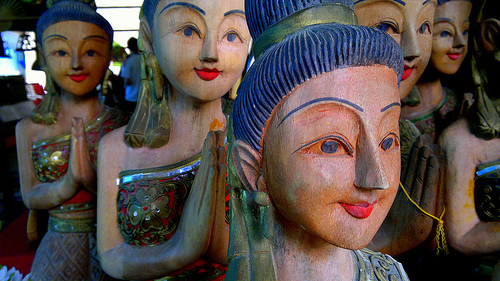 Koh Samui is one of the most popular Thai islands. Located just off Thailand's east coast in the Gulf of Thailand, and relatively close to the Thai town of Surat Thani, Koh Samui is known as an island paradise. Surprising to some though, it's also a wonderful place for cheap shopping and here are the best places to do it.
OTOP Place, Chaweng – OTOP stands for 'One Tambon, One Product'. It's a government scheme, designed by Prime Minister Thaksin Shinawatra, whereby villages all over Thailand work on just one type of Thai handicraft then sell it either in Thailand through OTOP venues, or export it overseas. Since OTOP was instituted over 10 years ago, Thailand's handicraft industry has boomed and hundreds of thousands of poor Thais have benefitted from it.
At OTOP Place, you'll find a whole plethora of cheap Thai handicrafts to buy — wooden bowls, silk scarves, jewelry, handmade soap, pottery, bags — you name it, if you want to buy cheap handicrafts as gifts to take home, here's the place to do it.
Bophut Plaza – a mini shopping center, Bophut Plaza is the place to shop if you're looking for cheap beach-style clothes, fake DVDs and CDs, t shirts, wood carvings, silk scarves and shawls, costume jewelry, pillows and lots more cheap Thai tourist-style crafts.
Sure, you won't find the high-end stuff here, but if you're looking for fun stuff to take back home that doesn't cost an arm and a leg and will still look unique on your wall back in Manchester, then Bophut Plaza is a fun place to shop.
Lamai Night Market – If you are looking for a cool place to hang out at night, grab some delicious (and cheap!) Thai food, and do a bit of shopping, then Lamai Night Market is great.
Teeny tiny compared to the famous Chiang Mai Night Bazaar, Lamai's version still has interesting things to browse and buy. Look for t shirts, fake bags, DVDs, flip flops, sunglasses, wooden ornaments, sarongs, hats, scarves, belts etc. There's also a pretty decent food market, so make sure you grab dinner there too.
Chaweng Beach Night Market — As you will see from the video below, while there is not a huge amount to buy at Chaweng Night Market when it comes to cheap shopping, it is a fabulous place to stop off after you have finished. That is because of the plethora of food stalls selling some of the best, and cheapest, food you will find on Koh Samui.
You will find it located behind the large Star Gym.