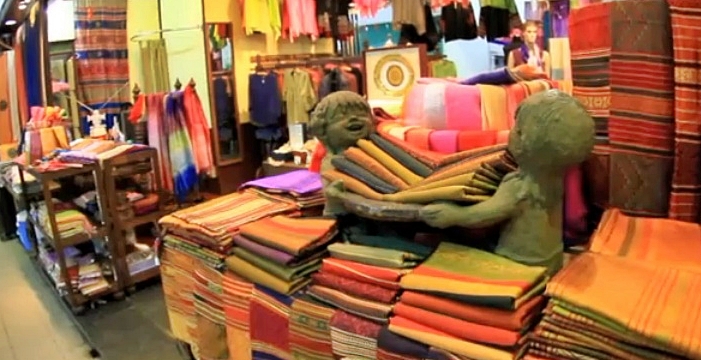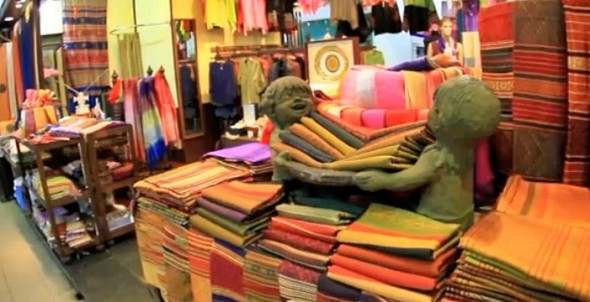 Best Cheap Things to Buy in Bangkok — Silk, Thai Designer Clothes, Retro Items and More
As someone who loves shopping more than life itself, it's probably best that I live in Bangkok, Thailand. That's because there are millions of things you can buy in Bangkok at dirt cheap prices — but things that are certainly not cheap in quality.
For a visitor to or a new resident in Bangkok, of course, it's not always easy to figure out which are the things to buy and which are the ones you should avoid. Don't worry. This short guide will give you some great ideas about the best cheap things to buy in Bangkok the next time you visit.
Silk Scarves, Shawls and Clothing – As in past years, no visitor to Bangkok, Thailand should leave without having visited at least one silk merchant as Thai silk is known as the best in the world. That means it's perfect for gifts for the folks back home as the quality is superb, the Thai silk products you will buy are gorgeous and, being lightweight, it fits easily into your luggage. Prices too are ridiculously cheap.
For high-end Thai silk you must shop at one of the Jim Thompson stores, as they sell the best silk in Thailand. You'll find them at most of Bangkok's more upscale malls as well as at Suvarnabhumi Airport.
For cheaper silk, but still absolutely beautiful pieces, check out the hundreds of stalls at the Chatuchak Weekend Market where you'll find incredible bargains and exquisitely dyed silk scarves starting as cheap as $2.50.
Thai Designer Fashion – If you love designer fashion but can't always afford western name brands, you must buy designer clothing from independent Thai designers as it is stunning and at far more affordable prices.
With independent Thai designers all over Bangkok, the best place to start your shopping is at the newly renovated Siam Center shopping mall, right next to the Siam sky train station. It's easy to get to and it's crammed full of small boutiques featuring Thai designer fashion for both men and women.
The design of Siam Center mall is gorgeous as well.
Vintage and Retro – Whether you're looking for vintage clothing or retro household items, Bangkok is crammed full of the stuff with so many stores selling vintage and retro items at a fraction of the cost of the west. That even includes an enormous selection of American and European products.
You'll find everything from retro movie posters to household items, books and comic books, magazines from the 30s, 40s and 50s, old postcards, vintage musical instruments, vintage and retro clothing, old cameras, ornaments, jewelry, and so much more.
Start your search for vintage and retro items at the Saturday evening Rot Fai Market. it moved locations a couple of years ago and is now behind the Seacon Square mall, but it is enormous with literally thousands of stalls.
Take a taxi to the Seacon Square shopping mall and look for Srinakarin Soi 51 behind it. Held every Saturday evening from 5pm it goes on until after midnight.
There's also an excellent list of other retro and vintage shopping places in Bangkok at Bangkok.com.
Thai Handmade Products – There is no country in the world that makes more handmade products than Thailand, and every year more and more unique items are made here. In fact, there are so many Thai handmade products to choose from, you really will be overwhelmed.
Expect to find hand-embroidered clothing and fabrics, handmade pottery and glass, carved wood products, candles, soaps, perfumes, jewelry, silk products, paintings and sculptures, wooden masks and hand-carved statues, bags and purses, silk-screened t shirts, toys and on and on.
The best two places to find the largest selection of Thai handmade products are Chatuchak Weekend Market, which is held every Saturday and Sunday and has more than 15,000 stalls, as well as JJ Mall right behind it (which is open every day).
Prices at both of these places are 'local price', so the bargains are unbelievably cheap. You can get to them from the BTS Mo Chit sky train station.
OTOP Handmade Products – For official Thai handmade products sponsored by the government, check out one of the OTOP stores, as you'll find stunningly beautiful Thai products here.
OTOP stands for One Tambon One Product, and means that each 'tambon' or 'subdistrict' in Thailand specializes in the making of one handmade product — so tambons don't compete with each other — and these products are truly superb, as well as extremely inexpensive to buy..
You'll find a large OTOP store at OTOP Plaza at the Pratunam Center in downtown Bangkok (a taxi can take you there) or, if you're in town in October or May, don't miss the gigantic twice-annual OTOP International Fair at Impact Arena.
You can find out more about the OTOP fairs plus many other international fairs at Impact's website.