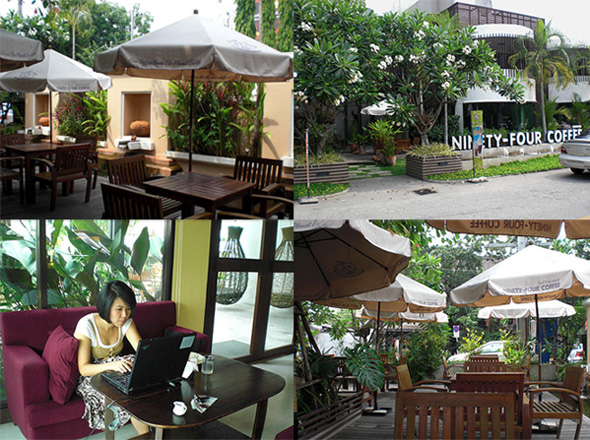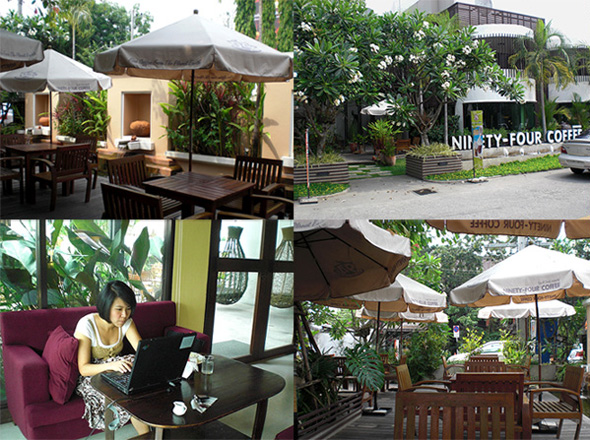 For many tourists in Chiang Mai, while they want a relaxing and fun holiday, they also want access to free Wi-Fi internet, to check e-mails and surf the net and, sometimes, even for business. Luckily, Chiang Mai has hundreds of wonderful cafes and coffee houses, many of which offer free Wi-Fi internet. On your next visit, check out these three Chiang Mai cafes and coffee houses. Not only do they serve great coffee and good food, they also have fast free Wi-Fi internet for every customer with a laptop.
Ninety Four Coffee – One of the prettiest coffee shops in Chiang Mai, Ninety Four Coffee is located in a converted Thai house that's set in a beatiful garden. Inside, the cafe is gorgeous, with hardwood floors, floor to ceiling windows and two large levels. Their coffee drinks are delicious, pancakes, sandwiches, salads, cakes and muffins are wonderful (and inexpensive). Add in free Wi-Fi internet for as long as you want to use it, and Ninety Four Coffee is just about the most perfect coffee shop in Chiang Mai.
If you don't have a laptop with you, you can also access the internet with one of the computers upstairs. With every purchase, you get one hour of free internet, just ask the barrista for the access code and, if you want more than an hour, buy another latte. If you do have a laptop, Ninety Four Coffee also has plenty of plugs, so you can stay charged or recharge easily.
You'll find Ninety Four Coffee in a side street, and across from Starbucks, just off Nimmanhamin Road.
Peppermint Coffee House – Near the famous Tha Pae Gate, Peppermint Coffee House offers free high-speed Wi-Fi internet access and the owner doesn't even care if you buy much (although you should, as his drinks and food are delicious and cheap).
Get yourself set up with your laptop and get online, then order an English breakfast, a burger, an English pie and chips, a baked potato, Thai green curry, or Pad Thai. Prices are cheap, the food is superb, and the service incredibly friendly. Be warned, it's very popular, so get there early if you plan on being online for a while.
Peppermint Coffee House is at Radchadamnoen Road, Soi 5 in Chiang Mai.
Cafe De Thaan Aoan – One of the cutest independent coffee houses in Chiang Mai, Cafe De Thaan Aoan has everything including free high-speed Wi-Fi internet (in fact, it's one of the fastest Wi-Fi internet's I've found anywhere in Thailand).
At Cafe De Thaan Aoan, don't miss ordering one of their incredible shakes, their Khao Soi (spicy Chiang Mai noodles) are amazing, the sandwiches and salads are tasty, and if you love cakes, you'll be in seventh heaven with the huge (and delicious) selection here. The staff is lovely, the atmosphere so cool and trendy, and the Wi-Fi dependable.
Cafe De Thaan Aoan is at 154/5 Prapokklao Rd., Prasingha, Muang, Chiang Mai.