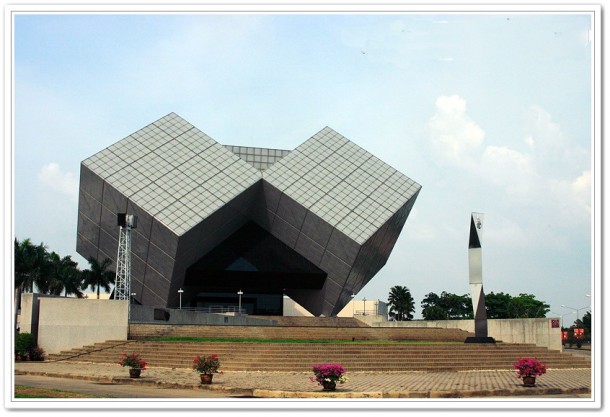 As a former English teacher in Bangkok, Thailand I've been to most of the city's museums on school field trips. With museums specifically for children, or just ones that kids will love, Bangkok has a huge variety of fascinating and unusual exhibits for kids to see. If you're planning a trip to Bangkok or even if you live here, your kids will love these fabulous museums. They might learn something too.
National Science Museum – Avoid the Science Museum and Planetarium downtown as it's old and musty, and head out to the relatively new National Science Museum on the outskirts of Bangkok. An enormous museum, the National Science Museum was planned with kids in mind as it's all hands-on exhibits and fun stuff that kids will love.
From the first minute you arrive, you know this is going to be cool as, just from the design of the building – two cubes balancing on their points – this science facility screams "modern". There's six floors of exhibits, scientific experiments kids can do themselves, and lots of interesting play things. Your kids will learn about everything from electricity and magnetism, to body and health. There's a large exhibit about science and Thailand, particularly interesting if you're here on vacation, and don't miss the top floor with small scale models of traditional Thai houses and people, and Thai food, art and crafts.
The National Science Museum is about a 45 minute drive outside Bangkok's main downtown area, but worth it as you'll also get to see 'real Bangkok' and not the tourist version. Don't miss the cafes too. They're cheap and the food is decent.
Soi Khlong 5 Rangsit, Nakon Nayok Road, Bangkok Tel: (02) 577-9999 – open Tuesday thru Sunday, 9:30 am to 5pm.Admission is 20 baht for kids (approximately .75 cents) and 50 baht for adults (around $1.75)
Bangkok Doll Museum – A little old-fashioned, which is not surprising as it's been open more than 60years, it's still a wonderful place for little girls. Here you'll see a great selection of handmade dolls, both traditional and more modern Thai,that are made on the premises. Some of the dolls are new, others are antique but they all give you a good idea about traditional Thai dolls and what little girls in Thailand have played with through the years.
Just be warned, at the end of the tour they show you exactly how they make dolls, then they try to sell you one. If you're with your kids, try getting out of buying one – it's impossible. Seriously. It's still a great deal though as entrance to the museum is free and buying a doll starts out as low as $7.
85 Soi Rajatapan, Ratchapraprop Rd., Bangkok -Tel: (02) 245-3008 – open Monday thru Saturday, 8:am to 5pm.Free Admission.
Thailand Railway Hall of Fame – One you must visit just to support the owners who have run this museum for decades refusing to charge any fees, the Thailand Railway Hall of Fame will educate your kids about a time gone by.
At the Railway Hall of Fame, you can see a model of the first train in Thailand presented to the King of Thailand by Queen Victoria of Great Britain, two full-size rail carriages completely made of teak, Thailand's first tram car, a steam train and lots more. There's even an old Thai tank that's probably the smallest tank you'll ever see. Boys especially will love this museum, and please don't forget to leave a donation. The museum counts on it.
Northwestern corner of Chatuchak Park along Kamphaeng Phet 3 Road, Bangkok – Tel: (08)165 5776 Open Tuesdays thru Fridays from 6am to noon, and Saturday and Sunday from 6am to 2pm.Free Admission.
Photo – Bangkok's National Science Museum building