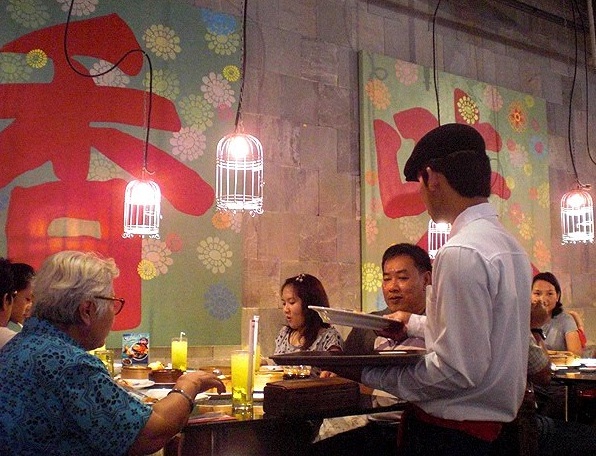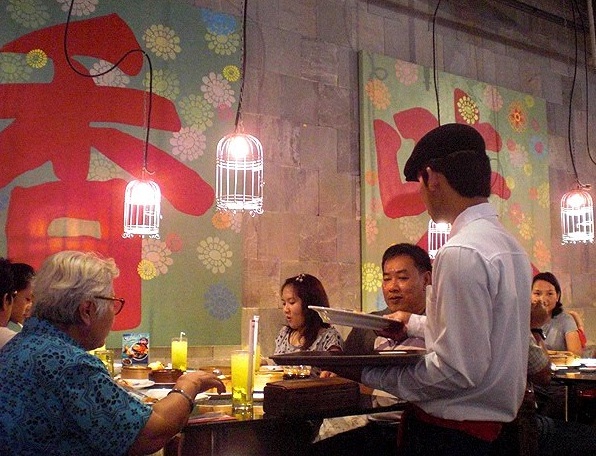 With around 15% of Thai people of Chinese descent, it's not surprising there are many Chinese restaurants in Bangkok, Thailand. If you're in Thailand and would like to eat authentic Chinese food, Bangkok is the place to eat it. With many restaurants serving Chinese cuisine it can be difficult to choose – but start off with these restaurants that serve some of the best Chinese food in Bangkok, and you won't go far wrong.
Jasmine – One of the best Chinese restaurants in Bangkok, it's rumored the Queen of Thailand eats here often, so it's not surprising that it's delicious.Jasmine serves Hong-Kong style Chinese food, and has been a Bangkok landmark for almost 20 years. Famous for its Dim Sum at lunchtime, the choices are unbelievable.
Last time I ate there, we ordered six Dim Sum dishes but, honestly, it was difficult to decide which to choose as there were just so many.Don't miss the scallop, crab claw and lobster dishes too, with many choices of how to cook them and served at market price. The piece de resistance at Jasmine though is one of their signature dishes – the roast suckling pig. Served with the crispy skin still attached, not only is the meat succulent, moist and literally falls off the bone, but you shouldn't miss gorging on the incredible tasting skin either.
The only thing I don't like about Jasmine is they still serve shark fin dishes. Many Chinese restaurants in Bangkok are now bowing to international pressure not to serve shark fin, due to its environmentally disastrous ramifications, as well as the cruelty factor. That's why, for me, I won't eat again at Jasmine restaurant, until they stop serving shark fin dishes. For you, that may not matter.
Jasmine restaurant is in the Times Square Building on Sukhumvit, near Asok sky train station.
Krua Nai Baan – A much more affordable Chinese restaurant in Bangkok is Krua Nai Baan. In Soi Langsuan, which is a fashionable area of Bangkok near Chidlom sky train station, it's in an old converted Thai house, which only adds to the authentic atmosphere.Dim Sum is one of my favorite choices at Krua Nai Baan, particularly as their prices are cheap (between $1 and $1.50 per dish). Stir fried watercress is a dish I've never eaten anywhere else, but one I always order here, along with their signature dish, the curried crab, which is unbelievably scrumptious, and not too spicy.
Krua Nai Baan also has some wonderful Chinese and Thai desserts and, particularly at lunch time, as you can eat a lot for only around $10-15, it's a wonderful deal for authentic Chinese food.
Krua Nai Baan, is on Soi Langsuan in Bangkok, and they'll also deliver if you don't feel like eating out.
Hongmin – For inexpensive Chinese food in Bangkok, you can't beat Hongmin. Packed at any time of the day with Chinese-Thais, I always figure it must be good Chinese food as they would know.At Hongmin, try the Hong Kong noodles (enormous bowls and delicious), several Dim Sum dishes, the crispy spring rolls (awesome sauce) or the crab. The menu is large, with many Chinese favorites and, if you're not sure, the waiter will be more than happy to recommend.
Hongmin has several locations around Bangkok. My favorite is at the entrance to the Carrefour/Big C annex building on Ladprao Road in northern Bangkok, but check out the ones at MBK or Seacon Square too.
Chinatown (Yaworat) – Of course, the absolute best Chinese food to be found in Bangkok is in Chinatown. But, if you go, avoid the many indoor restaurants and eat at one of the fresh seafood stalls instead, as they are the most popular in the city.Take a walk down any of the main thoroughfares in Chinatown and eat at a seafood street stall that's full of Thais. Here, you'll find the freshest and tastiest seafood you've ever eaten, and all for less than $12 a person, and you'll leave the stall so full you'll almost be rolling.

To get to Chinatown, take the underground train to Hua Lamphong, then a quick taxi or tuk-tuk ride.