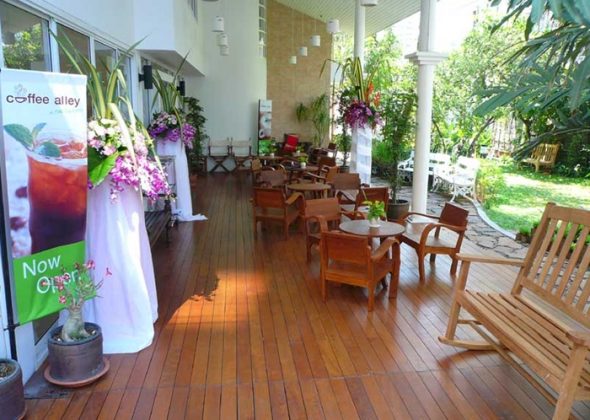 With thousands of coffee shops in Bangkok, it's sometimes hard to choose. For me, I often like to eat a meal with my latte so, if I find a coffee shop that also serves good food (and by 'food' I mean cooked stuff, not the day old croissants some places serve), then I'm hooked. Bangkok has some excellent coffee shops that also serve food. These however are the best.
Coffee Alley – Just about my favorite coffee shop in Bangkok for food is Coffee Alley. Not only for the amazing lattes, free Wi-Fi, quiet location and lovely staff, but also for the breakfasts. I am hooked on their cooked breakfasts, which they serve all day long. For a meal at breakfast you have a choice of two sets. One is the toast, egg, ham and sausage, which comes with coffee. All for only 80 baht ($2.75), and it is delicious.
The other set is a waffle, egg, ham and sausage for 90 baht ($3). Coffee Alley also has some spectacular cakes and cookies and some delicious drinks. Located on Sukhumvit Soi 16, just up the street from Asoke sky train station.
Coffee Society – Coffee Society is not only in a phenomenal location (next to Sala Daeng sky train station) but it's open 24 hours a day, they serve food all that time and it's pretty darn good. If you, like me, love a meal with your coffee then you can't go wrong at Coffee Society.
For breakfast, you'll love the eggs, bacon, sausage, the Eggs Benedict and the fresh, fresh muffins. For lunch, you can't beat one of their pastas, pizzas or a plate of Thai food. And for dinner, don't miss soup and a sandwich (great bread!) followed by one of the most scrumptious cheesecakes you've ever eaten.
Coffee Society is amazing for food all around the clock. I particularly love it at 2am when you get a nice mix of folks from the clubs and writers like me who are on a crazy deadline! They also have free Wi-Fi internet and plenty of outlets to plug in your laptop. Located on 12/3 Silom Road.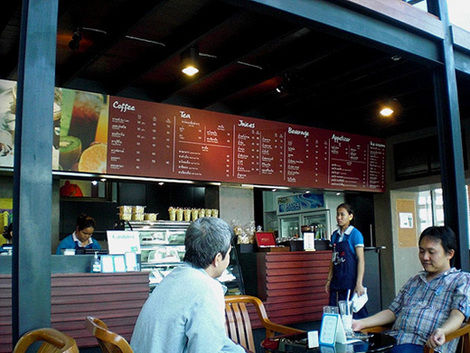 Cafe Au Lac – Another cool coffee shop in Bangkok that serves food is Cafe Au Lac. While their menu is small, basically soups, salads and sandwiches, what they serve is lovely. My favorite is a club sandwich that's served with a small side salad. I particularly love this as it comes with boiled egg, something you don't always see on club sandwiches in Bangkok.
They also have a wonderful pumpkin soup. Follow that up with a hot latte and a slice of chocolate cake or a blueberry cheesecake, and it's just about the perfect meal.
Cafe Au Lac is located in one of Bangkok's upscale markets, Bon Marche, and this place is phenomenal. So, enjoy a great meal at Cafe Au Lac while sipping coffee and looking out over the lake, then head to Bon Marche to shop. A perfect afternoon in Bangkok. Located on Prachaniwet 1, in northern Bangkok, inside Bon Marche market.
Brownery Coffee – A coffee shop with great food I used to frequent all the time is Brownery Coffee, as it was located in the building I used to work in. Brownery Coffee has wonderful hot lattes (although small, so you have to order two!), and serves food all day long.
Their ham sandwiches are great and they also serve one of my favorite Thai dishes, rice with chicken yellow curry. Again, their menu is small but food quality is excellent. Brownery Coffee is in the Lake Ratchada Office building on Ratchadaphisek Road,
For coffee shops that serve delicious food in Bangkok, also try Macchiato, Blue Door, Book @53, and Vivi Cafe.