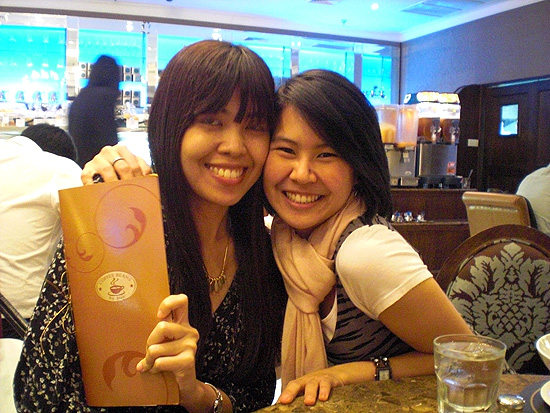 When I moved to Thailand, I gained 20 lbs. The culprit? The desserts. Desserts in Thailand are amazing. From traditional Thai desserts made with coconut milk and rice flour, to typical Western desserts like cheesecake, mousse, chocolate cake, hand made cookies and ice cream. Thais love dessert and desserts are everywhere. Bangkok especially has some of the best restaurants and cafes for dessert that I've ever seen anywhere.
Many of these restaurants are even 'famous' for the delicious desserts they serve. The next time you're in Bangkok, eat dessert at one of these restaurants and you too will be well on your way to gaining 20 lbs.
Coffee Beans by Dao – Coffee Beans by Dao is a restaurant in Bangkok that serves typical Thai and Western food. Their menu is adequate and the food is excellent, but what they're really famous for are their desserts. When you walk into any Coffee Beans by Dao restaurant (there are currently five branches in Bangkok), the first thing you'll notice is the enormous cases of desserts.
Cakes, cheesecake, mousse – huge stacked cakes loaded with cream, frosting and decorations – almost every type of cake imaginable is there to try. Each slice runs between 80 and 100 baht ($2.25 to $2.80), which is expensive for Thailand considering average daily salary is 200 baht. But, the expense is worth it.
The slices are big, easily enough for two people, and the taste is out of this world. I recommend their cheesecakes (the caramel cheesecake is out of this world), the mango mousse, or any of their chocolate cake concoctions. My favorite location is at Central World Mall
The Oriental Shop – Owned by the famous five star Oriental Hotel, The Oriental Shop has several branches in Bangkok. It's quite upscale with a more hi-so (high-society) clientele, but the staff is still incredibly friendly and you certainly don't feel like you're not 'good enough'. Try a slice of their Orchard Cake, cheesecake layered with fresh berries, rhubarb mousse, a scoop of ice cream or a fruit tart.
The best location for The Oriental Shop is the one on the top floor of Emporium Mall, as it's a wonderful place to people watch. Just find the food court area and then wander around. The Oriental Shop is the Asian colonial-looking circular shop in the middle.
Baan Phra Atit – A little coffee shop with the most delicious cakes, Baan Phra Atit's Thai tea cake is phenomenal. I haven't eaten it anywhere before or since, and have gone back several times just for that. They also have a lot of low-fat cakes, which is wonderful for those of us still worrying about our weight. I like this café too because of its cozy atmosphere. Overstuffed sofas and chairs, lots of reading material (both in Thai and English) and even Wi-Fi if you want to bring your laptop.
The staff too is relaxed so you can hang out for a long time and no-one will bother you. I did, and during that time managed to eat not one, not two, but three desserts. Yum. Baan Phra Atit is at 102/1 Phra Atit Road, Bangkok
Iberry Ice Cream – Iberry Ice Cream is all the rage in Bangkok. Thai teens line up for ages at some of the Iberry shops, just to get a scoop of their favorite flavor. The big success at Iberry is their line of sorbets rather than their traditional ice creams. The sorbets come in flavors like tamarind, coconut, durian and other flavors not so familiar to western palates but I've yet to eat one that wasn't delicious.
I especially love the tamarind as it has an interesting mixture of sweet and sour and the mango is gorgeous too. If you like traditional ice cream, try their cookies and cream or the chocolate ice cream – delicious and very creamy. Iberry Ice Cream's are at some of Bangkok's upscale malls as well as at J-Avenue, and Major Avenue.
Mousses and Meringues – Concentrating primarily on cake, with some cheesecakes and mousses (and of course meringues!), Mousses and Meringues serves some of the best cake in Bangkok. It's a tiny little café with only a few tables so, if you get there too late, you'll be forced to take your cakes to go. Either way, Mousses and Meringues serves decadent cakes at good prices. 245 Sukhumvit 31, Soi Swasde, near BTS skytrain Phrom Phong
These restaurants and cafes, and more, sell some of the best desserts in Bangkok. Whichever one you go to, I promise you won't be able to stop at just one slice. I can't.