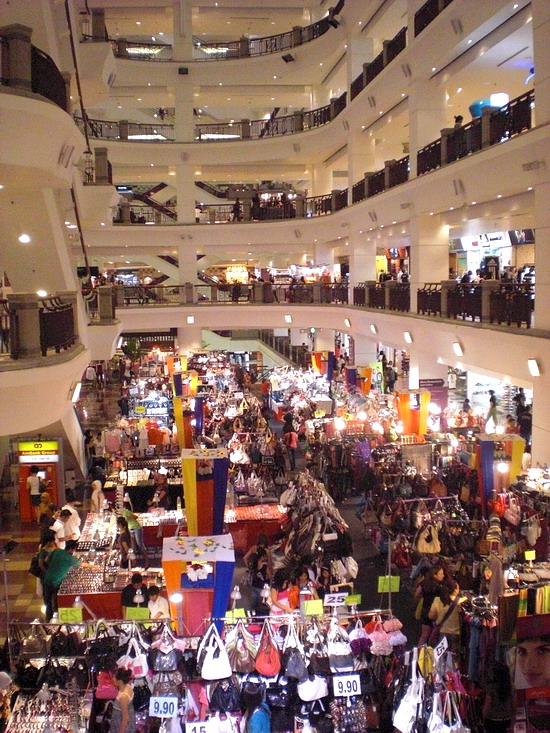 I spend a lot of time in Kuala Lumpur, Malaysia and, every time I go, shopping is the first thing on my mind. With so many beautiful and unique things to buy in KL, it's hard to choose what to buy first. However, there are five things I always buy, and five must buys you should not miss if you're in Kuala Lumpur on a shopping trip.
Electronics – One of the first must buys in KL is electronics. Unlike neighboring Thailand, where I currently live, electronics in Malaysia are often cheaper than in the US and Europe.
Thailand imports most of its electronic products but electronics in Malaysia are often made in the country, which means you can get great deals if you're prepared to comparison shop.
Look for cameras (Nikon, Canon, Casio, Sony and more are all here), mobile phones, MP3 players, DVD players, laptops and even electronic household items like rice cookers and coffee makers, which can be bought for reasonable prices.
One of the most well known places to buy electronics and IT products is the 7-storey Plaza Low Yat, which you'll find behind the Melia hotel near Imbi monorail station.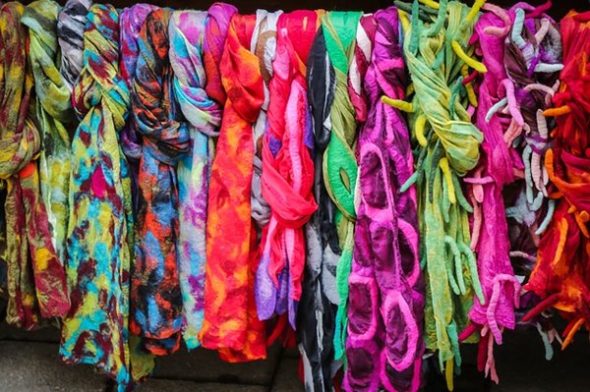 Batik Fabric – One of Malaysia's most important and unusual handicrafts is batik. Batik is a fabric on which wax is used to create patterns on the cloth, that's then dyed with different colored dyes to produce gorgeous designs.
Malaysian batik is interesting as, unlike batik in Thailand or Singapore, most of Malay batik has flowers, leaves, trees or abstract patterns on it as, under traditional Muslim law, animals and people aren't allowed to be used as a design.
Related reading: How to see Kuala Lumpur on a budget — have fun on less than $25 a day
Malaysian batik fabric, in bolts, pieces or even made into clothing and accessories, is available at markets, handicraft stores and shopping malls. Just don't buy on a batik factory tour, as you'll pay a much higher price.
Pewter Ware – Another must buy in Kuala Lumpur, Malaysia is local pewter ware. You'll see it all over KL, in craft stores in shopping malls, in souvenir shops, at local markets and also at high-end specialty shops. Royal Selangor is the world's largest pewter manufacturer and is a Kuala Lumpur institution when it comes to shopping.
Of course, here, pewter products are higher priced than other stores but the quality is simply spectacular. Look for wine accessories, pewter beer mugs, key rings, boxes, photo frames, drinks coasters and even men's cufflinks. One of the best Royal Selangor shops is at KLCC mall or, if you want cheaper pewter ware, check out Central Market or craft shops around town.
Related: Cheapest places to shop in Bukit Bintang in Kuala Lumpur
Traditional Chinese Medicines and Herbs – With its large Chinese population, Kuala Lumpur has many shops and market stalls selling traditional Chinese medicines and herbs. Everything from traditional remedies to cure asthma, headaches, stomach aches and incontinence to herbs used in Chinese dishes, you'll find it all in KL. One of the best places to shop is Jalan Petaling in Chinatown, as it has some of the best herbal medicine stalls and shops in KL.
Malaysian Snacks – Last in my top five list of must buys in Kuala Lumpur are Malaysian snacks. Just like every Asian, Malaysians love snacks and they make thousands of different ones. From traditional rice cakes, candies, water chestnut cakes and sweet bean cakes, Chinatown in KL has some delicious and authentic Chinese snacks.
For Indian snacks like cassava chips, jalebi (deep fried sweet batter), puffed rice, roti and samosa, KL's Brickfields area is where you'll find them.
For traditional Malay snacks like rice sweets wrapped in banana leaves or curry puffs, Chow Kit is a great place to shop.
And for tons more tips on getting the best out of Kuala Lumpur, we have many more articles here.