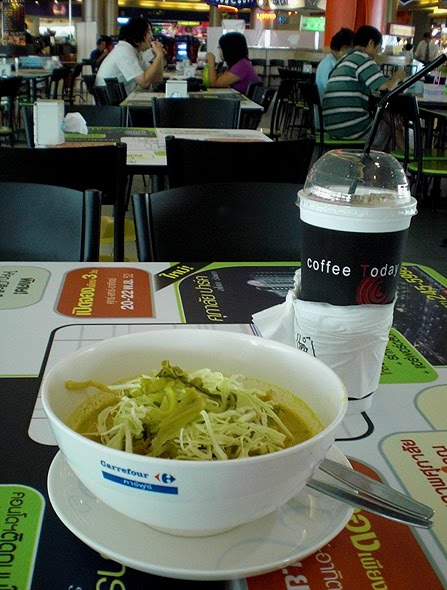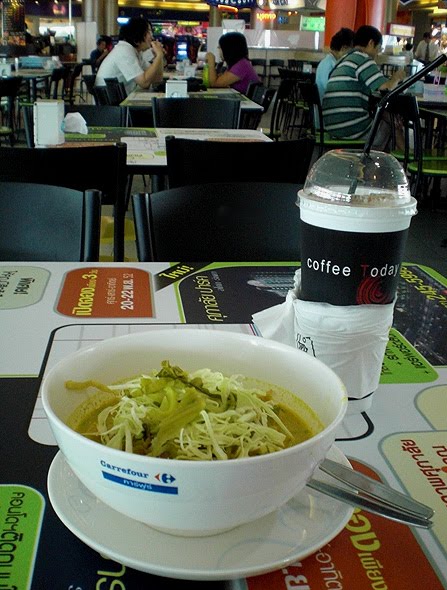 One of the best places to eat cheap food in Bangkok is at one of the food courts. Every shopping mall has a food court and, because there are literally thousands of shopping malls, food are everywhere. Food at food courts usually ranges from $1 to $1.75 per dish, with bottled water, Pepsi, Coke and fruit juices being 30 to 50 cents. At some food courts, you can also get beer and wine, depends on where they're located. I've eaten at many food courts in Bangkok, but these are my favorites.
Mahboonkrong (MBK) Mall – One of my favorite food courts in Bangkok is at MBK Mall. MBK is next to National Stadium sky train station, so it's also easy to get to. They have a couple of food courts, but the best one is on the floor just below the movie theatre. It's a very large food court with probably 60 shops you can choose food from.
When you get there, go to the 'Tickets' booth and buy tickets so that you can buy food (none of the food sellers accept cash, only tickets). I usually get 100 baht's worth of tickets which is around $3. Don't worry though. If you don't spend all the money, when you've finished eating just take the remaining tickets back to the booth and they'll refund your money.
My favorite place here is one of the vegetarian Thai food stalls. Absolutely fresh, crisp vegetables in tons of different sauces as well as several tofu dishes. I chase this down with a fresh fruit shake from another shop and then a dish of homemade ice cream from one of the ice cream stalls. They also have noodles, hundreds of rice dishes, pork, beef, chicken dishes, lots of seafood, Pad Thai, and also several stalls that sell Western food. An average meal at this Bangkok food court will cost you around 50 baht including a drink. As 50 baht is currently only $1.45, you can see how cheaply you can eat here.
Emporium Mall Food Court – The Emporium shopping mall is quite high-so (Thai slang for 'high-society) and thus quite expensive at many of the restaurants there. Their food court, however, is pretty cheap and serves great food. It's tucked away on the top floor (the one below the movie theatre), so it's a bit difficult to find, but look around for the overhead signs and you'll see it eventually.
Prices here are slightly more expensive than other food courts (maybe 25-50 cents per dish more) but the food is good. They have Indian food, lots of Thai food, Western food, spaghetti, good salads and even serve beer and wine. It is very busy at lunchtime, so if you're going to eat here then, go either before 12pm or after 1:30pm when most people have gone back to work.
Again, you have to buy 'tickets' before you can purchase the food from the stalls. As Bangkok food courts go though, this one is a good one so worth timing your visit correctly.
Carrefour Ladprao – Most of the Carrefour (bought out and soon to be Big C) supermarkets in Bangkok are in strip malls that have food courts. One of the best, I think, is in northern Bangkok on Ladprao road.
On the top floor of the first building, there is a large food court with tons of typical Thai food. It's also very cheap at around 25 to 30 baht per dish (around 80 to 90 cents). They also sell beer, there are a couple of good coffee stalls (nice lattes!) and several stalls selling ice cream, puff pastries, custard pies, and traditional Thai desserts. I go here often on Saturdays before I do my weekly shopping at Carrefour.
I can get a delicious, quick lunch for around $1.75 including drink, much cheaper than I can cook it myself at home. There's even a nice kid's playground and video games, so the kids can stay amused while you eat or just relax and talk.
Central World Plaza– Central World Plaza shopping mall is near Chidlom sky train station. It's one of the largest mall in S.E. Asia. It's a fabulous mall with many restaurants, but it also has a superb food court, The Food Loft @ Zen, that sells a lot of Western food.
Much pricier than normal food courts, with dishes running from between 100 to 250 baht ($3 to $8), the food is quite good and the atmosphere is much more upscale than other food courts. Beer and wine is also available here as well as a good coffee stall with excellent lattes.
Central World Plaza also has another food court, Flavour Food Hall, with around 25 Thai stalls selling good Thai food for between $1 and $2 per dish. I like Flavour Food Hall, because the atmosphere is nicer than food courts in many other Bangkok malls and the food is delicious.
These are just a few of the food courts in Bangkok. There are thousands so, the next time you come to Bangkok and want a cheap meal, head to the closest shopping mall or strip mall – you'll find a food court at almost all of them.