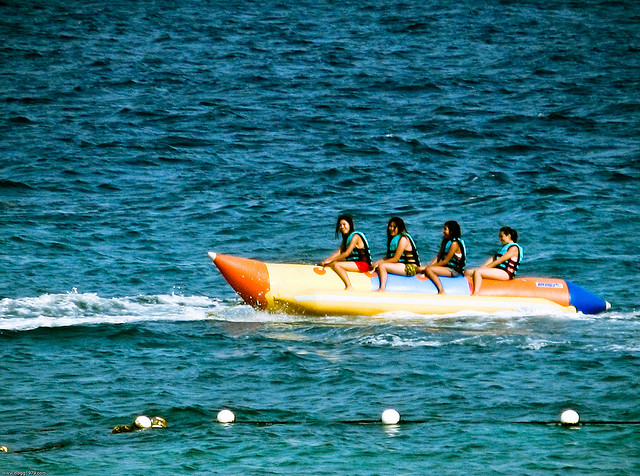 Hua Hin, just three hours south of Bangkok, is Thailand's most popular beach resort. Stuffed full of cafes, restaurants, bars and shops, it is also a great place for a vacation with the kids. It's laid-back, friendly, extremely safe, and has so many fun things to see and do, after your holiday your kids will be begging to go back there.
Horse Rides on the Beach – The horses on Hua Hin beach are a huge source of fun for kids and parents alike, and both western and Thai tourists spend hours riding them.
The Thai men and women who own them are delightful, they'll give you a quick lesson in how to ride before they help you in the saddle and, if you have horse riding experience, they'll usually let you ride by yourself while walking quietly next to you or behind..
Prices are not cheap – 200 baht ($6.75) for 15 minutes, 300 baht ($10) for 30 minutes, so be sure your child likes horses before you plump down the money.
Elephant Trekking – You can't visit Thailand and not going elephant trekking, no matter how touristy it might seem. Hua Hin, like many other Thai holiday resorts, has an elephant camp just a couple of miles outside town.
Here, your kids (and you!) will get to ride the elephants, watch an elephant show where they play basketball (yes, they really do), paint pictures and play the harmonica, and buy some souvenirs at the elephant camp's shop.
Don't miss buying bananas to feed the elephants with too. It's a great photo opportunity, the kids will love it, and the elephants will suddenly be your new best friends.
Go Kart Hua Hin – If your kids like something a bit faster than an elephant, they'll love riding the go karts at Go Kart Hua Hin. There's a 700-meter circular track, you can go really fast (70 kilometers an hour isn't unheard of, although the kids will probably just tootle around the track a bit — it's safer that way).
Prices start at 400 baht ($13.25) for 10 minutes so, no, it's not even remotely cheap but the kids will love it and…..they are on vacation.
Banana Boat – Another of the best things to do in Hua Hin with the kids is to ride a banana boat. Thais love riding banana boats. In fact, it is probably the quintessential Thai activity for any Thai tourist who goes to a beach resort. Your kids too will love the banana boat rides on Hua Hin's beach, and if your family is large, you can rent the whole banana boat for half an hour.
If you have never been on a banana boat, it is a large yellow inflated rubber boat you sit astride, one person behind another, and then are towed out into the water by a speed boat. You spend half an hour being towed backwards and forwards, with the water spraying up, the speed gathering, and you falling off every few minutes.
Don't worry, they don't go out into the water very far, but make sure your kids can swim before allowing them to ride atop a banana boat.
They are a wonderful way to spend half an hour on a hot Thai summer's day. Just be warned, your kids will have so much fun they will want to do it every afternoon.