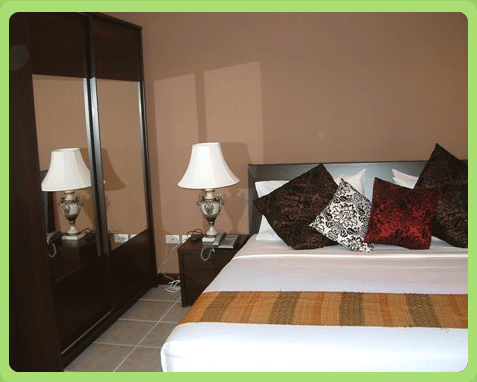 Pattaya is Thailand's most popular town to visit for a beach vacation as it's about 90 minutes from Bangkok by road, so perfect for a quick weekend away. It's also well-visited by Thailand's gay community and gay tourists, who adore the town's beaches and its thousands of fun bars and nightclubs. Pattaya is also known for its gay-friendly attitude, including its many beautiful and gay-friendly hotels. These are three of the best.
Baan Dok Mai Guesthouse – Gay-owned and operated, the Baan Dok Mai Guesthouse is slap bang in the middle of Pattaya, so close to Boyz Town, Pattaya's gay area, as well as to the city's best shopping areas, restaurants, coffee shops, bars and nightclubs.
At Baan Dok Mai, every guest room is delightfully designed in Thai style, and comes with air conditioning, TV and home theater, tea and coffee making faciliities, refrigerator, private safe and even beach towels you can use.
As for amenities, the hotel has a bar and a coffee shop, although neither is necessary as there's so much going on right outside the front door.
Rooms are incredibly inexpensive, beginning at only 850 baht ($29) a night and, as the hotel prides itself on being "hassle-free", there'll never be any questions asked if you decide to bring a new friend or significant other back to your room.
Baan Dok Mai Guesthouse is in Soi Day Night 3, just behind the Tukcom building, and just a few minutes walk from the beach.
Natra de Boutique Hotel – Another inexpensive, gay-friendly hotel, the Natra de Boutique Hotel is simply lovely. It offers comfortable, stylish accommodation and friendly service, along with relaxing world-class spa and health treatments at the hotel's gorgeous spa.
At Natra de Boutique Hotel, all three levels of guest room feature king-size beds, sofa beds, flat screen TV with cable, free Wi-Fi internet and you can even rent a Playstation if you're so inclined. Rooms all have en suite bathrooms, and some even have a bathtub in your very own private garden. Perfect if you're expecting a little romance.
The hotel has a swimming pool, yoga and meditation classes, and a huge list of spa treatments on offer from Apex, which is one of Thailand's top spa and beauty salon chains.
You'll find Natra de Boutique Hotel along Pattaya's beach road, in Soi 1.
Le Cafe Royal – Probably Pattaya's most famous gay-friendly hotel, Le Cafe Royal has been around for more than 20 years, although it was renovated just a couple of years ago.
At Le Cafe Royal, which is located close to Boyz Town, you'll find friendly service, discreet staff, and a problem-free environment.
Guest rooms feature King or Queen-size beds, en suite baths, flat screen TVs with satellite, mini bar, refrigerator, and free Wi-Fi. The hotel is also very specific that overnight guests are welcome, and there is no extra charge.
Le Cafe Royal has a 24-hour bar and restaurant. The restaurant is known for its large outdoor patio, a great place to people watch, as well as for its huge menu, with a great mix of Asian, American, English and European dishes on offer. There's also live entertainment in the Piano Bar every night
Le Cafe Royal is at 325/102-105 Pattayaland Soi 3. in South Pattaya.
Finally, if you're planning to travel around Thailand and Chiang Mai is going to be one of your destinations, you may also want to check out the Best Gay-Friendly Hotels in Chiang Mai.