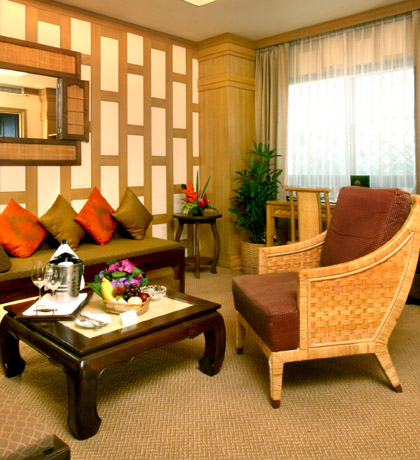 Thailand is one of the most gay friendly countries in the world, and Bangkok one of the most gay positive cities. With most hotels in Bangkok being perfectly happy to have gay travelers stay with them, there are however some hotels that are even more gay-friendly. These are three of the best.
Tarntawan Place – A small boutique hotel in Bangkok's central business district, Tarntawan Place has earned a great reputation with gay travelers who love its location, the comfort of its rooms and that they, and any romantic partners they might meet on the way, are made to feel so welcome. The gay guide, Spartacus, has been recommending it for years.
At Tarntawan Place, rooms feature en suite bath, satellite TV, coffee making facilities, a fridge and mini bar and free in-room Wi-Fi. Suites come with even more goodies. Breakfast is included in the room rate.
The hotel has a lovely restaurant that's open 24 hours a day, a bar, and a small business center. The staff is very friendly and helpful, and take care of everything so well. The hotel also has an arrangement with a local gym nearby, where you can get a whole range of gym services for a low daily fee, simply because you're staying at Tarntawan Place.
Tarntawan Place is close to a number of Bangkok's gay nightspots and, if you're new to town, the staff are more than happy to tell you about the best places to go.
You'll find Tarntawan Place at 119/5-10 Surawong Road, Bang Rak, in Bangkok.
Babylon Sauna and Guest House – If you prefer to stay in a hotel that's 100% gay (and men) focused, you'll be in seventh heaven at Babylon Sauna and Guest House. They offer short and long-term stays and, with various styles of guest room, you're sure to be able to book something you like.
At Babylon Sauna and Guest House, rooms are modern in style and quite elegant. Rooms don't have private bathrooms, but share a large common bathroom and a big shower area. They have cable or satellite TV, either a queen size bed or two twin beds, refrigerator, Wi-Fi internet, and maid service. Breakfast is complimentary and served in the gorgeous restaurant on the sixth floor.
As for restaurants, the Babylon has three restaurants, a coffee shop and a bar. There's also a swimming pool, perfect for enjoying a relaxing drink with the new special someone in your life.
The hotel's beautiful spa is just across the street and offers full spa service, including massage, foot massage, body salt scrubs and aromatherapy. Prices are extremely reasonable too.
The Babylon Sauna and Guest House is located at 34 Soi Nandha, South Sathon Road, Soi 1 in Bangkok.
Hotel Sofitel Bangkok Silom – If you're a gay traveler who shies away from 100% gay hotels, and prefers staying in a hotel that's just gay friendly, you'll be thrilled with the Hotel Sofitel Bangkok Silom. One of the loveliest luxury 5-star hotels in Bangkok, the Sofitel offers superb service, large and very comfortable rooms, and a great location.
At the Sofitel Silom, you'll get a gorgeous rooms with en suite bath, satellite TV, tea and coffee making facilities, a hairdryer, and a mini bar. Breakfast is included in the room rate, and it's fabulous.
The hotel has two restaurants, with a wonderful variety of Thai, Western and Chinese cuisine, three bars, including a pool bar, and a lounge bar.
The hotel's spa is marvellous, and visited by Bankokians from all over the city as well as by visitors to Thailand. If you're not a spa person but prefer to get out and about and see the city, the sky train and underground are within walking distance.
At the Sofitel Silom, known for its superb guest service, should you meet someone whom you'd like to invite back to your room, there'll never be a problem. They'll simply be askd to leave their ID at the reception desk; all quite discreetly and politely.
The Sofitel Silom is situated at 188 Silom Road in Bangrak, Bangkok.
Finally, don't miss checking out Gay-Friendly Hotels in Chiang Mai and Gay-Friendly Hotels in Phuket as well, if you plan on also visiting these two Thai places.