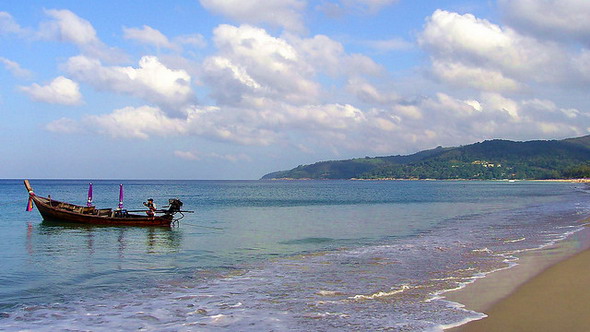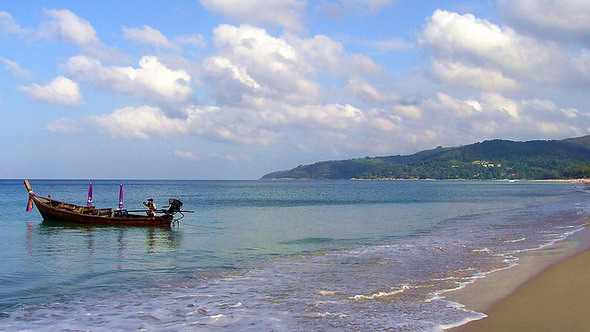 One of the best parts of Phuket Island to visit is the Karon and Kata Beach area. These two beautiful, small beaches are next to each other and, not only is there a lot to do, but they have some of Phuket's best hotels too.
Hotels to Stay at in Karon Beach
Baan Karon Resort Hotel, Karon Beach – One wonderful hotel at Karon Beach is Baan Karon Resort Hotel. It's a small hotel, slightly out of town up a steep hill (but only a five minute walk into town).
This Phuket hotel is independently-owned, the rooms are clean and comfortable, it offers basic cable TV, a safe in the room, almost every room has a lovely view of the pool and the pool itself is beautiful.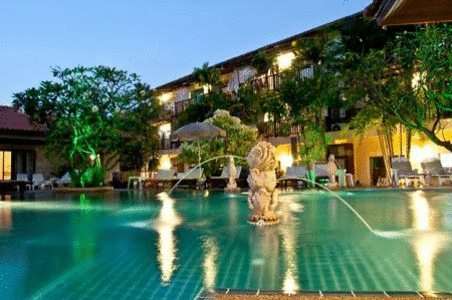 At the moment, there are several special deals running in Thailand as tourist visits are way down. Single rooms at Baan Karon Resort Hotel start at the unbelievable price of around $27 per night (book on a budget hotel website, and not the Baan Karon Resort Hotel site — they're cheaper) and go up to $52 for a large family room with a large bedroom area, a living room (that converts into a second bedroom at night) and a huge bathroom.
All the family rooms are right next to the pool too, so you can walk onto the patio and right into the pool.
Horizon Karon Beach Resort and Spa, Phuket – Horizon Karon Beach Resort and Spa is located in a lovely, secluded area of Phuket overlooking Karon beache. It's up a small hill, so the view over the incredibly blue ocean is gorgeous, plus it's a quiet hotel as you're not near the busy restaurants or bars at night.
If you like spas too, you'll love Horizon Karon Beach Resort and Spa, as they offer all the spa services you could possibly want. Room prices currently start at $69 for a single room and go up to around $150 for a Club Room Wing that will sleep 3 adults.
Le Meridien Phuket Beach Resort – For an incredibly stylish and elegant hotel, a place where you will be pampered and taken care of, you can't do better than Le Meridien Phuket Beach Resort.
Le Meridien has almost 500 rooms, and is set back off the beach, with its own private beach in Karon Beach. It has two absolutely enormous pools, a world-class spa, tennis and squash courts, and also several large meeting rooms suitable for conferences or weddings.
Of course, at Le Meridien Phuket Beach Resort, prices are higher than at most other hotels in Karon Beach, but it is worth it.
For a single room with garden view prices start at $128 a night and go up to $230 for a Junior Suite. But for their incredible service, great choice of international and Thai restaurants, and all the other amenities, the price isn't really too high.
Hotels to Stay at in Kata Beach
Kata Beach is smaller than Karon Beach, so there's less choice of hotel but there are still some lovely places to stay at.
Centara Kata Resort Hotel– The Centara Kata Resort Hotel is a fabulous place to stay. Designed in traditional Thai style with lush vegetation, three gorgeous pools and stunning rooms, the Centara Kata Resort Hotel's rooms are spacious and many look out over the pool, so it's gorgeous to wake up and look out at that every morning.
Each room has a safe, coffee making equipment (seems to be getting rarer in Thai hotels), and a refrigerator. Rates currently start at $73 per night, with a free night thrown in (the Thai tourist industry is in crisis so the deals are amazing at the moment!), with a two bedroom family suite being $195, with also a free night.
Mom Tri's Boathouse – Mom Tri's Boathouse is a famous boutique hotel on Kata Beach with less than 40 rooms. It's an intimate hotel, so perfect for a romantic getaway and, as it's right on the beach, the views are spectacular. It's also known for its excellent Thai and French food as well as for its huge selection of wines.
Personally, I found the rooms to be a little old-fashioned and too Thai-traditional for me, but if you don't expect modern, you'll like Mom Tri's Boathouse.
Don't forget to check out the incredible jacuzzi if you stay here, as well as eat at the restaurant overlooking the ocean – simply stunning! Room rates begin at $160 for a Superior Room (the basic room) and go up to a whopping $825 a night for a Dolphin Villa.
These five hotels in Karon and Kata Beach are all worth staying at. They go from the incredibly cheap but clean, friendly and comfortable Baan Karon Resort Hotel to the high-end Mom Tri's Boathouse – something for everyone's budget.