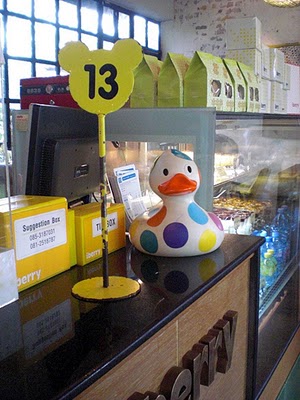 Bangkok is officially the world's hottest city, all year round, which is why you'll see so much ice cream here. From ice cream on the menu of most restaurants, to ice cream parlors, ice cream street stalls and mobile ice cream vendors, you'll find the delicious frozen treat everywhere in Bangkok. If you're an ice cream connoisseur though and only want the best, a visit to Bangkok isn't complete without eating ice cream at these top places.
Swensen's – A visit to Bangkok isn't complete without a trip to Swensen's, as it is the most popular ice cream shop in Thailand. This American ice cream shop is in most malls in Bangkok, and is crowded with high-school students, young couples and parents with kids from 2pm until it closes at 10:30pm. If you want to see what one of the nation's most popular eateries is like, you can't miss a trip to Swensen's.
Central Ladprao and MBK malls have huge stores, as does Major Ratchayothin. With ice cream starting at 29 baht (88 cents) and enormous portions, Swensen's will likely hit the spot.
Iberry Ice Cream – Iberry is Thailand's most popular home-grown ice cream. More of a gourmet ice cream shop than Swensen's, the name Iberry comes from the 'i' in ice cream and berries – thus, berries and ice cream – and pronounced Eye-ber-eeeee by Thais. They don't use artificial flavors or preservatives, and are famous for their ice creams in flavors like green tea, banana n' cheese, coconut, mangosteen and durian.
Higher priced than Swensen's, you can definitely tell the difference in quality, so even if you pay 99 baht ($3) for two scoops, it doesn't feel so bad. Some branches also sell main courses, and don't miss the fresh fruit smoothies and incredible slices of ice cream cake. You'll find Iberry at Siam Square, Major Avenue, Central World, J Avenue and eight other locations in Bangkok.
Ete – Another Thai brand, Ete serves ice cream made from milk from its own dairy cows. The ice cream parlors sell traditional ice cream as well as fruit sorbets and frozen yoghurt. Rum raisin, Japanese green tea, mango mango and durian are some of their most popular ice cream flavors. Coconut, passion fruit or santal (a Thai fruit) are famous sorbets and you must try the lychee frozen yoghurt.
Ete shops are at Silom Complex Shopping Center, Central Plaza Pinklao, on Sukhumvit and in several other Bangkok locations.
Bonito – For low-fat, healthier ice cream, Bonito is the place to go. Another Thai brand, Bonito specializes in ice creams made with traditional Thai ingredients like lychee, mango, taro, custard apple, lemongrass and tamarind. They have around 25 flavors, which rotate daily, so check back often for your favorite or new tasty treats. A popular Bonito is in Central World Plaza mall, with another at 1691 Pahonyothin Road.
Mango Tango – Mango Tango serves a mix of ice creams and fresh mango. You can get ice cream with a side of mango, ice cream mixed with mango, mango smoothies, mango pudding, mango slushies and more. If you're not a mango fan, it's probably not the place for you, but if you love the fruit you'll find some of the best mango in Thailand here. Try the kiosk at Central World Plaza or the shop at Siam Square.
Ice Cream at Street Stalls and Traveling Vendors – Don't miss trying the traditional Thai ice cream you'll find at Bangkok's street stalls or with traveling vendors. Traditional Thai ice cream comes frozen on sticks for 10 baht (30 cents) and in flavors like mango, taro, coconut and chocolate. Traveling vendors also sell homemade ice cream they push through the streets in small ice cream vats.
Order either a scoop of coconut ice cream that will come with a bread base, and corn and peanut toppings then smothered with condensed milk, or two scoops of ice cream served on a hot dog bun with condensed milk as a syrup. Sounds weird, but believe me, they're delicious.