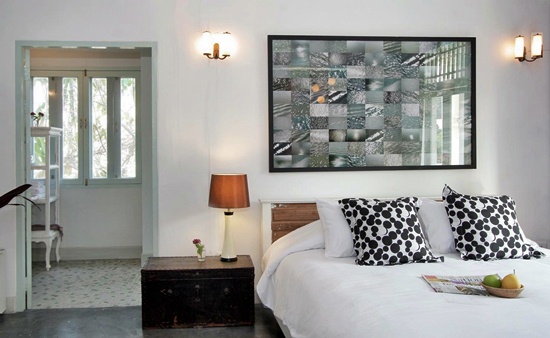 Chiang Mai, Thailand is one of the world's greatest small cities, not only because of its traditional temples, night markets, and cool cafes but also because it's home to some of the best independent hotels in Thailand.
I travel to the city many times a year from my home in Bangkok, and always stay at a different independent hotel. With so many independent hotels in Chiang Mai to choose from, some are better than others but these three are the best of the best.
Ban Thai Village – Located on my favorite Chiang Mai street, Tapae Road, Ban Thai Village is one of the most beautiful independent hotels I've ever seen. A small independent hotel with just 23 rooms, Ban Thai Village is built in traditional Lanna-style (northern Thai) around a courtyard and is situated in the Old City part of Chiang Mai, which only adds to its exotic atmosphere.
Each spacious guest room is decorated in traditional Thai style (dark woods, light fabrics, bright splashes of color), and comes with all the mod cons. There's a flat screen TV with satellite, en suite bath with bath tub and shower, tea and coffee making facilities, air conditioning and suites have four poster beds that are just lovely.
The hotel also offers free Wi-Fi internet throughout, has a gorgeous swimming pool, a Jacuzzi and a small restaurant serving both Thai and International cuisine.
3B Hotel – Situated close to Chiang Mai Airport and just a couple of minutes drive from town, 3B Hotel offers luxury, comfort and tranquility. Plus, did I mention how utterly stunning this independent hotel is?
Another small independent Chiang Mai hotel, 3B Hotel has been featured in many Thai guide books and articles as one of the top independent hotels in the city. Designed in a modern style but with lots of traditional Thai touches, 3B Hotel is perfect for anyone who wants anything but the chain hotel experience.
Each of 3B Hotel's 16 guest rooms is decorated in modern Thai style – dark woods, light fabrics, muted pillows and ornate accents. Design-wise, every room is different so, no chain experience here. Each room has hardwood floors, air conditioning, satellite TV, coffee and tea makers, free Wi-Fi internet, window seats, and spacious baths with shower. There's a choice of three levels of room, plus family rooms that can sleep up to nine people.
The 3B Hotel has a small gift shop, a nice restaurant (the breakfast is awesome) and friendly staff. They also arrange local tours, which are a great introduction to Chiang Mai and reasonably priced.
Duang Champa Boutique Hotel – The most beautiful Chiang Mai independent hotel, bar none, is Duang Champa Boutique Hotel right in the center of the historic Old Town, Chiang Mai. Last time I visited the city, a Thai friend and I did a tour of Duang Champa in an effort to find a suitable hotel for my parents to stay and, let me tell you, I wouldn't let them stay anywhere else.
Duang Champa has only 10 guest rooms in the main building and two rooms in a wooden guest house on the property, and all are decorated in a minimalist modern Thai style – and they are lovely. Each room is unique in style, furniture and atmosphere and, of course, size. You can choose between Superior, Deluxe and Grand Deluxe, with each room featuring flat screen TV, refrigerator, bath tub and shower, and air conditioning. Breakfast is included in the room rate.
The location of Duang Champa Boutique Hotel too is unparalleled, as it's on Ratchadamnern Street with its trendy shops, cafes and restaurants and, of course, the massive Sunday Night Market right outside the front door.
Photo – One of the gorgeous rooms at Duang Champa Boutique Hotel, Chiang Mai