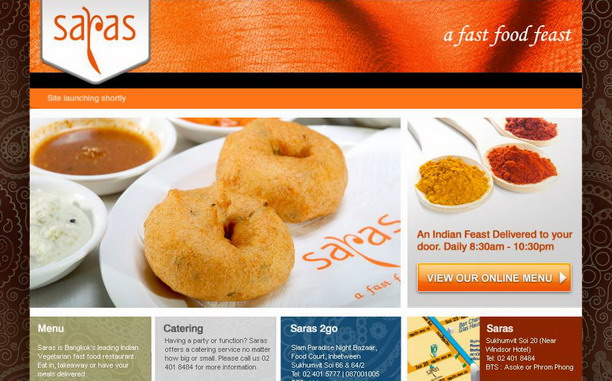 Although a resident of Thailand for almost 10 years, if I had to choose between Thai or Indian food, Indian would always win, hands down. That's why, when I read a review about a critically acclaimed Indian vegetarian restaurant called Saras in downtown Bangkok, it was only a few days before I found myself sitting there. Needless to say, the critic was correct. Saras is phenomenal and now an immediate favorite. Here's why.
Location of Saras – You'll find Saras on Sukhumvit Soi 20, just a couple of blocks down, and on the same side, as the Emporium shopping mall. Just take the BTS sky train to Phrom Phong, then walk back in the direction of the Asoke station.Turn left down Soi 20, and it's just a couple of minutes down the street.
Food at Saras – Although still a stylish restaurant, the owners of Saras have kept the decoration to a minimum, saving on the ridiculous amounts of money sometimes spent by Bangkok's restaurant owners, and putting that into the food instead. That's why, not only is there a huge choice of dishes, but the prices they charge for them are cheap.
Everything on the menu at Saras is vegetarian, and mainly Indian, and dishes are from all over India covering just about every region. (They do have a few Chinese dishes, and the Singapore cauliflower is a must order).You'll find everything from vegetarian samosa stuffed with potatoes (incredible), curries, fried veggie patties, and kebabs, to various types of bread (amazingly delicious), Indian-style pizzas, and a huge number of traditional Indian sweets.
If you're a burger person, there are even a couple of veggie burgers you might like. Oh, and if you like the desserts, order some to go. They last for days. I did.
Not sure what would be good, I ordered one of their set lunches, as they seemed to come with the largest number of dishes for the lowest price. With two to choose from, they're only 235 baht ($7.50) and come with two vegetable dishes, your choice of curry, two rotis, rice, a papad, a pickle and some daal.
That it's an insane amount of food, particularly for the low price, was evident when I practically rolled out of there. Add a glass of mango lassi, and yes, this is Bangkok's perfect Indian meal.
The menu at Saras has more than 200 items on it, so choosing what to eat here is difficult. But, that's half of the fun, right?
You can check out what Saras has on offer before even going there. Their menu is online in all its enormous glory, along with prices for everything. I recommend picking out a couple of things before you go, to at least get you started, or you could be there all night, just trying to order.
Saras is open every day from 8am to 10:30pm Monday thru Friday, and on Saturdays and Sundays until 11:30pm.
Don't miss also checking out some of Bangkok's other best Indian restaurants — you'll find their food is worth trying as well.