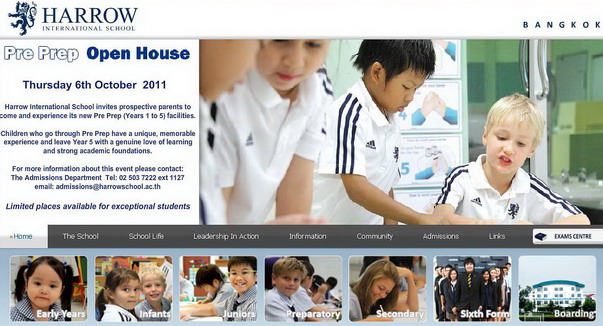 Hundreds of thousands of expats live in Bangkok, Thailand and many have children. So, of course, Bangkok also has many international schools. If you have young children, at pre-school or kindergarten age, or even younger, you'll also be happy to know many of these international schools have kindergarten, pre-school and even nursery programs. If you're looking for a kindergarten, pre-school or even nursery program for your kids check out the following international school programs in Bangkok. They offer first-rate care and education, comparable to any top western school, and should please any expat parent.
Garden International School Bangkok – Garden International School in Bangkok has some great reasons why it offers the best kindergarten, pre-school and nursery programs. It's in a convenient location near Sathorn Soi 1, close to business districts, but it doesn't seem like it as it's in a residential area with a lovely garden with big trees and plants and a 'country' feel to it.
Garden International School follows the British Curriculum and teaches all the subjects normal to this but adapting them to their facilities and to what makes sense in Thailand. The school believes in treating each child as an individual so they offer small class sizes and teachers that motivate their students depending on the personality of the child. The school starts at the Foundation Stage, at age 2 years, and goes all the way through Secondary School, so if you plan on being in Bangkok for a long time Garden International School could meet all your child's educational needs. They also offer EAL (English as an Additional Language) classes, if your child is not yet fluent in English. 34/3-4 Soi Yen Akart, Rama IV Road, Sathorn, Bangkok 10120
International School Bangkok – International School Bangkok (ISB) is known by many as one of the best schools in Thailand. The campus is enormous and with just about every educational facility and equipment your child could want or need. ISB offers personalized education for children from pre-kindergarten through Grade 12. They teach an international curriculum with an American slant,
Their pre-kindergarten and kindergarten programs are child-centered, and teach the children about multi-culturalism and linguistics in a secure and safe environment. ISB also does very well in including the parents in the kindergarten programs as well as offering a fun pre-school schedule that gives the kids plenty of time to play, be creative and develop their motor skills. The only disadvantage to ISB is that the school is in far north Bangkok at least 1 hour away from the city center. 39/7 Soi Nichada Thani, Samakee Road, Pakkret, Nonthaburi (Bangkok) 11120
Harrow International School – Harrow International School's first campus opened in Great Britain in 1572 and has had British Prime Ministers, Nobel Prize winners and 35 princes graduate from its hallowed halls. Harrow International School in Thailand is one of the best, just like its British counterpart. It begins education for children with its Early Years Centre, accepting children in its creche (0-2.6 years of age). They also have a pre-kindergarten program (age 2.6-3 years) and K-1 and K-2 from 3 to 5 years of age.
Harrow follows the UK's Early Years Foundation Stage program, which believes that the beginning years of a child's life form the basis of his or her success in education and in life. Children play in sandpits, water play areas, adventure playgrounds, and a soft play room as well as having access to a music room, a Thai cultural room, their own dining room and sleep room and more. Kids at Harrow International School pre-school and kindergarten programs have their progress tracked weekly and parents receive newsletters and diaries every couple of weeks with updated information.
Children that attend Harrow International School creche, pre-school and kindergarten programs tend to be confident and with high self-esteem, something Harrow fosters and values. 45 Soi Kosumruamchai 14, Kosumruamchai Road, Kwaeng Sikun, Don Muang, Bangkok, 10210
Kesinee International School – Kesinee International School prides itself on being a smaller school than other international schools in Bangkok but with still the first-rate facilities of other larger more populated schools. Kesinee offers education from pre-kindergarten to Grade 12. It's based on the three internationally recognized International Baccalaureate curricula and finishes with the IB Diploma, at age 16-18, that's accepted by universities all over the world. Kesinee deliberately concentrates on educating expat children who may transfer from one school to another school in a different country or back to their home country, before their education is finished. This allows your child to have an education that will not be affected negatively if you find your company moving you to another country. T
he Primary Years Program concentrates on thinking skills, social skills, communication skills, research skills and self management skills, which are essential for children to develop well in education and in life. The Early Years Centre has one large communal space for playing and then pods and classrooms set up for each group of children. Kesinee concentrates on letting your child explore and learn in a safe and secure environment. 999/124 Kesinee Ville, Pracha-Utit Road, Huay-Kwang, Bangkok 10320
These are only four of the many international school nursery, pre-school and kindergarten programs in Bangkok, Thailand. All four are some of the top schools in Thailand (if not the world!) and will offer your young child a wonderful grounding in education as well as a safe environment to develop and thrive.