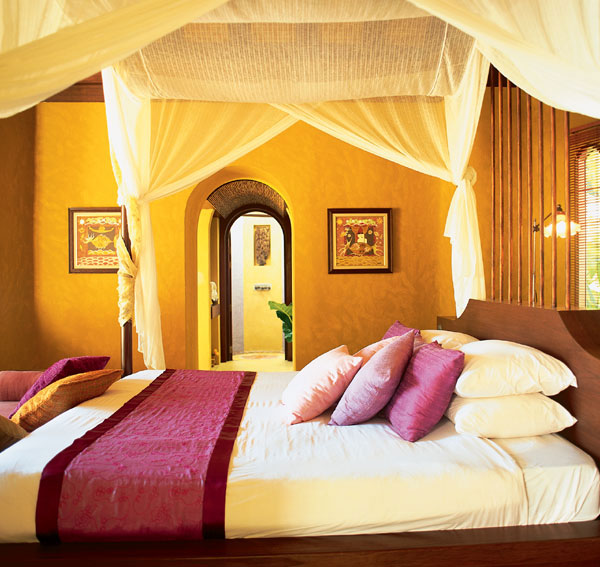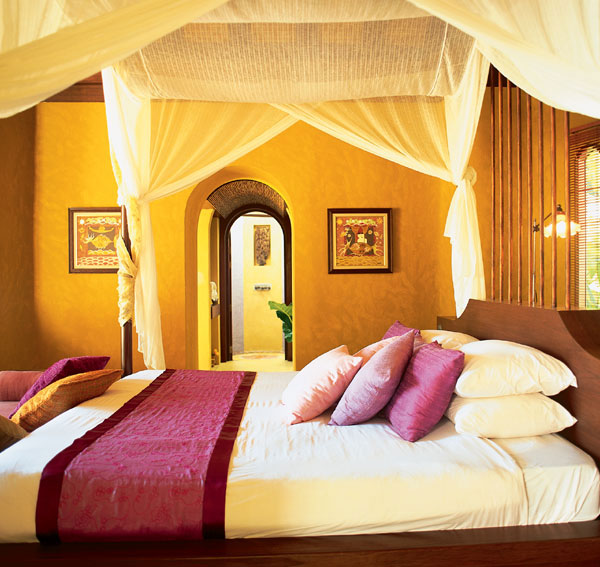 Koh Samet is a lovely island in the Gulf of Thailand, just a three hour bus ride from Bangkok. Famous for its small, cheap beach cottage hotels, Koh Samet is also home to several beach resort hotels, offering luxury accommodation in gorgeous locations for inexpensive rates. If you're planning on a trip to Koh Samet, forgo the cheap backpacker beach cottages, and pay just a little more to stay at one of these best resort hotels. You won't be sorry if you do.
Samed Grand View Resort – Right on the beach front of Sai Keow Beach, the Samed Grand View Resort Hotel is an incredibly relaxing resort hotel, offering main building guest rooms as well as chalet-style accommodation overlooking one of the world's most beautiful beaches.
At Samed Grand View Resort, you've a choice of either a traditional guest room in the main building, or a stand-alone wooden chalet. Each chalet has a wrap-around balcony, which is a wonderful place to eat breakfast, read a book or enjoy a bar while watching the sun go down. All rooms have air conditioning, en suite bath, refrigerator, a mini bar and satellite TV.
The hotel also offers Wi-Fi internet, there are laundry facilities, and a pretty restaurant serving Thai and international fare. There's also an excellent tour desk, where they can arrange scuba diving trips, boating or tours around the island.
The Samed Grand View Resort is a great deal at around $66 (1,995 baht) a night.
Samed Club – Another Koh Samet resort hotel is Samed Club, located on Noi Na Beach. Samed Club is a stunning resort hotel, designed in modern Thai style and with all the mod cons.
At Samed Club, you'll have a bungalow with a choice of beach or garden views. Each bungalow is just gorgeous, with air conditioning, an en suite bath, a refrigerator and mini bar and satellite TV. Rooms are light and airy, with large windows overlooking the ocean or lush, exotic gardens.
The hotel features a lovely swimming pool with a wooden deck where you can lounge and read a book or enjoy a drink from the poolside bar. Or, head down to the ocean and go scuba diving, swimming or wind surfing. Don't miss the hotel's restaurant too. Situated right on the beach, it's a wonderful way to spend a romantic evening – enjoying delicious Thai food, while listening to the gently lapping waves and the sound of the jungle.
Samed Club's room rates begin at $61 a night.
Le Blanc Samed Resort – One of the most beautiful resort hotels on Koh Samet, Le Blanc Samed Resort hotel is on the east coast of Koh Samet on a semi-private beach, and backing onto thick island jungle.
At Le Blanc Samed Resort, you'll stay in a Deluxe Cottage, with all the conveniences of any luxury hotel. Each cottage has air conditioning, satellite TV, an en suite bath with designer toiletries, a small refrigerator and mini bar, and a large balcony overlooking the water. A large sliding door opens up onto the deck, and gives you incredible views along the beach and across the water. There are only 12 cottages on the property, each offering a wonderful place to relax. Several guests are long-term visitors, which shows how lovely this place really is.
Don't miss eating at the hotel's restaurant overlooking the water. At night, you'll even see fire dancers here. Now how exotic is that.
You can book a cottage at Le Blanc Samed Resort for as low as 1,900 baht ($63), but make sure you check out their website promotions before you book, as you'll often get an excellent package deal even lower.
Book a Room: