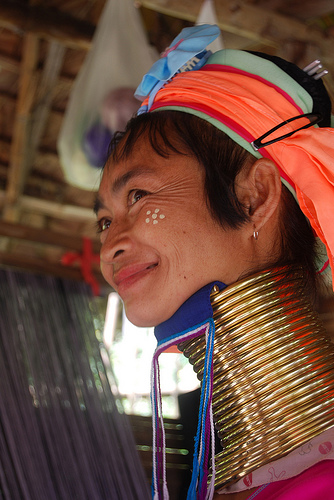 Many people don't know about Chiang Mai's amazing museums but,  surprisingly it has some wonderful ones. Its art museums, National Museum, and Cultural Museum are well worth visiting but, on a visit to Chiang Mai, it's the city's more unusual museums you really shouldn't miss. That's where Chiang Mai really shines.
Hilltribe Research Institute Museum – Ethnic hilltribes in Thailand have always had it rough. Unrecognized by the Thai government and, even though born in Thailand, without Thai citizenship, hilltribe groups have been discriminated against in Thailand for generations. That's why it's fascinating to tour the Hilltribe Research Institute Museum, a local Chiang Mai museum founded by a western anthropologist, and featuring in-depth, rarely-done studies on the nine hilltribes in the Chiang Mai area.
At the Hilltribe Research Institute Museum, you'll find exhbits on the daily lives of each individual hilltribe group. Displays include cooking utensils, agricultural instruments, and traditional hilltribe musical instruments. Exhibits of some of their beautiful traditional costumes are also on display.
The museum is located at Ratchamangkala Park, on Chotana Road in Chiang Mai. It's on the outskirts of the city but easily accessible by songtaew or tuk-tuk for just a small fare. Be aware, it's only open on weekdays.
Her Highness Princess Dara Rasmi Museum (Daraphirom Palace Museum) – I'm fascinated by the Thai Royal Family and by the Thai people's devotion to them. So, on a recent trip to Chiang Mai, one of the first museums I wanted to visit was the Her Highness Princess Dara Rasmi Museum in the Mae Rim area of the city.
Located in what was once the private home of Princess Dara Rasmi, a Thai princess from the Lanna kingdom of Thailand, and a wife of one of Thailand's favorite kings, King Chulalongkorn, the Daraphirom Palace Museum is one of Chiang Mai's lesser known ones. Surprising, as it's truly beautiful.
Here, you can see how Princess Dara Rasmi would have lived, with rooms designed and decorated as they would have been in the early part of the 20th century. There are also exhibits of some of her personal items, gifts given to her by Thais and foreign dignatories, photographs, musical instruments and some stunningly gorgeous clothes. Princess Dara Rasmi was known for her work promoting Chiang Mai's agriculture, so there are also interesting displays of traditional Thai farm equipment.
The grounds, too, are beautiful, making this museum one of Chiang Mai's absolute prettiest and a must-visit for anyone interested in Thai history.
The Daraphirom Palace Museum is situated on the far outskirts of the Chiang Mai district. The best way to get there is to take a taxi on Highway 107 to the museum.
Museum of World Insects and Natural Wonders – It's not surprising one of Chiang Mai's best museums is one that celebrates the world of insects. Thais are obsessed with them, whether it's catching them, cooking them and eating them, or using them in elaborate insect fighting matches, insects are a large part of traditional Thai culture.
The Museum of World Insects and Natural Wonders is a privately-founded museum, created by a Thai man, Khun Manop Rattanarithikul, to encourage his love of insects to be passed on to future generations. Khun Manop has been fascinated by insects and the natural world since he was only three years old in the 1930s (read his fascinating and cute story on the museum's website – see link below), and you can see this in the loving care he takes with his museum.
There are exhibits of all 436 species of Thai mosquito, beetles, butterflies, wasps nests, oddities in nature, fossils and lots more. It's an old-fashioned museum situated in Khun Manop's converted private home, but lovingly created, and one of the most unusual museums in Chiang Mai. If you're lucky too, you'll get a personal tour from Khun Manop, and he really knows his stuff.
While the 300 baht admission fee is higher than most other Chiang Mai museums, it's well worth the price as you won't see something this unique anywhere else.
The Museum of World Insects and Natural Wonders is located at Soi 13 Srimankalajarn Rd in Chiang Mai.
More Information:
Hilltribe Research Institute Museum
DaraPhirom Palace Museum – Chiang Mai News
Museum of World Insects and Natural Wonders Website