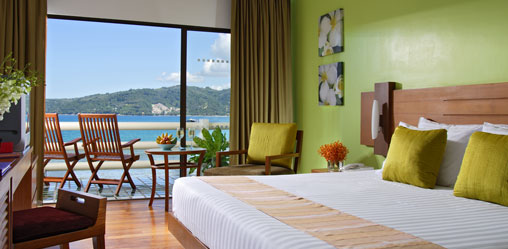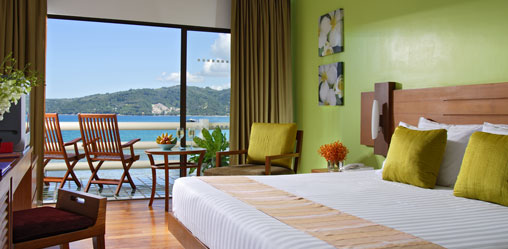 Patong Beach on Phuket Island in Thailand has the unfortunate reputation of being a place where sex tourists congregate to take advantage of the thriving bar and prostitution scene. Fortunately for Patong Beach, that's not the whole of the city though. In fact, there are many family-friendly areas, as well as a slew of four and five-star luxury hotels targeting the wealthy, corporate travelers, or just those who like to splurge while on vacation. If you're planning a trip to Patong and want to stay away from the lower-class budget hotels and sexpat areas, why not splurge and stay in one of these best Phuket luxury hotels.
Amari Coral Beach – The Amari hotel chain is one of the best in Thailand with four and five-star hotels scattered all over the country. The Amari Coral Beach hotel in Patong Beach, Phuket is a four-star luxury hotel, and is a prime example of the best of the chain.
At the Amari Coral Beach, which is tucked away on a secluded, private beach, you'll stay in a luxury guest room or suite complete with en suite bath, private balcony with ocean views, tea and coffee making facilities, in room safe, flat screen TV with satellite, and personally controllable air conditioning.
The hotel itself features a spa, tennis courts, a fitness center, Jacuzzi, hairdressers, scuba diving facilities, a shopping arcade, two large swimming pools and five restaurants and bars, all with gorgeous ocean views.
You'll find the Amari Coral Beach at 2 Mun-Ngoen Road in Patong Beach, Phuket
Diamond Cliff Resort – One of the most gorgeous luxury hotels in Patong Beach, this five-star hotel is up on a hillside, with spectacular views looking out over the Andaman Ocean. The swimming pool in particular is absolutely stunning, with a mix of traditional Thai architecture and beautiful natural views making it one of the prettiest pools you'll ever relax in.
At Diamond Cliff Resort, you'll stay in Deluxe Suites or Luxury Villas, all with views out over the pool or the ocean. Guest suites and villas feature en suite baths with shower, hairdryers, mini bar, tea and coffee making facilities, a refrigerator, in room safe, satellite TV, and a private balcony. The hotel even has a service with a special touch — they provide a basket in your room and you can choose one kilogram of any fresh fruit you like at the hotel shop.
There are three swimming pools, a fully-equipped fitness center, several excellent restaurants with an emphasis on Thai or Japanese cuisine, mini golf, tennis courts and volleyball.
The Diamond Cliff Resort is at 284 Prabaramee Road, Patong Beach, Phuket.
Implana Resort Patong – If you're looking for a luxury boutique resort in Patong Beach, the Implana Resort Patong is just about the best one in town.
Most guest rooms are private cabanas, many with ocean views or with patios that open out right onto the white sandy beach or onto the hotel's gorgeous gardens.
Rooms feature en suite baths with hairdryer, bathrobe and complimentary toiletries, in room safe, tea and coffee making tray, satellite TV, Wi-Fi internet, a mini bar and even a weigh scales if you're worried about eating too much.
The hotel's three restaurants are superb, serving everything from Thai and Japanese to Western cuisine, including delicious Italian food at The Bistro.
The Implana Resort Patong also offers a spa, Jacuzzis, steam rooms, swimming pool, a children's menu, and can arrange some amazing tours around the Pattaya area, including elephant trekking, snorkeling, and a temple tour.
The Implana Resort Patpong is located at 41 Taweewongse Road, Patong Beach in Phuket.