Buying jewelry on a trip to Bangkok, Thailand is top of the list for many tourists. Jewelry in Bangkok is cheap compared to most Western countries, and it's also beautifully made and wonderful quality.
There are thousands of places you can buy jewelry in Bangkok, but where are the best places to go? I'm an avid jewelry buyer and buy jewelry all over Bangkok, pretty much every week. These are the jewelry shops I usually buy from, and you can't go wrong if you do too.

Mahboonkrong Mall (MBK) – Known by Thais as 'MBK', Mahboonkrong shopping mall is right next to National Stadium sky train station. It's a very large mall that's known for its cheap prices and its enormous selection of items. MBK is a fabulous place to buy jewelry as there are stalls that cover the gamut, from cheap costume jewelry to jeweler's shops that sell much higher priced items to gold stores that only sell gold.
I've bought rings, bracelets and necklaces here. The gold ring I wear every day, I bought from MBK and got it at a price around 50% of what I would pay in the US for a similar ring.
Related reading: MBK's food court serves some of the best cheap food in Bangkok — you really should eat here
The choice is enormous for every style of jewelry at MBK, so it's always a good place from where to start your jewelry search first.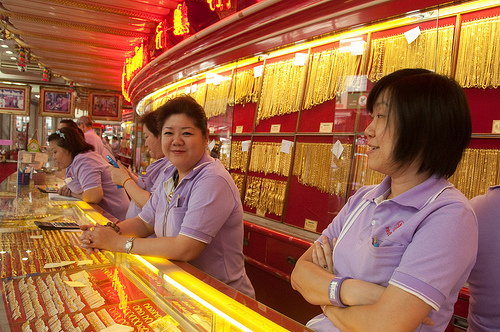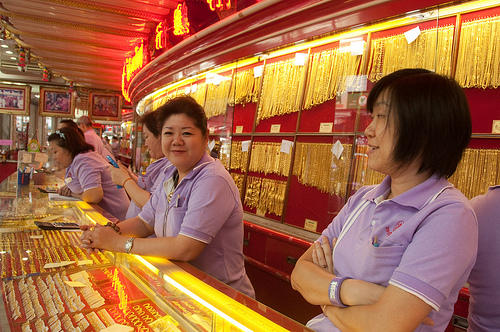 Chinatown (Yaowarat) — Bangkok's Chinatown, also called Yaowarat, is the place every Thai heads to when they are looking for gold jewelry. This is because Chinatown is flooded with gold shops, some streets having two or three shops on just one block, and the prices are even cheaper than elsewhere in Bangkok.
Most of the designs I've come across in Chinatown for gold jewelry are a little too intricate for my taste (I prefer simple jewelry), but they may suit you.
Related: What are the best and cheapest things to buy in Bangkok's Chinatown?
You can also sell gold or gold jewelry at the shops in Chinatown, which many people do before they buy new pieces. Chinatown is also a wonderful place for costume jewelry, as the quality of workmanship is high.
Central Department Stores – Central has department stores all over Bangkok, and they always have a large jewelry area. I bought the first gold ring I ever bought in Thailand at a Central Department store and a friend bought his wife their wedding ring here.
Prices are higher than MBK or Chinatown, but they also carry modern jewelry that suits my taste, so I tend to look here after I've been to MBK.
Most of the Central Department Stores are also in large shopping malls and all Thai shopping malls have jewelry stalls, selling both costume and silver, gold and platinum jewelry so, if you don't find anything to your taste at Central you can check out in the mall area too.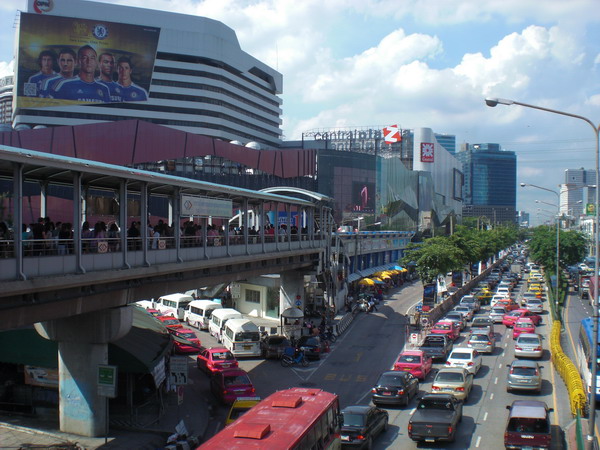 Shopping Malls in Bangkok – Thais are obsessed with jewelry, men wear rings just about as much as women do and Thai men, being Buddhist, also wear the heavy gold amulets on gold chains around their necks. So, all shopping malls in Bangkok have jewelry shops and jewelry stalls.
They differ in price and quality, of course, but many of the shops have wonderful selections of styles. Also, most of the shop and stall owners will go down in price if asked, especially if you buy more than one item.
High-end Jewelry at Siam Paragon – If you're looking for extremely high-end jewelry at normal Western prices, you should shop at Siam Paragon. Siam Paragon Mall is the most upscale mall in Bangkok and is chock full of brand name and designer stores.
High-end jewelry shops are also located here, with some extremely extravagant styles of jewelry available.
It's nothing that would ever match my price range but, if money is no object, you'll certainly find beautiful jewelry here.
Jewelry in Bangkok, Thailand is available everywhere and at prices from extremely cheap to very expensive. There really is something to meet everyone's taste and price range though so make sure you shop around before you buy. You never know what you'll find.