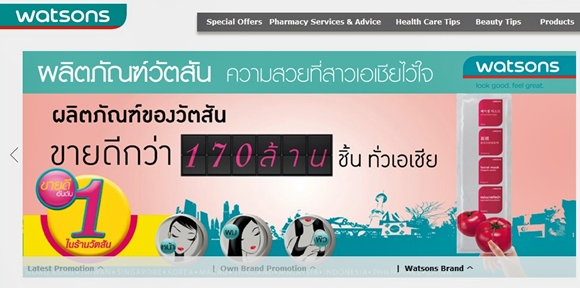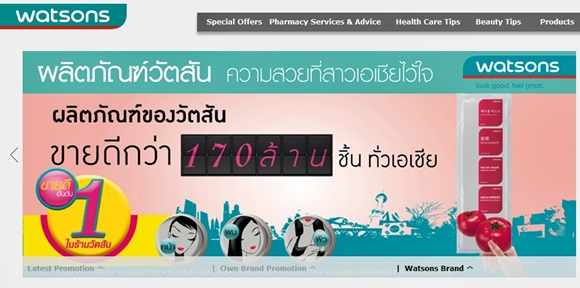 Thai women and girls are obsessed with beauty products and make-up. Shopping or just window shopping for all types of beauty products is a national pastime. That's why, no matter where you go in Bangkok, Thailand, you'll find stores selling the latest beauty products and the most fashionable make-up.
With products ranging from handmade Thai creams, lotions and soaps to imported mascaras, eyeshadows and lipsticks, you're spoiled for choice in Bangkok.
That's why, with so many choices, it's often best to shop at one of the tried and true beauty products shops you'll find in every area of the city.
Watsons Chemist – Watsons is the most popular place for Thai women when they shop for beauty items or make-up. Watsons is an Asian chain store chemist (pharmacist) with branches all over Bangkok and cheap prices. Here, you'll find hair products, skin products, make-up, nail products, facial creams, body lotions, pedicure and manicure products, nail polish, tweezers, razors, vitamins and a lot more.
At Watsons, you can expect the price to be 10-20% cheaper than many other beauty supply places in Bangkok and, as they often have good sales, the prices fall even lower. The only drawback to Watsons is it's crowded with Thai women, all trying to decide which product to try next to make them even more beautiful.
Related reading: Best drug store in Thailand? Boots or Watson?
You'll find branches of Watsons at Mahboonkrong (MBK) Mall, Central Ladprao (in the basement), Big C at Rama II, Major Ratchayothin, Future Park, Siam Square, Union Mall and at more than 100 other Bangkok locations. For store locations, check their website.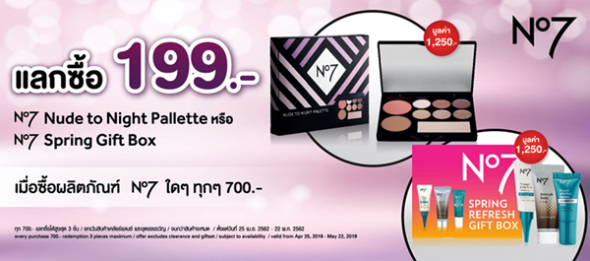 Boots Chemist – Similar to Watsons, Boots is a British chain chemist (now owned by American mega-corporation Walgreens) with branches all over Bangkok.
Not as popular as Watsons, as the selection is less and the prices often higher, Boots still has great deals on the Boots brand products, often selling 2 for the price of 1. They also sell all the usual brands of make-up – Revlon, Cover Girl, Lancome etc – as well as some Thai brands.
Boots is particularly good for sun cream and hair removal products, as they seem to have a larger selection than Watsons. Prices do tend to be low when they have sales as well.
Branches of Boots are in Siam Square, at Central Ladprao, Siam Paragon, Central World Plaza, The Mall Bangkapi, Carrefour Ladprao, Amarin Plaza and many more locations. The Boots Chemist website has a store listing.
Related: Best drug store/pharmacy in Bangkok? — Watsons or Boots?
Department Stores – Bangkok department stores like Central, Robinsons, Paragon and The Emporium have extremely large make-up and beauty supply departments. Most of the brands they sell are imported but, to me, they're more interesting than similar style American department stores as they also sell many unusual European and American brands.
The wonderful thing about Bangkok department stores too is their make-up departments always have skilled make-up artists who will do your make-up for free and send you off with lots of free items.
Just don't be surprised if the make-up 'girl' is a ladyboy. Most of the staff who work in Thailand's make-up industry seem to be. They're great at what they do though, so I'm not complaining.
Related reading: Why are ladyboys or 'katoeys' so accepted in Thailand?
Small Thai Brands – Most of the Bangkok shopping malls, as well as Siam Square, have small stores that sell mostly Thai brand make-up and beauty products. Prices are inexpensive and, overall, the quality is excellent. I buy most of my moisturizers and lipsticks here as they're 50% the cost of any other comparable store.
With many different names of shop, just look for tiny shops crowded with Thai girls and you've probably stumbled across one.
Mahboonkrong (MBK) has several, Union Mall has a small one, Major Ratchayothin has quite a large one, Siam Discovery has a couple and Siam Square, catering for the university crowd, has many.
If you're planning on buying make-up or beauty products in Bangkok, Thailand, don't be surprised if they're not much cheaper than back home. Don't forget, if it's not a Thai product, it's imported so the price is the same or more expensive than the US or UK.
But, the Thai brands are just as good, and far cheaper, and with access to European and Asian brands you may not see in the US, its' always interesting to shop here.
For other places to buy make up in Bangkok, check out Amy Serrano's video below. She hits a few stores, and buys make up products you may like.