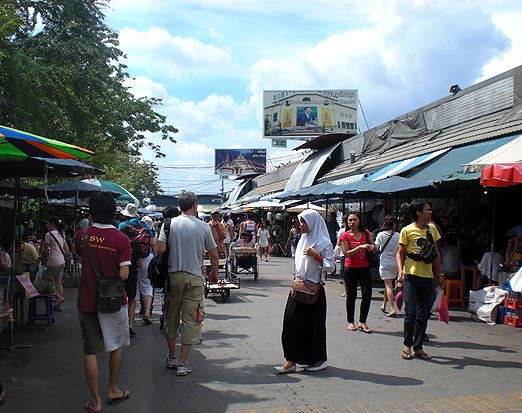 Vintage furniture in Bangkok, Thailand has become so popular vintage furniture stores are popping up all over the city and hordes of Thais are shopping at them. In the last few months, I've bought several pieces for my apartment, both Thai and western in style, and at prices I would never find in the west. They are also incredibly unique.
With an awesome mix of Asian and western pieces at vintage furniture stores all over Bangkok, if you need pieces to furnish a new Bangkok home or are on a trip to Thailand and looking for furniture to ship home, these fabulous vintage furniture shops are the best places to start.
Talad Rot Fai – Railway Market – One of my favorite places to look for vintage furniture and home accessories is at Talad Rot Fai. Known as the 'Railway Market' in English, Talad Rot Fai takes place on Saturday and Sunday evenings and is the largest flea market in Bangkok. What's even cooler, though, is there is a number of permanent vintage furniture stores both at Talad Rot Fai and in the streets surrounding it with the most unique pieces I've seen anywhere.
With a large number of stalls to browse, as well as old warehouses now housing vintage pieces, you should allow yourself all night to shop. But don't worry, they open around 5pm and don't close until after 12pm. Stall owners too will hold onto items once you've purchased them, so you don't have to carry them around all night.
At Talad Rod Fai there are also hundreds of stalls selling food and drinks, and even several bars and beer gardens – so you won't go hungry.
Talad Rot Fai is behind Seacon Square on Srinakharin Road.

Chatuchak Weekend Market – With 15,000 stalls at Bangkok's famous Chatuchak Weekend Market, and hundreds of furniture stores, you'll find some amazing retro and vintage furniture here. Just grab a free map when you arrive at the market and head to the furniture section. Remember to bargain as, even though prices are inexpensive for the quality offered, most store keepers will always come down in price.
Get to Chatuchak Weekend Market on Saturday and Sunday from the Mo Chit BTS sky train station and walk to the market. Unlike the rest of the stalls, furniture stores are also open during the week but are at the back of the market near to JJ Mall. That means, if you go during the week, take a skytrain to Mo Chit station and grab a taxi to JJ Mall from the station. You'll find the furniture stores on the next block and across the street.
Casa Pagoda – For a pricier vintage furniture store in Bangkok, you should check out the incredible Casa Pagoda as they have a gorgeous selection of retro and vintage pieces as well as what they call 'ethnic chic'. To me, it makes me think of what it must have been like when you arrived in a colonial home in Asia at the height of Britain's colonization of the world. Quite stunning, actually.
At Casa Pagoda, you'll find everything from sofas, chairs, beds and tables to bookshelves, paintings, bowls, pillows, glassware and more. It's owned by a Belgian company who picks up the pieces they sell on trips around the world, so you might find retro Chinese, vintage French or industrial Dutch and, every time you go, the pieces they have are completely different.
Casa Pagoda is at Sukhumvit Soi 45 in the Klong Toey area of Bangkok. The easiest way to find it is to take a BTS sky train to Phrom Phong station and then take a 5-minute taxi ride.