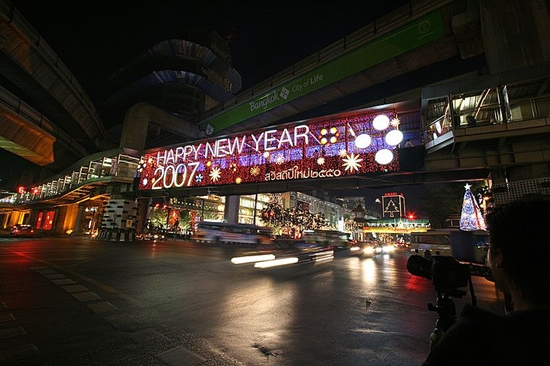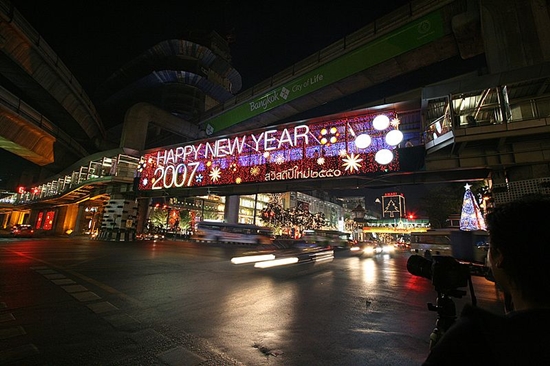 If you'll be in Bangkok for New Year's Eve, you may be surprised to know how big New Year celebrations are in Thailand. Thais love New Year so much they actually celebrate it three times – the western New Year, the Chinese New Year (in March) and the Thai New Year (in April). So, they're probably the biggest New Year experts when it comes to how to celebrate. So, If you're planning on being in Bangkok for New Year's Eve, don't forget to check out these cool places:
Central World Plaza – Now the largest shopping mall in south east Asia, Central World Plaza is the place for New Year's Eve celebrations. Run by the Ministry of Tourism, it's always one of the four places in Thailand featured on Thai national TV every New Year's Eve, so you can bet it's crowded too. With concerts, beer gardens and food stalls, the New Year's celebrations at Central World Plaza are amazing. Plus, it's right across the street from Chidlom sky train station, so you won't have to walk for miles to welcome in New Year.
Sanam Luang – If you want to get away from the 'modern' Thai celebrating of New Year, which is what Central World is, then head to Sanam Luang. Sanam Luang is the enormous field opposite the Grand Palace and it's where the traditional Thailand New Year's celebrations will be. Sanam Luang has a huge stage with Thai country music singers, traditional Thai dancers and some amazing Thai food stalls. You'll usually get an older crowd here, but Thais love to party so it certainly won't be boring. Best way to get here is on one of the boats on the Chao Praya River and then get off at Tha Chang pier.
The Deck by the River – One of the most beautiful restaurants in Bangkok, The Deck by the River is an amazing place to celebrate New Year's Eve. With an incredible view across to the gorgeously lit 200 year-old temple, Wat Arun, delicious food, and all set in an amazingly beautiful restaurant, you can't beat celebrating New Year at The Deck by the River. Near Sanam Luang, you can take a taxi to the Grand Palace and then walk just around the corner and down a small side street. 36-38 Soi Pratoo Nok Yoong, Maharat Road, Rattanakosin Island, Bangkok – Tel 02-221-9158
The Oriental Hotel – One of the oldest hotels in Bangkok and the most famous, The Oriental Hotel really does it up for New Year, and this New Year won't be any different. Sure, it's expensive, but in one of the world's top hotels (in the past, it was named the best hotel in the world), The Oriental Hotel's New Year will be nothing short of fabulous. They do a set dinner for New Year's Eve, plus a buffet outside on the River Terrace. With prices between $250 and $500, yes, expensive, but oh so worth it. 48 Oriental Avenue, Bangkok +66 (0) 2 659 9000
Pick a Bangkok Restaurant – Just about any Bangkok restaurant is going to be doing something fun for New Year's Eve. Simply pick your favorite restaurant – Thai, Japanese, American, Chinese, Vegetarian – and ask what's going on for New Year's. Owned by Thais, who adore New Year, even if it's just a few sparklers and some fancier food, you'll still have a great time.
Be warned, Bangkok's best places to celebrate New Year's Eve will fill up fast, so get there early for Central World Plaza and Sanam Luang, and make reservations for The Deck, The Oriental Hotel or any other hotel or restaurant you decide to celebrate the New Year in, in Bangkok.