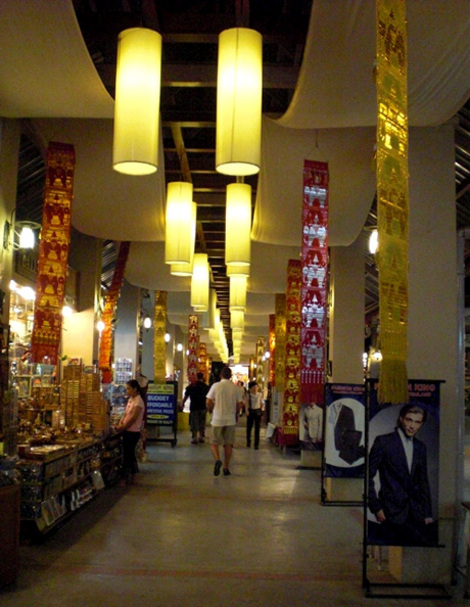 One of the big reasons I love Chiang Mai, Thailand is because I'm a shopaholic and Chiang Mai is a shopaholic's paradise. From several enormous markets to a night bazaar, shopping malls, boutique shops and factory stores, there are so many incredible places to shop in Chiang Mai, you'll never get to see them all. But as everyone has a limited time to shop, on a visit to Chiang Mai, you don't want to miss these best shopping places. You'll kick yourself if you do.
Walking Street Market – The best place to shop in Chiang Mai, bar none, is the Walking Street Market. It's a weekly Sunday night market that starts around 5pm and ends about midnight. This market is massive. It runs the entire length of Ratchadamnoen Road, which is closed to traffic, and is on several side streets too.
Sellers set up shop on stalls on both sides of the street and on blankets down the middle. Paintings, toys, silk, clothing, shoes, pillows, puppets, candles, handmade soap, perfume, photograph frames – basically, whatever you can think of (and a lot more you've never seen in your life) is all here. Don't miss the street food and drinks too. There's hundreds of stalls selling it and it's cheap and delicious.
Chiang Mai Night Bazaar – A wonderful place for tourists to shop is Chiang Mai Night Bazaar as they sell every Thai handicraft you could ever possibly want. Open every night from around 4pm, there's outdoor and indoor stalls, food courts, dancers, buskers, artists and lots of bustle and noise. Don't forget to bargain too. Shop for a couple of hours then stop for a bite to eat or a beer at one of the hundreds of street-side stalls or static cafes and restaurants.

Nimmanhaemin Road – The best trendy place to shop in Chiang Mai is Nimmanhaemin Road. The last time I was in Chiang Mai, I stayed at a hotel on Nimmanhaemin Road and soon discovered it was the perfect location for a shopaholic. The street is full of art galleries, handicraft stores, silk shops, clothing stores, pottery shops and antique stores
Start off on the main street and walk both sides of the road (will take about two hours if you spend a lot of time perusing the shops), then head down each side street where you'll find lots of independent boutique style stores (don't miss the handmade candles shop). Nimmanhaemin Road is also home to some of the best restaurants and cafes in Chiang Mai, and most of the cool coffee shops.

Central Mall – Not like the massive Central malls in Bangkok, Central Mall Chiang Mai (also known as Kad Suan Kaew), still has a fair-sized department store, a great area for buying cell phones, clothing shops, gift shops, a variety of restaurants and coffee shops and don't miss the food court in the basement. While a bit old-fashioned now, I always like Kad Suan Kaew, as it's low-key and not as crazy busy as other Chiang Mai shopping areas.

Factory Shops – All the little travel agencies in Chiang Mai sell factory tours. This is a half-day tour where you'll normally see a silk factory, a teak factory, the umbrella factory and sometimes Celadon pottery, the silver factory or one of at least ten other Thai handicraft factories. As much as I don't usually enjoy factory tours, this one is well worth doing. The tours around the actual factories are short, but interesting, and the shops are wonderful places to buy gorgeous Thai handicrafts.
If you're on a visit to Chiang Mai put aside at least one full day plus a full evening (for either the Night Bazaar or Walking Street Market) and spend all that time seriously shopping. The prices are dirt cheap, the quality is gorgeous and the variety of products unbelievable.