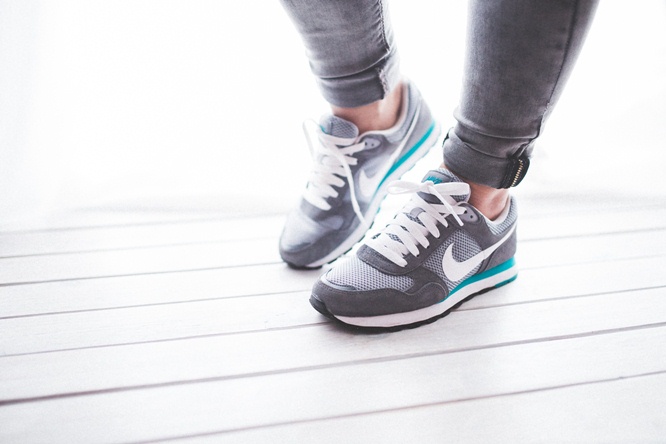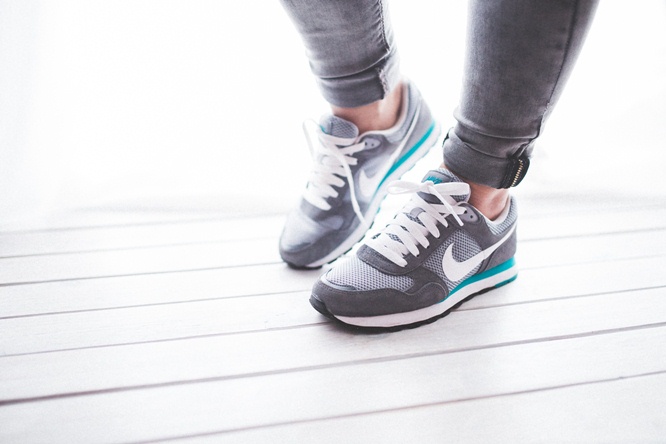 For both Thais and westerners, gaining weight in Bangkok, Thailand is pretty easy to do. With food everywhere and at dirt cheap prices, you've packed on 20 lbs before you even notice it.
Take heart though, it's not as serious as it seems. Bangkok has plenty of great places where you can go to lose weight and, before you know it, you'll be back to your usual thin self.
Fitness Centers/Gyms – In the last few years, many fitness centers and gyms have opened in Bangkok. True Fitness, Fitness First, Clark Hatch and more – they all offer fully-equipped gyms, classes like yoga, aerobics, dance and pilates, stream rooms and the like.
At any gym in Bangkok, you can usually sign up for a month's membership to test it and see if you like it before paying for an extended membership
Be warned though, some gyms have a bad reputation for overly aggressive marketing strategies, so be careful what you sign up for and what you end up paying.
Other than aggressive sales tactics though, Bangkok fitness centers and gyms can be a great place to lose weight. You can even hire a personal trainer for a few sessions, so you can learn ways to lose weight quicker.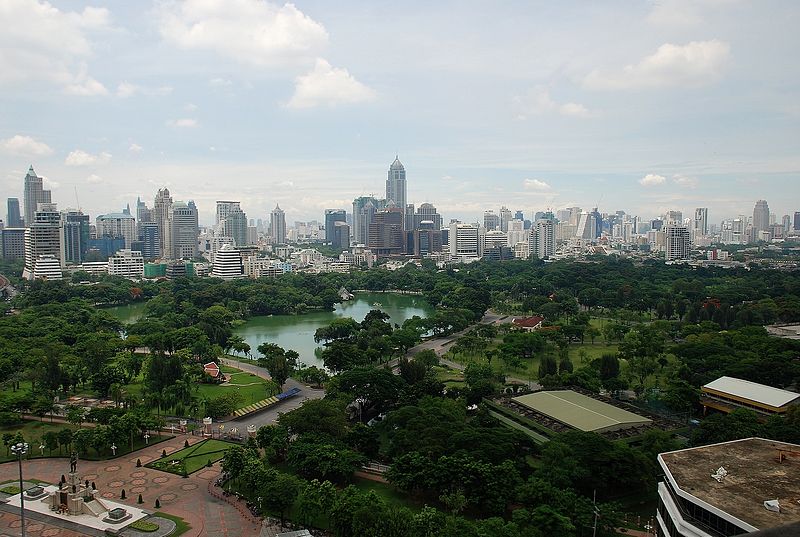 Lumphini Park – Lumphini Park is a wonderful place to go to lose weight. It's the city's largest green area at 58 hectares, and a popular place with Thais and visitors when it comes to exercise.
At Lumphini Park, you can walk, jog, use the outside gym and free weights, cycle, rollerblade, practice Muay Thai kickboxing, play cricket – and all of it, free of charge.
If you get up early in the morning before it gets hot, you will also see large groups of older Thais (and some visitors) practicing tai chi or dancing, and they'll be more than happy to let you join them.
The easiest way to get to Lumphini Park is to get off at the Lumphini underground station right next to it and just walk right in.
Outdoor Aerobics Classes – All over Bangkok, you'll see outdoor aerobics classes cropping up as the work day comes to a close. Outside banks and supermarkets, in parks and even at schools, a large stage is set up and one or two aerobics instructors will be up there barking instructions to a huge crowd of, mostly, Thai women.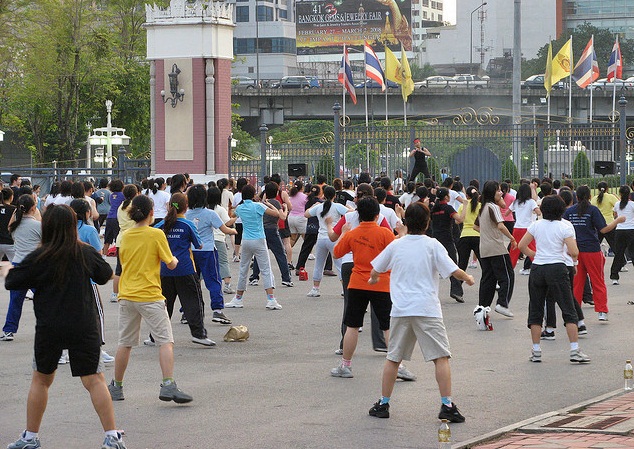 It's usually boiling hot and a bit polluted but, if you don't mind both, you can get a very good workout for only a few baht. You might make some friends too. Check at your local supermarket, shopping mall, bank or park, as one of them is likely to have an outdoor aerobics class several nights a week.
Muay Thai Gyms – If you're interested in learning a new sport, Muay Thai kickboxing has always been popular with Thais and is all the rage for westerners at the moment. Both men and women are starting to learn this traditional Thai sport and a better workout isn't possible.
With Muay Thai, you'll soon notice just about every part of your body toning up but, be warned, it's difficult.
There are many Muay Thai gyms in Bangkok with fees as low as a few hundred baht per session or a few thousand for a month of daily workouts. To find a good Muay Thai gym, ask at your hotel or apartment building. Someone will know of one close to you.
Slimming Centers – If all else fails and you don't feel like working out to lose weight, slimming centers can be a good alternative and there's many of them in Bangkok. At a slimming center, services include body wraps, Thai massages, fat suction machines, or sweating off the weight using rubber suits.
There's no scientific evidence to show any of this works, but some people do still swear by it so, if you're not in the exercising mood, it might be worth a shot.
Whatever you decide to do to try to lose weight in Bangkok, also try to stay away from the high-fat western food and eat the healthier Thai food instead. In the future, you'll be happy you did when you're still as slim in your 50s as you were in your 20s. Believe me.