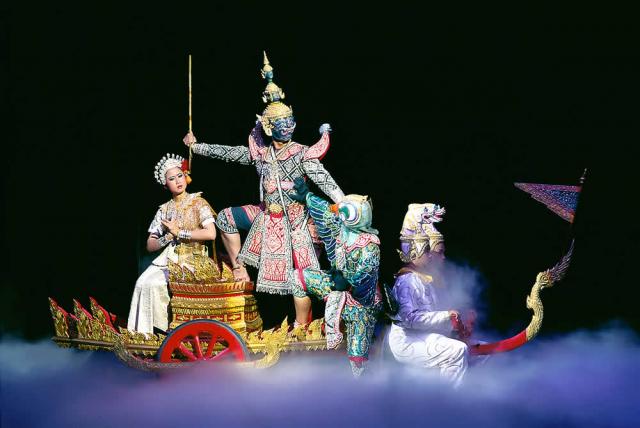 Bangkok, Thailand isn't really the place a theater lover should probably live. Unlike most major international cities that have tons of live theater, Bangkok has little of it. However, what Bangkok lacks in quantity it certainly makes up for in quality. Most of the theater shows in Bangkok are unusual, fascinating and, above all, cheap. If you're a theater fan and would love to see a live show while you're in Bangkok, don't miss these amazing theater offerings – you're not likely to find them anywhere else.
National Theatre – Probably the most famous theatre in Bangkok is the National Theatre. Thailand's National Theatre is known for its traditional dance and classical Thai drama shows, as well as music performances and musicals.
I've been to a couple of traditional Thai dance shows and would recommend them to anyone. With the strange-to-western-ears music and the elaborate costumes, traditional Thai dance shows are spectacularly different.
I especially love the Khon dance performances.  The Khon performances tell stories from the Ramakien, with dancers wearing masks to portray monkey gods, demons and beings from other worlds.
The National Theatre is easy to get to as it's located next to the National Museum and, as tickets are around $4 each, it's a great deal too.
Siam Niramit Theatre – One of the most elaborate shows I've ever seen is Siam Niramit and, as it's advertised as one of the largest stage shows in the world, it's not surprising.
The show at Siam Niramit is put on every night in front of a couple of thousand people and features spectacular costumes, aerial acrobatics, dancing, singing, thousands of costumes and even elephants. It tells the story of Thailand's history and also showcases scenes of Thai culture.
A popular destination for tourists, Thais enjoy it too. At only 1,500 baht per ticket (approximately $50) it's an amazing deal. You can even eat a lovely buffet dinner for 350 baht (around $11.25) before the show starts.
Make sure you book online at Siam Niramit, as your ticket will include a free program. Or look out for the special offers often handed out at local tourist offices as you can often get two tickets for the price of one.
Thailand Cultural Center – Bangkok's Thailand Cultural Center is enormous and has shows of all kinds all year round. With its two large auditoriums and one outdoor theatre, here you'll see Bangkok Symphony Orchestra play, the Bangkok City Ballet, many concerts, traditional Thai dance and music shows, and even traditional Thai drama.
You can get to Thailand Cultural Center by taking the underground to the Thailand Cultural Center station. But expect at least a 15 minute walk when you get there, as it's not next to the station, which the name implies.
As you'll see, most of the theatre in Bangkok is of the traditional Thai variety. But don't be too quick to shrug it off, as it really is fascinating. If you love beautiful (if a bit weird!) music, stunning costumes, elaborate dancing, acrobatics or puppetry, and an experience you'll never forget, don't miss seeing a live theatre show in Bangkok. You'll remember it for years to come.