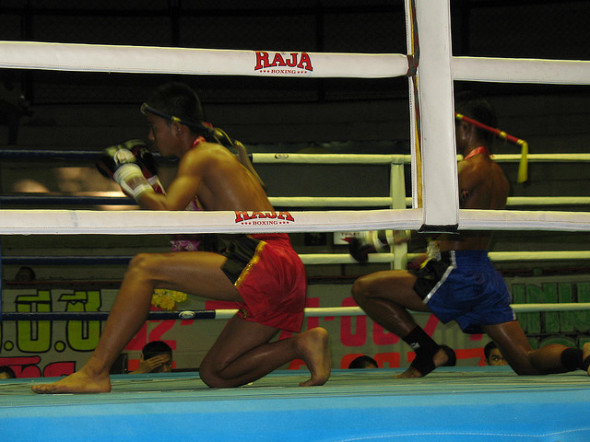 On my first trip to Bangkok, a Thai friend told me a Kung Fu fighter had never beaten a Muay Thai kickboxer. I don't know if this is true, but what it did tell me was Thais are proud of their national sport. Muay Thai, also known as Thai kickboxing, nowadays is popular with westerners and Thais, both to watch Muay Thai and to learn to do it.
Many tourists who come to Bangkok want to watch a live Muay Thai fight but are not always sure where to go. Muay Thai fights can be seen in many places in Bangkok, but these Muay Thai (Thai boxing) venues are the main ones.
Lumpini Stadium (known in Thai as Sanam Muay Lumpini) – This is the main Muay Thai (Thai kickboxing) stadium in Bangkok.
It is only open on Tuesday and Friday evenings (6:30-11pm) and Saturday afternoons and evenings (4:30-8pm and 8pm to 12pm) with around eight matches each night, plus a main match.
Lumpini Stadium is crowded, so expect a lot of noise, but it's a really fun night out. Be warned though, where Thais pay 'Thai price' of only a couple of hundred baht (less than $4 per ticket), westerners pay a lot more.
When I went the price for an average ticket for a westerner was more than $30 and I've heard it's gone up since. Plus, if you want to sit ringside, which a lot of westerners do, it's even more expensive. For me, I prefer to sit among the Thais on the 'normal seats' as you really feel like you're part of the event, and not segregated in a roped-off area up at the front.
Fights are also televised on Thai TV, so you can watch in your hotel room or at many Bangkok bars.
Lumpini Stadium is on Rama IV Road in Bangkok and you can call them at 02-251-4303 for more information, although expect to have some problems as anyone who answers the phone is likely to have limited English skills.
Ratchadamnoen Stadium (known in Thai language as Sanam Muay Ratchadamnoen) – This is the more expensive Bangkok Thai kickboxing venue with tickets starting at 1,000 baht (around $33) for westerners/foreigners and going up to 2,000 (around $66), which is incredibly expensive in Thailand. Thais, of course, only pay a quarter of the price foreigners pay for most tickets.
Ratchadamnoen Stadium has the usual Muay Thai matches (around eight every night they're open) with opening days the opposite of Lumpini Stadium, so you can see a Thai kickboxing fight every night.
Ratchadamnoen Stadium is open on Mondays, Wednesdays and Thursdays from 6:30pm to 11pm and on Sundays from 4pm until 12am.
Most of the fights are also televised on Thai TV, so if you don't want to spend the money, you can head out to one of many bars in Bangkok that will be showing the match on TV.
Ratchadamnoen Stadium is on Ratchadamnoen Avenue (also spelled Rajadamnoen) near the offices of the Thai Tourism Authority. Call them at 02-281-4205.
Local Temples and Fairs – Some of the local temples and fairs will also occasionally have Muay Thai kickboxing matches. Ask your hotel reception desk, if you're staying at a hotel, as there will be lots of local places you can watch a Muay Thai match, that will be a nominal entrance fee or free.
Lumpini Park – You can also go to Lumpini Park during the daytime, where there are often Muay Thai fighters practicing or sparring with friends. They're more than happy to let you watch them, although most won't speak enough English for you to have a conversation.
While in Bangkok you will find there are tons of Muay Thai venues from the big stadiums like Lumpini and Ratchadamnoen to smaller ones, local temples and fairs.
Just remember, when you get there, ignore the touts who sell tickets for a much higher price than normal entrance fee, and buy a ticket at the ticket office. Expect to pay 'farang price' (higher price for westerners) though as only Thais get 'Thai price'.