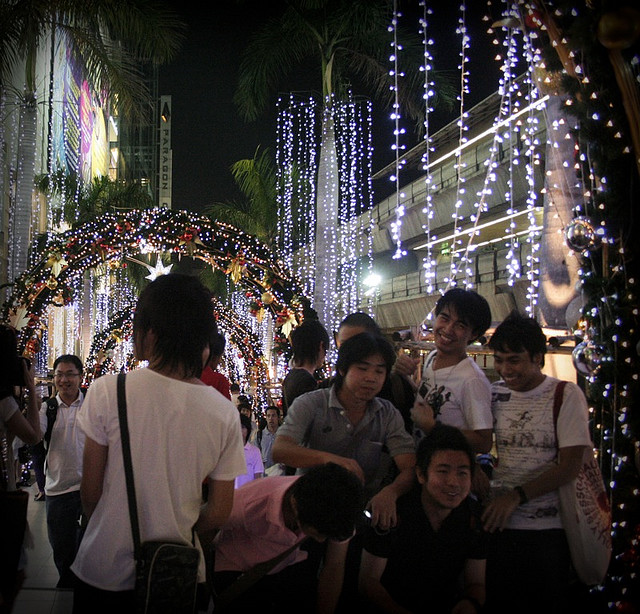 The Siam area of  downtown Bangkok is the most popular area of the city as far as shopping, eating and entertainment go. With four large malls right next to each other and five other malls just down the street, a large shopping square with independent stores right next to Bangkok's best university, hundreds of restaurants and cafes, and street stalls everywhere, it's the absolute best place in Bangkok to go.
It's also right next to Siam sky train station, so you don't have to navigate Bangkok's horrendous traffic jams to get there either. If you're planning on being in Bangkok, Thailand in the near future and will be heading out to the Siam area of the city, make sure you don't miss any of the following places, as you'll be sorry if you do.
Mahboonkrong (MBK) Mall – Starting off at National Stadium sky train station, just up the block from Siam sky train station, you can't miss Mahboonkrong Mall, known by Thais as MBK. At MBK, you can buy anything and everything. With eight floors, MBK sells men's, women's and kids' clothing, jewelry, DVDs, CDs, food, snacks, shoes, vitamins, toys, books, furniture, an enormous floor of cell phones and electronics and a lot more.
There are also at least 75-100 restaurants and cafes in MBK – from pizza to Thai food, Chinese food to Burger King, KFC to little cafes selling lattes, sandwiches and cakes – MBK has food and drink for everyone's tastes. MBK is also one of the cheapest malls in Bangkok, so check here first if you're looking for something in particular as prices are excellent.
Siam Square – Another wonderful place to shop and eat in the Siam area is on the same side of the street as MBK is Siam Square. Siam Square is right next to the sky train station, Siam, and is the area of the city where all the university students hangout as it's right next to best university in Thailand, Chulalongkorn University.
In Siam Square, you'll find hundreds of little boutiques, cafes, markets stalls, banks, smoothie bars, music stores, comic book stores, CD stalls, fashion accessories and more. If you're looking for cheap but hip and in fashion, as well as interesting Thai restaurants (old school and new cuisine) Siam Square is the place to go – especially if you're under 25 years of age.
Siam Discovery Mall – Across the street from Siam Square is Siam Discovery Mall. It's a smaller mall but has all the upscale shops in it (DKNY, Swarovski, Guess etc) as well as a Starbucks an Au Bon Pain, some electronics shops, some lovely Thai handicraft shops on the third floor and a decent Asia Books. You can also walk over a sky bridge from here into the mall next door, Siam Center.
Siam Center Mall – Siam Center was the first mall in this area, but soon got surrounded by all the others. It's still a pretty decent mall with some nice Thai independent boutiques, little cafes and restaurants, a very nice food court, some good fast food restaurants on the top floor and even a Sizzler restaurant, if you love this American staple. Very popular with the younger set, many of the shops are stylish and cool. Also great here are the beauty salons and hairdressers that offer great service for an inexpensive price.
Siam Paragon – This gigantic mall is new in the area, having only been open for a couple of years. Honestly, it's my least favorite mall in Bangkok as it's huge, very expensive and, unless you like brand names, there's not much to buy here. They do have a good supermarket in the basement though, as well as the best book shop in Thailand, Kinokuniya. Also great for the movie theaters on the top floor and one of the largest aquariums in Asia in the basement.
Central World Plaza – Come out of Siam Paragon and walk on the skybridge away from Siam Station and down towards Chidlom sky train station. A three minute walk away you'll find Central World Plaza, the next big mall and it's huge (now the largest mall in S.E. Asia).
Central World Plaza sells almost everything, and has some excellent restaurants (Black Canyon Coffee, Zen, Triple O's, Fuji Japanese restaurant, Starbucks, Au Bon Pain, Subway, awesome food court, Mos Burgers and more), and great mobile phone and electronic stores.
With more than 500 stores, 50 restaurants, 21 cinemas and a bowling alley, a huge convention centre, plus an enormous supermarket on the top floor, Central World Plaza is awesome.
Gaysorn Plaza, Amarin Plaza, Erawan Plaza – All three of these mini-malls are right across the street from Central World Plaza. They're all upscale malls that sell high-end designer brands, Gucci, Prada, Hugo Boss, Guy Laroche, Valentino. All three malls are quiet, with not as many customers due to the prices, but they are lovely to look through.
If you're in the Siam area of Bangkok, check out all of these malls plus Siam Square as each has something completely different to offer. Also, walk around the Siam area at night as street stalls selling food and everything from clothing to CDs also pop up everywhere. Siam really is the hippest, most fun place to shop in Bangkok. Don't miss it.