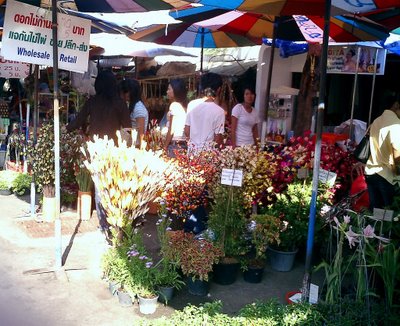 The Chatuchak area of Bangkok, Thailand is the second most-visited area of the city after the downtown area. In fact, during the nine years I've lived in the Chatuchak area, it's grown into one of the best and most popular places to shop. For Thais and visitors who don't feel like traveling into downtown Bangkok, the Chatuchak area has hundreds of wonderful shopping areas, offering everything from mega malls to independent shops, but these are the best.
Central Ladprao – The main place for shopping in the Chatuchak area of Bangkok is Central Ladprao. Other than the malls in downtown Bangkok, Central Ladprao is Bangkok's most popular shopping mall. Four floors of stores, restaurants, cafes and a large department store have something for everyone. You'll find several excellent bookstores, jewelry shops, boutiques, brand name clothing stores, sporting goods shops, shoe stores and electronics shops. The basement level is a market-style area where you can buy clothing, shoes, make-up, jewelry, computer games, cell phones, X-Boxes and loads more, all at market prices.
Don't miss the restaurants and cafes too, with everything from Starbucks and Mrs. Fields to Japanese noodle shops, Vietnamese food, Thai and Chinese restaurants and two large food courts serving food for $1 a plate.
Central Ladprao will be going through a renovation and will be closed from the February till September, 2011 but when it reopens it's expected to be even more world-class, so don't miss visiting.
To get to Central Ladprao, take the underground to Pahonyothin station and follow the crowds.
Union Mall – Across the street from Central Ladprao is a relatively new mall, Union Mall. Union Mall is more like a market-stall mall as, other than a few stores on the first floor, everything here is small market stalls selling inexpensive clothing, bags, shoes, CDs and jewelry. On the second and third floors, there are many stalls specializing in electronics, computer accessories and CDs, DVDs and computer games. Prices are cheap and selection is good.
On the first floor, there are also several cafes and restaurants – DeliFrance, UCC Coffee and Swensens ice cream parlor are just a few.
Union Mall is also right next to Pahonyothin underground train station, so easy to get to.
Chatuchak Weekend Market – Of course, the most popular place to shop in the Chatuchak area is Chatuchak weekend market itself. With it's more than 15,000 stalls plus a large indoor mall, Chatuchak has the cheapest prices in the city and sells everything you can think of and tens thousands more items you've never seen before. Clothes, shoes, Thai handicrafts, household items, candles, jewelry, Thai silk, unique artwork and even pets are just a few of the things you'll find.
Get to Chatuchak by either the Mo Chit sky train station or Kampaeng Phet or Chatuchak Park underground stations.
Major Ratchayothin – A wonderful movie theater and bowling alley complex, Major Ratchayothin is a 15 minute walk (or 3 minute bus ride) from Central Ladprao. On the corner of Pahonyothin and Ratchadapisek roads, Major Ratchayothin is popular with Thais for its many cafes and restaurants. There's also two excellent drug stores here, a large DVD store, clothing stores, several hairdressers, a beauty supply shop, jewelry stalls, a book store and several gift shops. Major Ratchayothin is also the Chatuchak area's most popular hang-out place for teens.
Spend some time shopping then relax over coffee at the McCafe, S&P, or Black Canyon Coffee or enjoy an ice cream sundae at Swensens.
Take a bus or taxi from Pahonyothin underground station to get to Major Ratchayothin.
Major Avenue – Right behind Major Ratchayothin is the new shopping and restaurant complex, Major Avenue. An outdoor complex full of high-end cafes, restaurants and shops, it's a wonderful place to grab lunch or dinner or relax over an ice cream or coffee. There's a large Villa supermarket here, a Boots chemist (drug store), a Swatch watch shop, an opticians, an eyeglass shop, several bank branches, a cool bag shop and a Japanese store selling everything for 60 baht ($1.90).
Just walk behind Major Ratchayothin and you'll see the large complex.
Major Market – Right next to Major Ratchayothin is Major Market. Opening at around 4pm until 11pm, it's chock a block full of market stalls selling shoes, clothing, jewelry, towels, bags, food and more. Prices here are slightly more expensive than at other area markets, but they have an interesting selection of items and the vendors are friendly.
Don't miss the food stalls too. They're a wonderful place for a snack or for an iced coffee.
As you'll see, the Chatuchak area of Bangkok has some excellent places to go shopping. These are just a few of the shopping venues in the area. Don't miss too walking past Major Ratchayothin to see all the small market stalls and independent shops lining both sides of the street.
Photos – Flowers and shoppers at Chatuchak Market