Best Places to Take a Long Walk in Bangkok, Thailand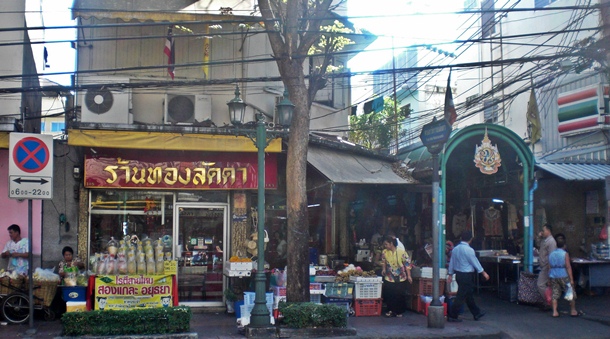 I love to walk, but when I first moved to Bangkok, Thailand, the incredible heat made me think I'd probably never go for a walk again. The best way to get to know a city, though, is to walk in it, as seen from the window of a taxi or a bus is not the same as being in the middle of it. When I had been in Bangkok for a while and had become acclimatized to the heat, I started to walk. I walked through many neighborhoods of Bangkok and soon had lists of my favorite places to walk.
If you're a walker like me and love to walk around cities, these awesome places to walk will give you a good feel for and a good experience in Bangkok – the City of Angels.
Walk Around Chinatown – You cannot beat walking around Chinatown (known as Yoawarat by the Thais). Chinatown is very easy to get to (either take a taxi, train or the boat) and, once there, there's seemingly hundreds of streets and small sois you can walk through.
The best way to get to Chinatown is to take the underground train to Hua Lamphong station. Once at Hua Lamphong, get directions to Yoawarat Road, which is where Chinatown really begins. Walk the length of Yaowarat Road, but keep dipping into the many tiny sois (lanes) that are on either side of the road as this is where the true Chinatown is.
You'll see shops selling traditional Chinese noodles, Chinese toys, Chinese clothing and household items, incense, food, gold and lots more. Don't forget to visit any of the Chinese temples you see along your walk too, as these will give you a great insight into typical daily Chinese life. And stop off at any of the thousands of restaurants and cafes for a drink, a snack, lunch or dinner as Chinatown is famous for its excellent food and drinks. Once finished with your walk in Chinatown, either head back to Hua Lamphong station or take a taxi or tuk-tuk to the nearest sky train station.
The Nai Lert Shrine (Penis Shrine) Walk – One of my absolute favorite walks in Bangkok, even though it's a very short one (15 minutes) is to the Nai Lert Shrine. Known as the 'Penis Shrine' by many, because of its hundreds of brightly colored wooden penises dedicated to Chao Tuptim, the spirit who lives in the shrine. Bangkokians visit the Nai Lert Shrine to pray for either forgiveness or prosperity but, if you don't know how to find it, it can be a bit difficult to get to.
Take the BTS (sky train) to Chidlom station and then walk down Ploenchit Road, heading away from the main intersection at Ratchadamri. When you find Soi Petchaburi 34 turn down it (left) and continue on until you see a small bridge over a klong (small canal). It's very quiet down here, which is surprising as you're still in the middle of an incredibly busy city.
Cross the bridge and keep on walking down Soi Petchaburi 34 until you see a small soi on your left. Turn down it and this will take you into the grounds of the Hilton Hotel. The Nai Lert Shrine is in the grounds of the Hilton and, with its hundreds of colorful phalluses, you really can't miss it. When I go, I always take floral garlands or incense with me as, even though I'm western, I don't take chances that Chao Tuptim might work against me if I don't leave her an offering. I don't want the fertility, but the money wouldn't be bad.
Once you've paid your respects to Chao Tuptim, you can head on into the Hilton Hotel and get a drink or a coffee at the bar, before heading back to the sky train.
The Giant Swing, Wat Suthat and the Corrections Museum – One of the much longer Bangkok walks, what I call the Giant Swing Walk is great for a day in autumn when it's not so hot. Start off your walk by taking a boat from Saphan Thaksinpier north to the Tha Chang pier on the Chao Praya river. Once at Tha Chang pier, go up Na Phra Lan Road until you have the huge Grand Palace on your right. Turn right, then left onto Kalayang Matri Road (don't miss the tons of old cannons on your left hand side). Keep walking down here until you see an enormous red swing.
This is the Giant Swing, which was used in days gone by in competitions. Teams of men would climb up the swing, swing in the huge boat and try to grab the bag of gold suspended from a crossbar. Several men were killed doing this, so eventually it was stopped as it was deemed to be too dangerous.
Now look to the left of the Giant Swing and you'll see an elaborate temple. This is Wat Suthat and is one of the most famous temples in Bangkok, as it features incredibly beautiful murals and a huge Buddha that comes from the old Thai capital, Sukothai. I always spend at least 30 minutes looking around Wat Suthat as it's calming, quiet and very beautiful.
Come out of Wat Suthat grounds and turn right onto Siri Phong Road. Walk down here (you'll see a very nice Brahmin Temple on your left hand side), and look for the park next to it. This park, Romaneerat Park, used to be where the old Bangkok Prison stood. Now, it's been converted into a very pretty small park, with two short whitewashed towers being the only thing being left of the old Bangkok Prison.
The Corrections Museum is also in Romaneerat Park and has some cool exhibits of beheadings and other forms of execution. Just make sure you take your walk on Monday through Friday, as it's closed on the weekends.
These are just three walks you can take in Bangkok. There are many more so, if you're a walker, why not put on your walking shoes and get out and explore the city. You'll be surprised at what you see.