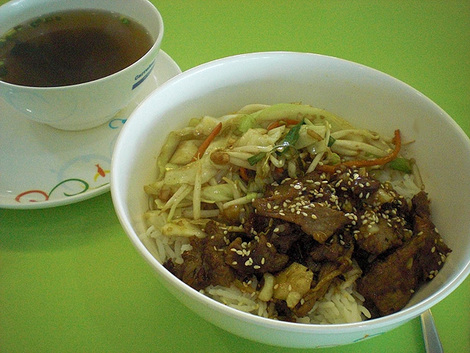 I'm a big breakfast fan and, as I never cook, if I leave the house before lunch I eat my breakfasts in restaurants or cafes. Luckily for me, not only do I live in Bangkok, Thailand but the city has amazing breakfast restaurants at prices far cheaper than your average western city.
If you are also a breakfast fan, don't miss these breakfast places in Bangkok. With tasty Thai and western options, as well as many other styles of cuisine, you'll find you'll have so many choices, it's hard to decide what to eat.
Au Bon Pain – One of my favorite restaurants to eat breakfast in Bangkok is Au Bon Pain. An American cafe chain, with locations all over the city, they serve western-style food at inexpensive prices.
Start with a latte, hot chocolate or cup of tea. Then choose a muffin, croissant, cheese danish, sandwich or yoghurt. If you want something hot, the toasted bagels are delicious with salmon, tuna or cheese or just cream cheese and jelly.
Au Bon Pain also makes bagel and egg sandwiches, bagels with egg and bacon, and croissant egg and bacon sandwiches. For between 120 and 200 baht ($3.60-$6.50), you can get a hot latte and a muffin, or a hot chocolate or tea and a bagel, or a sandwich and a coffee.
Most Au Bon Pain locations also open at 6:30 am, which makes it easy to get an early breakfast on the way to work or to a tourist destination. You'll find Au Bon Pain at most Bangkok shopping malls as well as many stand-alone locations.
Took Lae Dee – Took Lae Dee are restaurants that are located inside every Foodland supermarkets. They're like an American diner, with huge menus, and are open 24 hours a day. That means you can even eat breakfast at midnight if you like.
Here, you can get a full American breakfast (at a very cheap 49 baht – $1.48, before 9am), toast, joke (Thai rice porridge), sandwiches, scrambled eggs and a lot more. Portions are Thai style, so quite small, but for me they're perfect. If you need a larger portion, order two, they're cheap enough.
The coffee at Took Lae Dee is also surprisingly good. My favorite Took Lae Dee is in the Foodland supermarket on Sukhumvit, Soi 16, but all of them are wonderful.
Bourbon Street – Opening at 7am every morning, Bourbon Street is known as one of the best American restaurants in Bangkok. They have a large breakfast menu, with all the usual western fare – omelettes, eggs, pancakes, sausages, eggs benedict, steak and eggs, corn flakes and fruit plates.
For Bangkok, the prices aren't that cheap (at least 220 baht ($6.80) for coffee and an entree), but the food is good. 29/4-6 Sukhumvit Soi 22, Washington Square, Bangkok 10110
British Pubs – There are many British pubs in Bangkok that serve a typical British fry up. The Dubliner does a relatively nice breakfast (although over-priced), the Black Swan does a decent one, as does the Londoner with its 'All Day Breakfast'. Be warned, most British breakfasts are a greasy, fried up mess and hell for your arteries but, if you just can't live without one, you'll be pleased to know they're available in pubs all over Bangkok.
Thai Food Stalls – Of course, the best and the cheapest places to buy breakfast are at the Thai food stalls. Thais buy breakfast from food stalls every day and with choices like noodles, joke (rice porridge), Thai donuts served with warm soy milk, rice with curry, rice with vegetables, Thai omelettes, sandwiches, pastries, fruit, Thai waffles stuffed with taro, sweet corn, raisins or chocolate and much more.
Most breakfast foods at a typical Bangkok street stall will be no more than 15-25 baht (45-75 cents), and are extremely tasty and filling.
The best way to find out which is the best street stall for breakfast food is to eat from a stall where there's a large crowd of Thais either buying to take away or eating there. Thais only eat at stalls where the food is delicious so, if there's a line, you can guarantee it's good.
There are so many choices for breakfast restaurants in Bangkok it really is difficult to choose. I usually eat three western-style breakfasts and four Thai-style breakfasts a week with, of course, the cheapest and the healthiest being the Thai style.
Whatever you do though, until you've been here a long time, try something new for breakfast every morning. There are literally thousands of breakfast stalls, restaurants and cafes in Bangkok serving tens of thousands of dishes. It would be a pity not to try them all.