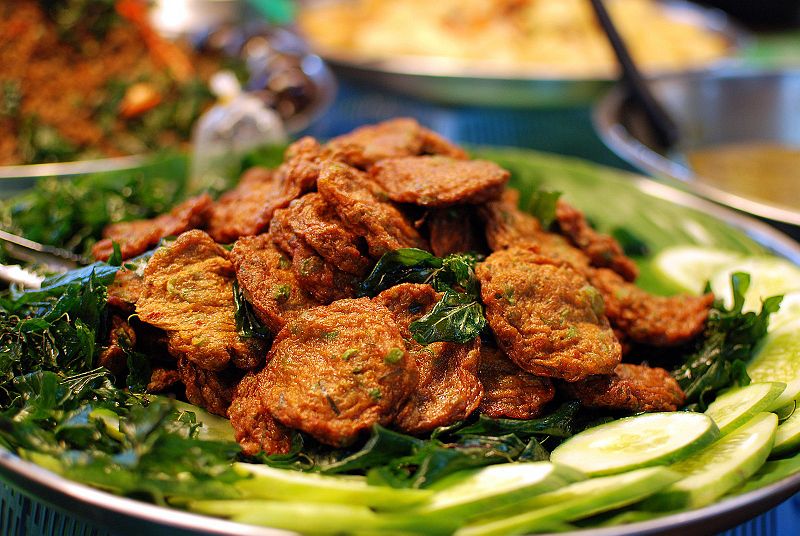 Cha-Am, a traditional Thai beach resort, is only a few miles north of Hua Hin. Only a two-hour drive from Bangkok, Cha-Am is very popular with Thais, as well as a hangout for foreigners who want to get away from the typical tourist spots. Cha-Am is also home to some excellent restaurants. From Thai to Japanese, Mediterranean to French, Cha-Am has everything and these restaurants are three of the best.
Nancy's Bistro – One of the most fun restaurants in Cha-Am, Nancy's Bistro is known not only for its delicious food but also for its on-site art gallery and craft store that features work from local artists.
Nancy's Bistro has an interesting menu, with a mix of western and Thai favorites. Try the cheese burgers, which are excellent, and their pasta is good as are the various Thai curry dishes. Service is friendly and the location is great, as it's just a few meters from the ocean.
You'll find Nancy's Bistro at 274/18 Roomjit Road in Cha-Am.
The Medi – Just about the most upscale and elegant restaurant in Cha-Am, The Medi is well-visited by locals and visitors as its serves the best western cuisine in Cha-Am.
Located in the Tara Mantra beach resort, The Medi has an airconditioned restaurant upstairs, and a gorgeous patio downstairs, with a swimming pool and a beach view. The food is incredible — perfect American-style pizzas, excellent steaks and tasty sandwiches and salads — and it's all served by lovely staff.
Prices at The Medi are inexpensive for the quality and location and, with its sophisticated atmosphere and lovely ambience, it's a lovely place for lunch.
The Medi is in the Tara Mantra Hotel at 225/99 Roomjit Road in Cha-Am.
Aroy – Aroy is the Thai word for 'delicious' and, at this Thai restaurant in Cha-Am, they couldn't have come up with a better name as the food is incredible.
The food at Aroy is a mix of Thai and western, and with a huge menu, there's something for everyone. Try their sweet and sour chicken with rice, which comes inside a whole pineapple. Don't miss the sausages either, Aroy is famous for them.
The restaurant is often very busy as not only is the food great but you can't beat the cheap prices either, so get there early if you don't want to wait. You can order an appetizer, main meal and a beer and still get away with less than 180 baht ($6) per person.
Aroy has a cute patio surrouned by lots of exotic greenery and, Tom, the Thai man who runs it, is lovely.
You'll find Aroy at the end of Narathip Road. When you hit the crossroads, take a right and Aroy is a few yards down.