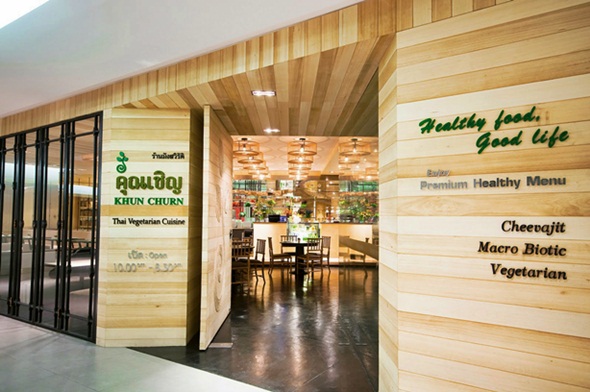 Thonglor and Ekkamai are two of the fashionable spots to eat in Bangkok
Thonglor and Ekkamai have become two of the trendiest areas of Bangkok, Thailand with, of course, some of the city's best restaurants. Eating out in Thonglor or Ekkamai is a must for many of Bangkok's artists, designers, Thai movie stars and models, as well as normal folks like you and me.
There are so many excellent restaurants in these two neighborhoods, it's often hard to make a decision where to eat, but there are some restaurants that, there's no getting round it, are simply the best.
Greyhound Cafe – Another branch of Bangkok's extremely successful fusion restaurant, the Greyhound Cafe at Thonglor serves Thai, Italian and American food with a few other bits and bats thrown in for good measure. While the food isn't the greatest in the Thonglor area, it's certainly where all those who want to be seen go, so if you're into the 'scene', Greyhound Cafe is a must visit.
Their Soft Shell Crab Salad is good, as is the Chilled Soba with River Prawn Salad. For the main course, try the Elvis Burger with fries, or the Spaghetti Olio (I love olives) and don't miss dessert, the Coconut Sherbet is lovely.
You'll find Greyhound Cafe at J. Avenue, Thonglor Soi 15 in Bangkok.
Khun Churn (see photo) – One of the best and most famous Thai vegetarian restaurants in Bangkok, this family-owned eatery in Ekkamai is wonderful. The main Khun Churn location is in Chiang Mai, where the family has done so well they've moved on to Bangkok, where they now have three locations. The menu is inexpensive, the food delicious and, if you're looking for something healthy, Khun Churn is the place.
At Khun Churn, you must try the Pad Thai, which is similar to what you're probably used to but the veggie version and a lot less oily than most Thai style Pad Thais. Stir fried rice with mushrooms and basil is excellent and the spring rolls should not be missed.
Khun Churn is next to the Ekkemai sky train station, in the Bangkok Mediplex. Just take the bridge from the sky train station and Khun Churn is on the ground floor.
Fuzio – If you like Italian food, you'll enjoy Fuzio. An upscale Italian restaurant in the Ekkamai area of Bangkok, the Italian food here is traditional with a little fusion added.
Fuzio, most of all though, is known for its location. A bit difficult to find at first, as the entrance is in the back of a building through the parking lot, Fuzio is on the top of the MINI Building in Thonglor. Once you get up there, you walk right into an open-air bar, with amazing views out over Bangkok, then on into the restaurant, which has floor to ceiling windows, so you can continue to enjoy the view.
The best time to go to Fuzio is at lunch, as they have several all-inclusive set menus for under 500 baht ($15), otherwise dinner gets a bit pricey. On the set menu, you get antipasta, soup, an entree, and dessert and, of course, coffee if you want it. Ooh, and don't miss the creme brulee for dessert. Seriously one of the best in Bangkok.
Fuzio is at the MINI Building, Ekkamai Soi 7 in Bangkok.
Vanilla Restaurant – I love Vanilla Brasserie and often eat at the Siam Paragon location. So, it was with huge delight a couple of months ago, I discovered their sister branch, Vanilla Restaurant at Thonglor.
Vanilla Restaurant serves mainly Western food and are famous for their crepes, waffles, burgers, sandwiches and mouth-watering and superb-tasting desserts. Their fried calamari is tasty, and so is the fish and chips and, of course, check out their various chocolate offerings for dessert – the chocolate mousse is to die for.
Vanilla Restaurant is a bit more pricey than an average Thai restaurant, but so worth it. It's also one of the best restaurants in the Thonglor area. Anyone who is anyone eats here.
Vanilla Restaurant is in the Playground Building at 818 Soi Thonglor in downtown Bangkok.
Finally, when you're bored with the Thonglor and Ekkamai area of town, don't miss moving on to Sathorn, as you'll find just as many wonderful restaurants there.