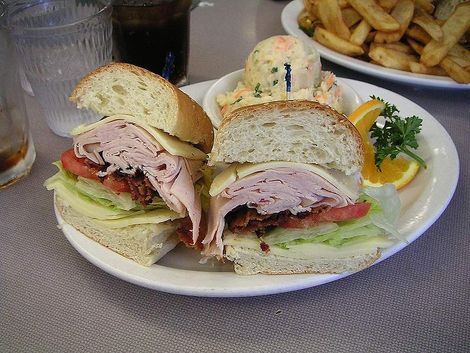 Just a few years ago, finding a great sandwich in Bangkok, Thailand was like climbing Mount Everest with a parrot ladder – impossible. Fast forward nine years and now there are restaurants and cafes serving sandwiches everywhere. Some are great and some not so good, but don't miss these Bangkok sandwich shops- they're the best.

Au Bon Pain– The American chain Au Bon Pain is one of the best places for sandwiches in Bangkok. All of their bread is fresh and, with many choices, you can design the perfect sandwich. Choose white bread, french bread, whole wheat, bagels and wraps and then your filling – Arizona chicken, chicken pesto, mozzarella chicken, tuna melt, smoked salmon and more.
Au Bon Pain even has croissant and bagel breakfast sandwiches and wraps. Grab a great sandwich and a salad, followed by a muffin, brownie or cookie and, along with a hot latte, you've got the perfect lunch or dinner. Au Bon Pain has more than 35 locations around Bangkok with more outside the city.
Coffee Bean – Not to be confused with Coffee Beans by Dao, this small sandwich shop is located in SCB Plaza on Ratchadapisek Road in northern Bangkok. They have a small menu of spaghetti and all-day-breakfast plates, but their sandwiches are why I go. Made on ciabatta bread, Coffee Bean serves an incredible chicken and pesto sandwich. Perfect bread and a perfect filling. Add a hot latte or an iced Thai tea and it's a wonderful sandwich shop for a quick lunch.
Bangkok Baking Company – Bangkok Baking Company at the J.W. Marriott Hotel on Sukhumvit Road in downtown Bangkok seems to be famous for one sandwich. Every one I know raves about the roasted veggie and goat cheese sandwich, which they serve on focaccia bread and, I must say, I can see why.
Their eggs Benedict are also pretty great and, with a nice selection of pastries and cakes, Bangkok Baking Company is one of the best sandwich places in Bangkok. Don't miss sitting outside on the terrace too. It's wonderful for people watching.
Kuppa – Opposite my old office, so a place I used to frequent often, Kuppa is one of the most intriguing restaurants in Bangkok. Reputed to be the old offices of the CIA, Kuppa is now a phenomenally-designed restaurant that serves some of the best meals in town. Their sandwiches are incredible, homestyle and served on an old-fashioned cutting board. Only be warned, they're loaded with butter, mayo and lots of other bad-for-you things, so not something you should be eating if you're on a diet. Kuppa also serves one of the best cups of coffee and lattes in Bangkok.