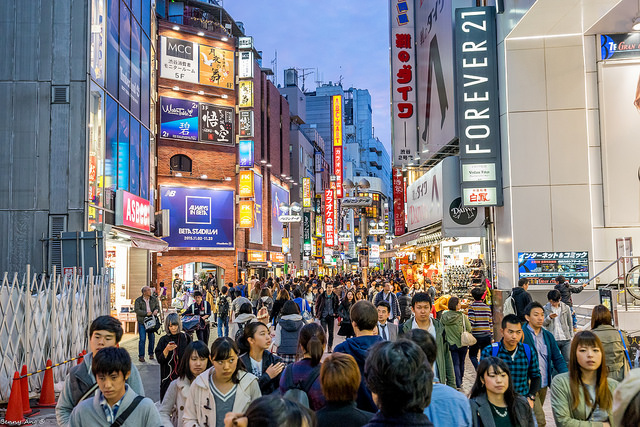 Tokyo, Japan is One of the World's Best Places for Shopping and These Areas Are Must Visits
For travelers to Tokyo, Japan who love to shop, there are so many top shopping areas in the city you could shop from dawn to dusk for weeks and still not hit them all. If you're looking for Tokyo's best shopping areas though, there are several places any self-respecting shopaholic cannot miss, not if you want to be able to say you've really shopped in Tokyo.
Shibuya – Of course, if you've ever seen any documentaries on shopping in Tokyo or on subjects like Japanese fashion, music or famous Japanese department stores, then you've heard of Shibuya. Just about the top shopping area in Tokyo, bar none, Shibuya is a ward in Tokyo that's stuffed full of fashion malls, specialty stores, music shops, boutiques, anime and manga shops, museums, cafes and restaurants.
If shopping in Tokyo is your main reason for being there, then Shibuya should be the first place you go to. Check out Loft, a huge gift shop selling everything from stuffed bears to cell phone accessories, paper products to Japanese dolls, craft supplies and lots more. There's also a huge Tower Records in Shibuya, PARCO – two buildings stuffed with fashion shops for teens and young adults, Mandarake for everything manga and anime, and Spain Slope, with its boutiques and cafes.
Shinjuku – If you're looking for electronics, Shinjuku, the area around Shinjuku Station in Tokyo is the best shopping area in Tokyo. Full of electronic shops on all four sides, plus department stores and underground malls, Shinjuku is where half of Tokyo goes if they're looking for the latest cameras and photographic equipment, computers, laptops, telephones etc.
Just make sure like anywhere in Asia, before you buy, check the voltage and plugs on electronic equipment as, of course, it's made for the Japanese domestic market. You may find you need converters or a whole slew of other gadgets that make it not worth buying, so be sure before you buy.
At Shinjuku, there's also a large sports center, the Shinjuku Cosmic Sports Center, with its swimming pool, martial arts training and children's play center. Don't miss getting lunch or dinner here too. There are some excellent restaurants.
Ginza – If upscale and designer is more your speed, then Ginza is your ideal shopping area. The best in Tokyo for Calvin Klein, Georgia Armania, Yves Saint Laurent, Tiffany and the like, Ginza is also the home of high-end Japanese boutiques, the city's most prestigious department stores and trendy eateries. Of course, Ginza isn't cheap but it is the place for the fashionista to shop and, when you're buying designer, cheap isn't really the point now is it.
The best time to visit Ginza is on Sundays, as the main street area is closed to traffic, which makes it much more pleasant to walk around although still just as crowded.
More Information: