Markets abound all over Bangkok, but some of the best places for cheap bargains are the city's many street markets. Unlike Bangkok's major markets, street markets are mini markets set up in the early afternoon or evening and spread along the street on one of Bangkok's main streets. Street markets are all over Bangkok but these are four of the best.
Sukhumvit Street Market – Likely the most famous and popular street market in Bangkok, Sukhumvit Street Market is where the tourists shop. This street market starts at Nana sky train station and stretches down Sukhumvit road on both sides of the street. Going for around 15 blocks, it can take a couple of hours to walk down both sides of the road, but if you're looking for souvenirs from Thailand, you can get them here.
T-shirts, Thai silk, watches, DVDs, CDs, leather bags, Thai handicrafts and, of course, the usual knock-offs, they're all here. Just be warned, prices are definitely tourist price so, if you can't bargain the stall keeper down by at least 25%, keep on walking.
Khao San Road Street Market – Khao San Road Street Market is more for the younger set. Popular with backpackers and travelers, this street market sells fisherman pants, used books, CDs, DVDs, Thai crafts, backpacks, luggage, t shirts – pretty much anything you could need if you're planning on backpacking onward from Thailand. I sometimes buy CDs here, as they have an eclectic selection of music not always found everywhere.
You can also get your hands hennaed or your hair dreadlocked, if you're so inclined, but you might want to hold off on that if you're due back in the office soon.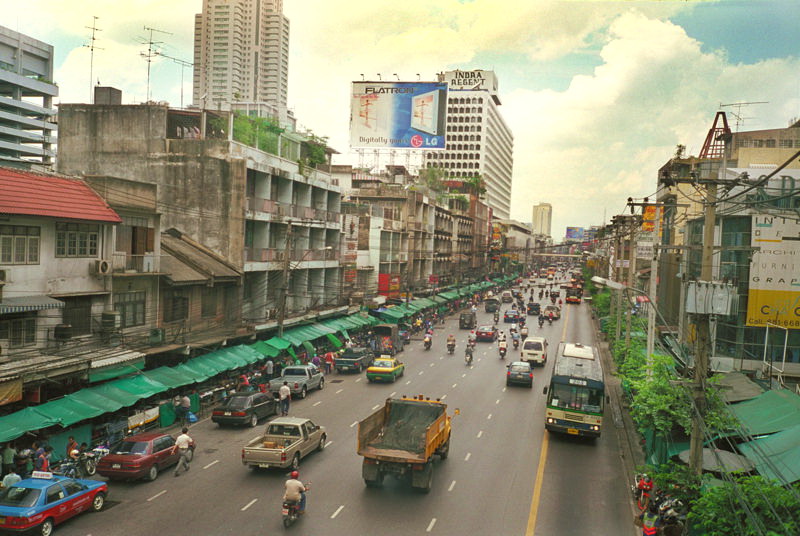 Pratunam Street Market – Walk from Chidlom sky train station, around the corner past Gaysorn Plaza and continue down towards Baiyoke Tower, go over the bridge to the first major intersection and cross the street. On both sides of the road you'll see an enormous street market stretching as far as you can see.
Popular with Arab and Indian shoppers, who seem to know where the good deals are, Pratunam Street Market is a great place for t shirts, shorts, bags, wallets, backpacks, luggage, belts, belt buckles, jeans and loads more clothing and shoe options. Bargain hard, and you can get some great deals here – just don't pay the first price asked.
The Flashlight Market – Not for tourists who want the usual tat, but more for people who like to see 'authentic Thai culture', the Flashlight Market is famous all over Bangkok. On Worajak Road, near the big hospital, every Friday night you can see the Flashlight Market so called because, when it gets dark, thousands of people turn on the flashlights they brought so they can see the goods.
Mostly weird electronics, fans, TVs, washers, freezers, records, cooking pots, gas cookers, enormous steel cooking counters, sticky rice pots – you name it, if it's to do with electronics or cooking – they have it here. For most tourists, you're not likely to want to buy much at the Flashlight Market but as a fun way of seeing true Thai culture, it's fascinating.
Plus, there are some great little street stall restaurants around here too, so you can always stop off for a quick bowl of rice and a topping.
These four street markets are famous all over Bangkok. Each has something to offer, and each is a fun way to kill a couple of hours and spend a few hundred (or thousand!) baht.