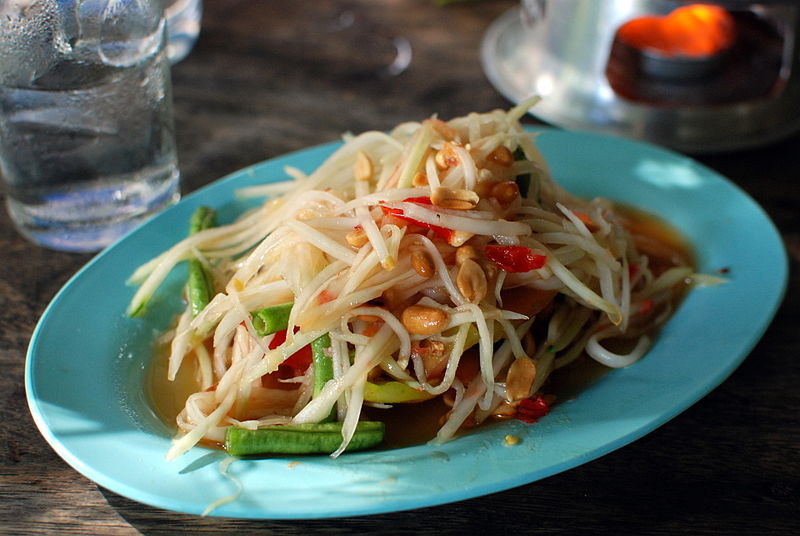 When most westerners come to Thailand they want to try Thai food. Many of them though are afraid of all the choices, the spiciness of the food (Thai food in Thailand is much spicier than in the US), and the unusual ingredients. So, they avoid the food they don't know and stick to the food they do.
Usually it's bland, cooked for a western taste (Thais think that westerners don't like spicy food), and not very good. Authentic Thai food is delicious and it's a shame not to try it while you're in Thailand.
So, if you come to Thailand and are not sure which foods you should try, start out with the following. They're typical Thai foods, not too spicy (but spicy enough!) and will give you a good start to Thai food.
Tom Kha Gai – Tom Kha Gai is my most favorite food in Thailand and is the perfect food for westerners to try. It's chicken in a soup made with coconut milk, galangal, lime and kaffir lime leaves and is usually served over rice. It's not spicy, it's incredibly delicious and, because of the herbs and spices, it's healthy too. I always eat a huge bowl and spoon it over a plate of rice, spoonful by spoonful.
The taste is a mixture of sweet and savory and offset with the less flavorful rice is perfect for any meal. I've been known to eat it for breakfast, lunch and dinner and most Thais do too.
Kow Pad – Kow Pad is actually just fried rice, served with chicken, shrimp, crab or pork and often a fried egg on the side. It's placed on a plate with some slices of cucumber and and a piece of lime, which you then squeeze all over the rice. Kow Pad is great Thai food for westerners to try as it's not spicy, it's filling, it's not as oily as the American version and it's cheap (a heaping plate from a food stall will normally be about 30 baht – 90 cents).
Kow Pad is a favorite with many westerners who come to Thailand as it's not spicy but has enough unusual flavors you really think you're eating something different.
Pad Thai – Most westerners, who are familiar with Thai food, have eaten Pad Thai. Pad Thai is fried noodles with egg, bean sprouts, peanuts and fish sauce. In Thailand it's often served as a vegetarian dish, but you can also order it with chicken or shrimp. It's a staple at many Thai food stalls, and will be whipped up while you watch. I find Pad Thai to be quite oily but it is delicious.
It's usually served heaped on a place with a side of banana flower slices and a couple of pieces of lime (which you should squeeze over the whole dish). At most restaurant tables, there will also be containers with sugar, vinegar, fish sauce and small chilis in oil, which you can add to your Pad Thai to increase the flavor.
Som Tam (otherwise known as Papaya Pok Pok) – Som Tam is a Thai-style salad made with green papaya, green beans, tomatoes and various spices all smashed up and mixed in. Som Tam is one of the healthiest dishes you will ever eat; low in calories, full of flavor and chock-a-block full of vitamins. Many Thai women eat Som Tam when they're on a diet, as they swear it speeds up weight loss. Som Tam often comes very spicy, but you can order a less spicy version by simply saying "Mai pet" or "not spicy".
Som Tam is usually eaten alongside a couple of other side dishes, although the aforementioned Thai women on diets will often just eat it alone. Thais call it Papaya Pok Pok because of the 'pok pok' sound the cook makes as you smashes the ingredients with a mortar and pestle.
Gang Gai – Gang Gai, or Chicken Curry, is available pretty much anywhere in Thailand. It's a stew of chicken in coconut milk with curry paste and Thai eggplant and is quite spicy. You'll see it in enormous pots, simmering over an open flame, on many street stalls and Thais usually eat it over rice or noodles. With Chicken Curry, it will be already made so, if you don't like spicy food, you'll probably be better avoiding this one.
If you're up for a true taste of Thailand though, you can't go far wrong with Gang Gai.
Any of these foods are a great start to Thai cuisine for a westerner. If you're in Thailand, either visiting or living, you can start off your adventure into Thai cuisine by ordering any of these at most restaurants. The flavors are unusual but, unlike many other Thai foods, not too unusual and you'll love feeling like you've been adventurous in your food choices.
Photo copyright – Som Tam (spicy papaya salad) – copyright Takeaway