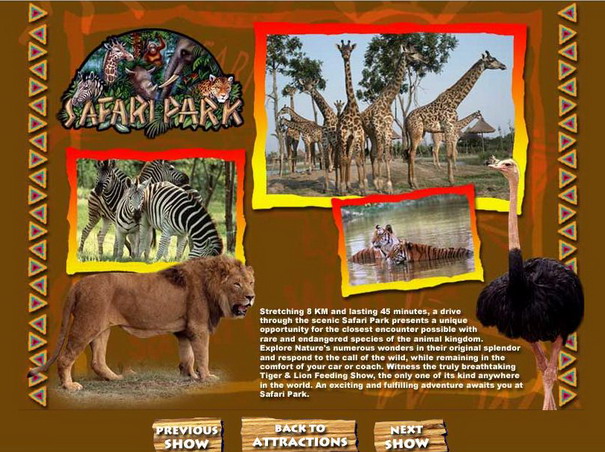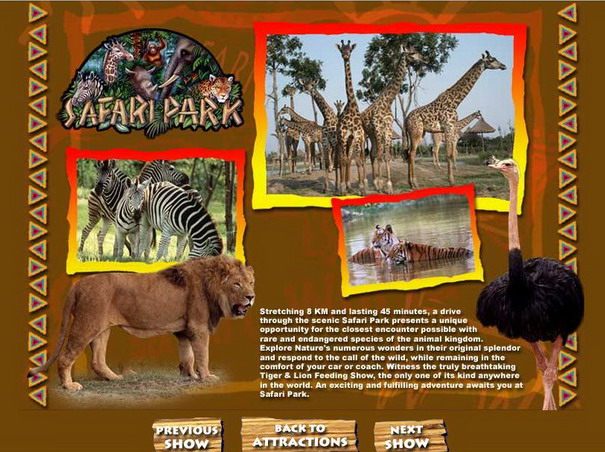 Traveling with a child to Thailand can be a daunting prospect, especially when you're not sure what activities will be available for your kids to enjoy when you get there. Bangkok is hot, exotic and strange. But Thais adore children and you'll find, not only are there many fabulous things for your kids to see and do, but you'll be stopped all the time by complete strangers just so they can tell you how cute your kids are.
For fun and interesting things to do with children in Bangkok, check out these places.
Safari World – One of the top places for kids in Bangkok is Safari World. Popular with school groups for school trips, it's a great place to spend a day with a child.
Covering more than 200 acres, Safari World is made up of two parks – Safari Park and Marine Park. You can even take an 8 kilometer drive through Safari Park and see thousands of exotic animals close up. There's also an amazing Lion and Tiger Feeding Show, where you'll see the animals being fed. You can even feed the giraffes yourself from a high platform where you get to touch their heads!
The second part of Safari World, Marine Park, has 8 different world-class shows featuring dolphins, polar bears, seals, whales and hundreds of other marine mammals.
Siam Water Park – Bangkok is a very hot city almost all year round (coolest time to come is November thru February) so Siam Water Park is a perfect place to cool off. It's Asia's biggest water park and has lots of pools, water slides, a wave pool, a whirl pool, a 400 meter Super Slide, playgrounds, an aviary, a botanical garden and an open zoo.
There are also tons of places to get food and snacks, excellent changing rooms, showers, toilets etc. And some great gift shops for toys for the kids.
Siam Water Park is open from 10am to 6pm on weekdays and 9am to 7am on weekends. The best time to go would be during the week if possible as you will get some school groups there, but it won't be absolutely mobbed like on the weekends. It's also cheap – around $6.50 for adults and $4 for children. A great day out for kids on a hot day. Any taxi driver can take you there.
Dream World – This is the top place in Bangkok for kids and will be packed with school groups especially during the summer school time. It's a fabulous place though, truly a kids' paradise. With four different 'dream lands', it's huge – it has more rides than you can possibly try in a day, a Hollywood Action show, a Giant's House (where everything is enormous), White Water Rapids, and a go-kart track. Kids will love it. Again, because the Thais love food, there's also every fast food and other food you could possibly want.
Most of the hotels run package trips to Dream World, but at $35-$45 per person they're expensive. Your best bet would be to get a taxi (every taxi driver in Bangkok knows exactly where it is and the fare shouldn't cost you more than about $8) and then pay the admission fee – about $14 per person with kids under 90 centimeters getting free admission.
Siam Ocean World – This is the largest aquarium in the Southern Hemisphere. It's located in the basement of Siam Paragon shopping mall, which is right next to Siam sky train station, the main train station, so it's easy to get to. There are seven different zones plus a Penguin Feeding Show and a Shark Feeding Show that run several times a day. There is also an amazing Glass Bottom Boat that you can ride over one of the large tanks, and see sharks, turtles, stingrays and a host of other fish and mammals.
It's actually expensive at $23 for adults and $19 for children, but still an interesting experience. If it was me though, I'd spend the money on Safari World, which is a whole day's experience, before I would spend so much on Siam Ocean World for a couple of hours.
Boat Ride on the Chao Praya River – One of the best deals in Bangkok; you can catch the boat from any pier on the Chao Praya. Boats run every 10 minutes or so and the cost per trip is between 15 cents and 40 cents, a great deal!
Going all the way up the river, you can see Thai fisherman catching fish, kids bathing in the river water, the traditional Thai wooden houses on stilts, barges coming down from China and lots of other cool stuff. Your kids will learn a lot about Thai culture as well as can sample traditional Thai snacks and soft drinks at any of the pier stops.
The easiest way to get on a boat is to take the sky train to the Saphan Taksin station, and follow the signs to the river. Any boat heading north from there will take you all the way up the river stopping off at many piers.
Even more fun is to just pick any pier and hop off and explore some of the streets around. Get back on another boat and carry on your trip. Then either take a boat back down the river to Saphan Taksin when you're done or a taxi or tuk-tuk back to your hotel.
Bowling Alleys – There are bowling alleys all over Bangkok in many shopping malls and they are awesome. Much better than most bowling alleys in the US, they are all new, high-tech, with fabulous equipment and cheap food and drink. Mum and Dad can even get a beer or a cocktail while they're bowling. Really fun event for the kids. A family of four can play several games including rental shoes for around $10, with food and drink another $10-15 for four.
These are just six suggestions for things for kids to do in Bangkok. You will also see elephants in Bangkok at night as their owners bring them into the city to sell bananas. It is against the law, but they do need to be fed, so buy some bananas and let your child feed an elephant. Also, movie theatres in Thailand are better than any movie theatre in America with enormous screens, fabulous sounds, and comfortable seats. For only $4 a seat, they're the best deal in town, they show many American movies and they're in almost every shopping mall in the city.
Any of these attractions should thrill your kids. Bangkok is a very safe city and especially safe for children. As I mentioned, Thai people love kids and no harm is ever likely to come to them. Even if your child were to get lost, you'll find a Thai will take care of him/her and deliver him safely back to his parents. Come to Bangkok with your kids with complete peace of mind.
Finally,read this if you're looking for a child-friendly hotel in Bangkok, as these hotels really are lovely.