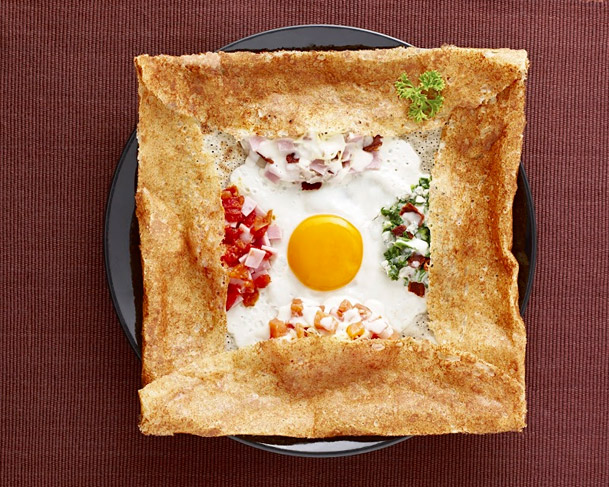 One of my favorite places to eat brunch in Bangkok is Crepes & Co. Because not only do they have the most delicious crepes, but a whole slew of other dishes as well.
If you haven't visited Crepes & Co before, I recommend you do. It is located in a beautiful old-style white house, with hardwood floors and wooden beams. Not as pretty as the restaurant's old location in a gorgeous old Thai bungalow on Sukhumvit soi 12, but still lovely.
But it is the food that makes having brunch at Crepes & Co so nice, as their menu is big, and so full of not only delicious dishes but beautiful to look at as well, it is hard to choose.
So what should you eat for brunch at Crepes & Co?
Consider their homemade hash browns with fried eggs, bell peppers and tomatoes (starts at 450 baht depending on what else you add). Or how about their homemade pancakes with ricotta cheese, and mixed berry coulis?
Or my favorite, and the one I tend to order when I eat brunch at Crepes & Co more often than not — the savory crepe supreme. It it stuffed with bacon, cheese, mushrooms, and an incredibly tasty Bechamel sauce. It even has a fried egg on top.
You can check out the brunch menu at Crepes & Co before you head there and, while I highly recommend the above dishes, I can honestly say I have eaten 90 percent of what is on the Crepes & Co. menu over the last 14 years and I have enjoyed every single thing.
You will find Crepes & Co at 59/4 Lang Suan Soi 1, Phloen Chit Road. Call for reservations at 02-652-0208, or, if you are going during the week, just show up as I have found only Saturday and Sunday to be their ridiculously busy time.
They are open Monday thru Saturday from 9am-11pm, and on Sunday starting at 8am until 11pm.