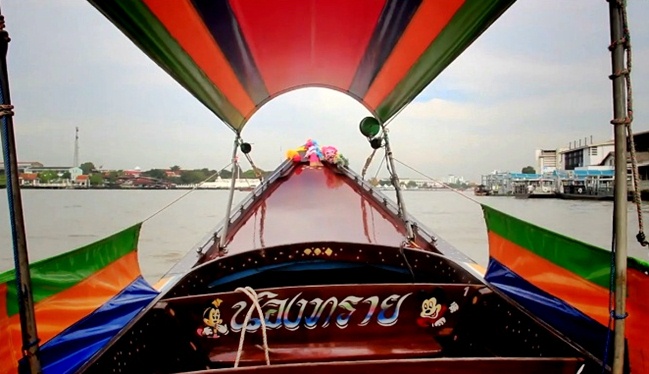 Thailand was in the throes of violent anti-government protests at the beginning of the year, which, after almost 30 deaths, ended in the second military coup in Thailand in just the last seven years.
Due to the perceived instability and tourist warnings from tens of foreign embassies about Thailand, tourists are now staying away from the country in droves, including those millions of Asians that used to help keep the country's economy afloat.
That means, if things don't improve for Thailand's tourist industry in the next few months, it's likely to collapse. Which is a shame as, even if Thailand is currently a country run by a military government, it's still a great place for a holiday. With some of the best things to see and do in Bangkok, Thailand in 2014 than you'll find anywhere else.
Take a boat trip on the Chao Praya River – Still a fun thing to do in Bangkok in 2014, taking a boat ride on the Chao Praya River is not only a blast, it's also ridiculously cheap with boat tickets as cheap as 12 baht (approximately 27 cents) for a ride that will take you miles.
The easiest way to do so is to take the sky train to the Saphan Taksin train station and then walk the few hundred yards to the river from there. You can then grab a river boat heading north (right) and get off at any pier that strikes your fancy.
Or, if you want to hire your own private long-tail boat, you can do so at one of the piers along the way. Just a few hundred baht for a couple of hours, and your boatman will drop you off and pick you up wherever you want to go.
See the Grand Palace and Wat Po – The Grand Palace and its next door neighbor Wat Po is one of the most-visited tourist spots in Bangkok and it's not surprising as it truly is one of the world's most beautiful buildings. All gold, ceramic tiles and ornate statues, the Grand Palace and Wat Po complex also houses the Reclining Buddha, one of the world's largest Buddha statues at more than 43 meters in length and 15 meters high.
Follow Me Bike Tours – One of the best things to do in Bangkok in 2014 is to take a 'Follow Me Bike Tour', a tour on a bicycle that will take you all around the side streets and alleyways of Bangkok and show you local sites most tourists will never see.
You can take a full-day or half-day tour, just make sure you dress for the weather as Bangkok gets decidedly hot, even in the early morning hours.
These are just three of the fun things to do in Bangkok in 2014. Watch the video below for many more ideas.