Phuket, Thailand is famous for its incredible package tours that include two or three night's in top hotels, interesting activities, good food and all at cheap prices. With so many Phuket package tours and tour companies to choose from, it can be hard to make a decision.
Over the years 16 years I have lived in Thailand, I have taken many of these Phuket package tours, and can say these three are some of the best Phuket Island has to offer.
Phuket Golf Package Tours (Asia Web Direct) – If you're an avid golfer, you'll think you've gone to heaven when you arrive in Phuket. Golfing in Thailand is cheap and, as the country's top tourist spot, Phuket has some of the best golf courses. Where, in the west, you'd pay over a thousand dollars for a two to three day golfing package tour, in Phuket it's just a couple of hundred.
Most Phuket golf package tours include two or three night's in a top hotel including breakfast, two rounds of golf (18 holes) at one of Phuket's gorgeous golf courses, caddy fees and transportation to and from the hotel. With top hotels to choose from like the four-stars Andaman Beach Resort or Centara Karon Resort, golfers are amazed at the cheap prices.
For everything included in the tour, the average cost of a two day stay is between $340 and $500, depending on time of year and hotel you choose. Longer golf package tours are also available.
One of the best and biggest companies offering the Phuket Golf Package tours (and they have lots to choose from) is Phuket Golf. You can book online and, as they work with the most exclusive hotels in Phuket, you know you'll get a great package.
They also offer tours from 3-day right up to 10-day so, whether you want just a couple of days away from your regular Thailand holiday, or an entire golfing holiday, Phuket Golf has both.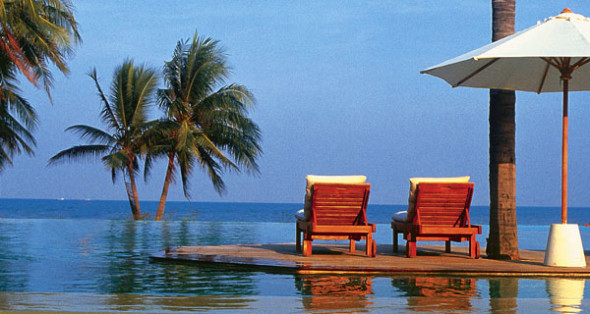 Heath and Spa Package (Phuket Jet Tour) – One of the most popular package tours in Phuket is the spa package tour. Thai spas are renowned the world over and Phuket, with its sun, ocean and beach, has the best.
Most Phuket health and spa package tours include two night's in a spa hotel, yoga classes, body scrubs, Thai massage, use of Jacuzzi, swimming pool and fitness center and all meals. There's often additional things like island tours, an evening show or extra spa activities if wanted.
One of the best Phuket spa packages is the with Phuket Jet Tour. You can choose from two or three night packages, which include accommodation at one of Phuket's resort spa hotels, all the spa treatments, meals and a tour of Phuket city. Packages range from $230 for two nights to an average of $328 for a three night stay. Cheap when you factor in the high standard of resort hotel and the cost of spa packages in the west.
Phuket-Phi Phi Island Package Tour (Sunshine Phuket Tours) – Most tourists in Phuket want to go to Phi Phi Island. Made famous by the Leonardo DiCaprio movie, The Beach, Phi Phi Island is known for its spectacular beauty.
Sunshine Tours runs a wonderful Phuket and Phi Phi Island Tour, that gives you the opportunity to see a lot and do a lot for a cheap price.
Included in the tour is a full-day tour of Phuket and accommodation in a beautiful Phuket resort hotel. The following day, you take a cruise boat to Phi Phi Island and have lunch at a seafood restaurant.
The rest of the day is yours to explore Phi Phi, followed by a night in a Phi Phi Island hotel including breakfast and another half day to shop.
You are then taken back to Phuket Island by boat and on to the airport, if you so choose.
Total cost of the package is between $120 to $185, depending on which hotel you choose.