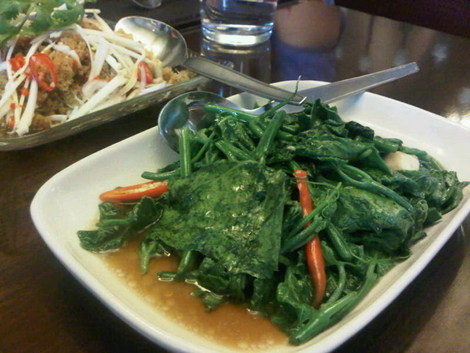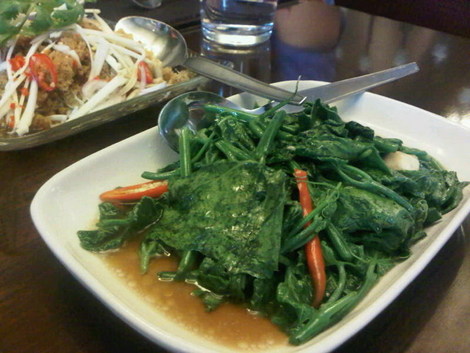 If you're a vegetarian or a vegan, taking a trip to Chiang Mai, Thailand might just be a necessity In Chiang Mai, being a vegetarian is so easy as the city has many excellent vegetarian restaurants. If you don't eat animal products, you'll be in seventh heaven in Chiang Mai as these best vegetarian restaurants will really hit the spot.
AUM Restaurant – One of the best restaurants for vegetarians in Chiang Mai, AUM Restaurant is in a wonderful location, opposite the famous old Tha Phae Gate in one of the most visited areas of the city. AUM Restaurant has been open almost 30 years, so you know it must be good.
At AUM Restaurant, you'll find a large selection of Thai and Chinese dishes made with organic vegetables, grains and pulses and, as they're open all day, you can eat three meals a day here if needed.
Start off with breakfast of muesli with fruit salad, honey and granola or how about fried vegetables, toast, eggs and coffee. At lunch, you'll love the Indian curry fried rice or Chinese spring rolls and you have to try one of their twenty or so homemade soups. Delicious. Don't miss their amazing coffee and their juice and smoothie bar too.
Prices at AUM are reasonable, with dishes running from 40-100 baht ($1.30 to $3.30) and portions are large. Be aware, the restaurant is small and very popular so you may want to arrive a few minutes earlier than normal rush hour times for lunch and dinner it you don't want to have to wait for a table.
The Whole Earth – One of Chiang Mai's most famous long-term restaurants, The Whole Earth is located in a traditional Thai house in gorgeous gardens. You can eat inside or out but, be warned, eat here once and you'll probably never eat anywhere else.
What's great about The Whole Earth is, even though they have a large vegetarian menu, they also serve non-vegetarian items so, if you're in a large party, there's something for everyone even the non-veggies.
You'll enjoy the vegetarian Pad Thai, various salads, rice dishes and curries. Just remember if you like spicy, say so as, because many of their customers are non-Thai, they tend to make food milder than you might
like. They use mostly organic products or foods that haven't had hormones, chemicals or preservatives added. The staff is lovely, the restaurant beautiful and with the vegetarian food plus the relaxing environment, you'll leave here feeling like a new person.
Khun Churn – One of the best vegetarian restaurants in Chiang Mai, not just for the taste of the food but also the quantity of it too, is Khun Churn.
Khun Churn is so popular because, despite it being a tuk-tuk ride to the outskirts of Chiang Mai, it's in a beautiful location but more than that, it's an amazing bang for your buck. For only around 100 baht ($3) you can partake of an all-you-can-eat vegetarian lunch buffet that is incredible. There's also an a la carte menu if you don't want to absolutely stuff yourself although, once you get there and see the buffet, you won't be able to stop yourself.
If you do choose a la carte though, you must try the veggie spring rolls with an order of pomelo salad. Just perfect.
The buffet includes drinks and dessert and, believe me, it's incredible. For photos of some of the vegetarian dishes, don't miss the two links below this article.