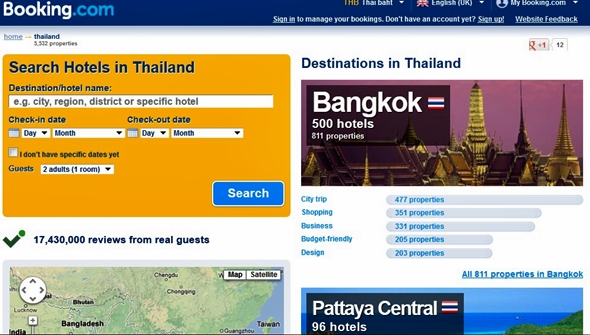 If you want to book a cheap hotel room in Thailand via the internet, there are three excellent websites where it's possible.  In the years we've lived in Thailand and traveled all over the country, we've only ever used these three websites for online bookings, with great results every time.
Booking.com – Our favorite website for booking cheap hotel rooms in Thailand is Booking.com. In fact, so good are they, with both offering the cheapest booking rates and reliable reservations, we now book 75% of our hotel rooms through them.
AsiaRooms.com – Another wonderful site is AsiaRooms.com. In the first few years of living in Thailand, we booked primarily through AsiaRooms. It's only in the last couple of years we've begun to like Booking.com better, but that's really just a personal preference. AsiaRooms is reliable, ethical and, again, an online hotel booking website we've never had a problem with.
They do also offer cheap hotel bookings for the Middle East and Europe, not just Asia.
DirectRooms.com – DirectRooms is also a great choice. The only reason we tend to use them as a third resort is we've found reservations aren't always available on them when we want them. But, their prices are cheap and their customer service impeccable. Their live chat is excellent too.