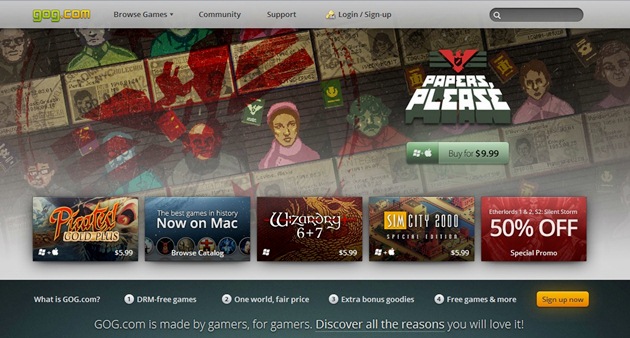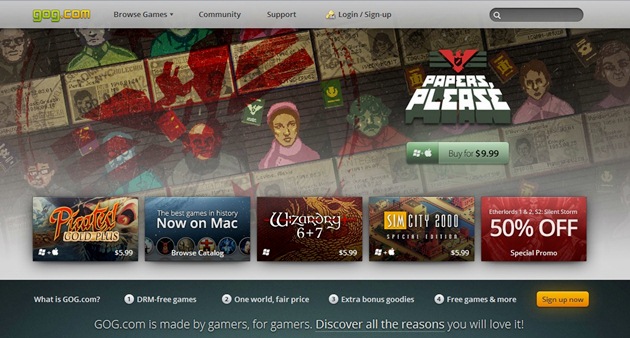 Where can you buy digital download PC games in Thailand?
With more people buying PC games via digital download, it's not surprising even folks in Thailand are getting in on the act. After all, even though it's easy to buy just about any pirated video game you want anywhere in the country, some people prefer to buy legitimate PC games via digital download video in Thailand. If that's you, which digital download services in Thailand should you buy from?
I'm actually a massive PC game digital download services fan, and buy more than 250 games this way every year. With this big of a library, however, there are really only three PC game digital download websites I purchase from and, unfortunately, none of them are in Thailand as Thai companies just don't yet offer a) reliable services and b) services that are in English as well as Thai. Hopefully, they'll get there soon.
Meanwhile, here are the three PC game digital download services I use to buy and download games in Thailand. They're all cheap, they're all reliable and they all have a boatload of PC games to choose from.
GOG
My favorite PC game digital download service, GOG specializes in classic games as well as indies. Every game GOG sells is DRM-free, which means you don't have any invasive digital rights management attached to your game, you can download it as many times as you want and to as many computers as you want. They also charge the same price per game no matter which country you live in, so gamers in Thailand get their games as cheap as a gamer in America or Europe.
Games on GOg start at $5.99, with a second price point of $9.99 for a smaller number of games. Indie games have various prices, but still start at $5.99 and rarely go higher than $14.99 to $19.99.
GOG also runs at least three sales every week, with a variety of games in each sale selling as cheaply as $2.39. In the two years I have been buying games from GOG (I now own over 150 games on the site), I have bought games such as Dungeon Keeper, Anvil of Dawn, Baldur's Gate, Etherlords, Planescape: Torment, Myst, Legend of Grimrock, Stronghold, the Might and Magic series, the Ultima series, Divine Divinity and many others for as cheap as $2.39 per game.
You can't even buy pirated games in Thailand for that cheap price, and these games are the real deal.
Then add in GOG's superb customer service and thriving game forums and, honestly, 90 percent of my game purchases are now on GOG.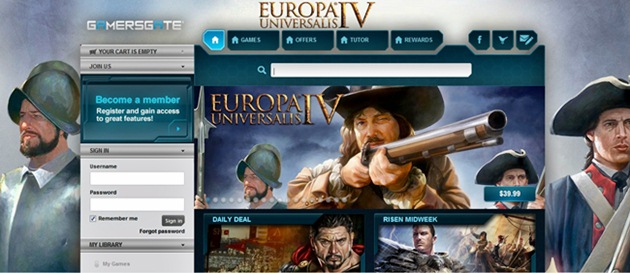 Gamersgate
I used to buy a lot of games on the Gamersgate digital download service as, at the moment, for gamers in Thailand they charge the same price for games as for gamers in the US (gamers in Europe, however, pay more). The drawback with Gamersgate, however, is many of their games are now only playable on Steam, a service I will not use, and you must use their DRM-packed downloader to download games.
Gamersgate does have an excellent selection of games, however, covering the indies, classics and AAA games. They also run excellent sales at least once a week, with games selling as cheap as 99 cents to $4, so they are worth checking out.
Games I have bought on Gamersgate include Europa Universalis III, Crusader Kings II, Gothic, Civilization IV and Rome: Total War. If you don't want to buy games only playable on Steam either, just make sure you check each Gamersgate game listing before you buy to make sure you can play that game without.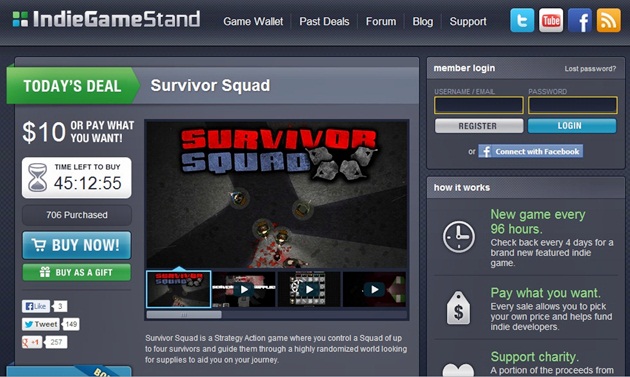 Indie Game Stand
I do love indie games and like to support indie developers, which I often do at Indie Game Stand. Indie Game Stand only sells one game at a time — but it's a new and different game every four days. And…..the absolute best thing, you can buy the game for any price you want. So, if you'd love a new game but can't really afford one, Indie Game Stand doesn't mind if you only pay a dollar.
Games I have bought on Indie Game Stand include Beware Planet Earth, Pid, Pitman, King Arthur's Gold, Unmechanical and The Trouble with Robots.
Game prices too are the same for someone in Thailand or anywhere else in the world, and games stay on your Indie Game Stand shelf to be downloaded again and again. Almost every game they sell is DRM-free, and a percentage of their proceeds go to a charity each indie developer chooses. Can't beat that!
Just keep checking back on Indie Game Stand every four days, to see which game they are selling now. And grab it if you like it before the four days are up.
Finally, if you don't want to buy PC games as digital downloads in Thailand, you can also buy the physical copies of thousands of games. For more on where to shop for PC and Mac games in Bangkok, read here.